Over 90% of Retirees Expect To Rely on These 6 Sources of Retirement Income — Will That Be Enough?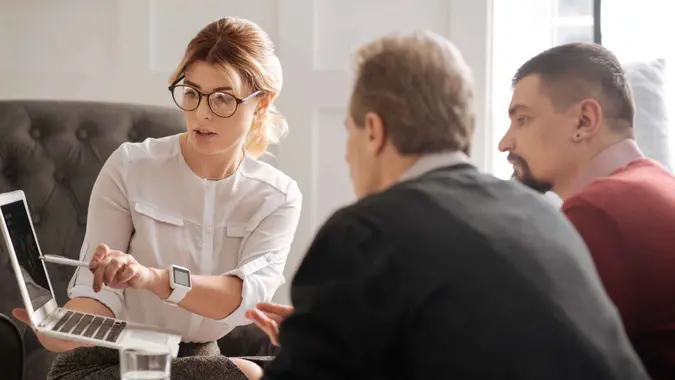 yacobchuk / Getty Images/iStockphoto
Transitioning to retirement and moving to fixed sources of income not only takes a lot of planning but can also be daunting. With the current economic landscape, including inflation, soaring rates and concerns around the future of Social Security benefits, the path to comfortable golden years can be difficult for many Americans.
A recent GOBankingRates survey found that more than 90% of Americans rely on six different sources of retirement income, but whether these will be sufficient remains to be seen, according to experts.
"For those questioning if their retirement income sources will be enough, it's important to evaluate how much you think you will be spending, your longevity, your goals and whether your savings and any other income sources in retirement will cover it," said Rita Assaf, vice president of retirement products at Fidelity Investments.
Social Security
The top source of income Americans rely on is Social Security, with a whopping 76%. There are generational discrepancies, however, and younger generations seem less confident that they'll have this source in retirement. For instance, 94% of the 65 and over age group say they will have that source of income in retirement, while this dwindles to 72% for the 35-to-44 age bracket and a meager 57% for the 18-to-24-year-olds, the survey found.
As Todd Stearn, founder and CEO of The Money Manual, explained, the Social Security Administration itself says Social Security reserves are expected to be exhausted in 2037.
In turn, the government will have to decide whether to continue funding it for your retirement, and if so, how.
Make Your Money Work Better for You
Can You Rely on Social Security?
"Perhaps the government will reduce the amount of money retirees receive, or they might increase the age at which you can start receiving your Social Security payments," Stearn said. "The average monthly Social Security benefit is currently about $1,700 per month. You'll likely need more than that amount to live comfortably unless you're able to live cheaply."
Several experts echoed the sentiment, saying that it is not "realistic" to retire on Social Security alone.
"For most people, Social Security replaces about 40% of their pre-retirement income," said Kendall Meade, CFP at SoFi. "You will want to supplement Social Security with your own savings."
Austin Kilgore, an analyst for the Achieve Center for Consumer Insights, noted that that's also why it's critical for people to take two steps: check an online retirement calculator to get a handle on how much savings they'll realistically need in the retirement they envision; and set up their account at the Social Security website to obtain an estimate of what that Social Security income would be.
"Many people are surprised to find out that the monthly payment is much lower than expected," said Kilgore. "While figures vary dramatically by individual, as of now, the average retired worker receives $1,841 each month in Social Security payments. That's just over $22,000 a year — which most people would likely agree isn't enough to retire on."
Make Your Money Work Better for You
Other Income Sources
Traditional and Roth 401(k)s are the second sources of income Americans said they will rely on in retirement, with 40.5%. This is followed by investments outside of a 401(k)/IRA, with 29.5%; pensions, with 27%; traditional or Roth IRAs, with 18.5%; and annuities, with 8%, according to the survey.
"In the past, pension plans were a very popular source of retirement income, offering guaranteed payments for a lifetime," said Jenn Schell, financial researcher and writer for Annuity.org. "However, in the twenty-first century, very few private companies still offer pension plans to their employees, so this secure income stream can be difficult to access unless you work in the public sector."
Schell added that private sector employees who desire a guaranteed income stream in retirement might consider purchasing an annuity, as it can provide income payments for the rest of a person's life, or even for themselves and their spouse's lifetime.
The final 9% of survey respondents said they won't rely on any of these sources of income in retirement.
Don't Forget About Healthcare, the 'Wild Card' of Retirement
The biggest wild card when retiring is the cost of healthcare — often the biggest stressor for retirees, said Assaf.
Assaf noted that according to the Fidelity Retiree Health Care Cost Estimate, a single person aged 65 in 2023 may need approximately $157,500 saved — after tax — to cover healthcare expenses in retirement.
"And this cost doesn't include long-term care expenses. Having a dedicated pool of monies for long-term care expenses may be an important consideration, as it will ultimately protect your retirement income," she said. "This is where you can leverage HSAs or have a health care savings goal, either in your HSA or your other retirement accounts or outside of them."
Make Your Money Work Better for You
The 4% Rule
A rule of thumb is that you can safely withdraw 4% of your investment portfolio in the first year of retirement and adjust it for inflation in subsequent years without outliving your money, said Meade.
"It is important to keep in mind that this rule of thumb came from a research study that analyzed rolling 30 year historical periods to understand the maximum sustainable withdrawal rate for someone living for 30 years in retirement," she said, adding that it is also based on a 50/50 portfolio, where half of the retirement assets are invested in equities, while the other half is invested in fixed income.
So for instance, using the 4% rule, in order to spend $50,000 per year, you will need $1.2 million saved at retirement, and in order to spend $100,000, you will need $2.5 million.
In the end, Meade said that when developing a retirement plan, it is more appropriate to build a financial plan that considers income sources, expenses that adjust over time, different account types, taxes, fees and curveballs, such as unforeseen medical expenses or inflation shocks.
"You should also account for health and lifestyle factors that may influence life expectancy," she said. "That is why the 4% rule can be used as a starting point for clients accumulating assets, but should not be the be-all-and-end-all for someone making irreversible decisions such as leaving the workforce permanently," she said. "Before retiring, you should have a financial plan. This can give you the opportunity to see if you are on track or if any changes are needed before making any irreversible decisions such as leaving the workforce permanently."
Make Your Money Work Better for You
Methodology: GOBankingRates surveyed 1,037 Americans aged 18 and older from across the country between Sept. 5 and Sept. 7, 2023, asking fifteen different questions: (1) How much money do you currently have saved for retirement?; (2) How much money do you think you'll need in retirement?; (3) How much do you spend or expect to spend monthly during your retirement?; (4) If you aren't yet retired, how much do you expect to get from Social Security during your retirement?; (5) How much of your retirement do you plan to fund with Social Security?; (6) At what age did you or do you plan to claim Social Security benefits?; (7) Did you or do you think you will have to move to afford your retirement?; (8) Which of the following proposed Social Security solutions do you think would work best to prevent the trust fund from being depleted?; (9) What sources of income will you have in retirement? (Select all that apply); (10) How confident are you that you will have saved enough to afford retirement?; (11) If you retired early, at what age did you retire?; (12) Are you counting on help from your family (financial, housing, long-term care, etc.) to afford retirement?; (13) Do you think retiring around age 65 is financially possible for most Americans?; (14) What worries you financially about retirement? (Select all that apply); and (15) If you got a stimulus check in the last two years, how much of the money did you save for retirement?. GOBankingRates used PureSpectrum's survey platform to conduct the poll.
More From GOBankingRates