Are Banks Closing Customer Accounts Without Warning — And Should You Be Worried?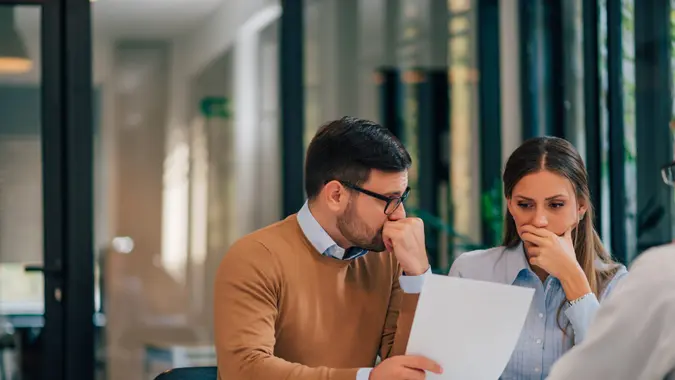 nortonrsx / Getty Images/iStockphoto
Over the last year, several news outlets — including CBS and The New York Times — have run stories sharing the stories of banking customers who had their bank accounts suddenly closed. 
The unexpected closure of these accounts can lead to customers wondering what happened or what they may have done, especially if the explanation is vague.
Are banks closing customer accounts without warning — and should you be worried?
Why Would Banks Close Accounts?
As distressing as a bank closure is for customers, banks have many reasons for taking action in their decision to close an account. Let's explore some of the most common reasons why banks close a customer's account. 
Inactivity
Do you rarely use this account or leave it inactive for long periods of time? If so, HelpWithMyBank.gov said inactivity or low usage may be the reason why the bank closes your account.
Violation of Terms and Conditions
Braden Perry, partner and litigation attorney with Kennyhertz Perry, said banking customers who violate account terms put their accounts at risk of closure. An example of this is not maintaining a minimum balance if this stipulation exists.
Frequent Overdrafts
Another reason why a bank may close an account is if there are frequent overdrafts of funds. Perry said this is especially true if the account remains negative for a certain duration of time.
Make Your Money Work Better for You
Suspicious Activity
In an August 2023 survey polling 1,141 Americans, GOBankingRates uncovered data that nearly 40% of overall Americans have been the victims of financial fraud, scams and identity theft.
Bank fraud is just one form of suspicious activity that may result in an account closure. Other types of illicit activities that may prompt account closures, Perry said, include suspicion of money laundering or transactions related to illegal activities.
Risk Management
Say a bank has a banking customer who frequently deals in large, unusual transactions. Perry said this client may be assessed as being high risk. The bank may decide to end the banking relationship because of it.
Business Reasons
Sometimes an account closure is not always done on the customer's part. It may be the bank's part, particularly if they are restructuring or discontinuing certain types of accounts or services.
What Happens to My Money If My Bank Account Closes?
If a bank closes your account, Perry said they are generally required to return your money.
Typically, this is done by mailing the banking customer a check. The check includes deposited funds and any interest you earned up until the date of closure.
What if you still owe fees to the bank? Perry said these fees will be deducted from the balance before the funds are returned to the customer.
What Should I Do If My Bank Account Suddenly Closes?
If your bank account closes and you don't believe you have done anything to merit the closure or are unclear as to why this is happening, Perry recommends taking the following steps.
Make Your Money Work Better for You
Contact the Bank
Banking customers should reach out to their local bank branch or customer service to receive additional clarification.
Review Bank Correspondence
"Make sure you've read all the communications from the bank," Perry recommended. "Sometimes, they send warnings or notifications which may have been overlooked."
Keep Records
All of your bank statements and related documents should be kept in a safe place in the event you need to reference them later on.
Seek Legal Counsel
Banking customers who believe their account was closed unfairly or without valid reason and struggle with an uncooperative bank are advised by Perry to consult with a legal professional.
"Every bank has its policies and terms of service and generally has the power to close accounts and bank who they want. It is essential for customers to familiarize themselves with these to understand their rights and responsibilities better."
More From GOBankingRates