4 Common Expenses From the '90s That Are Too Expensive for the Average Household Today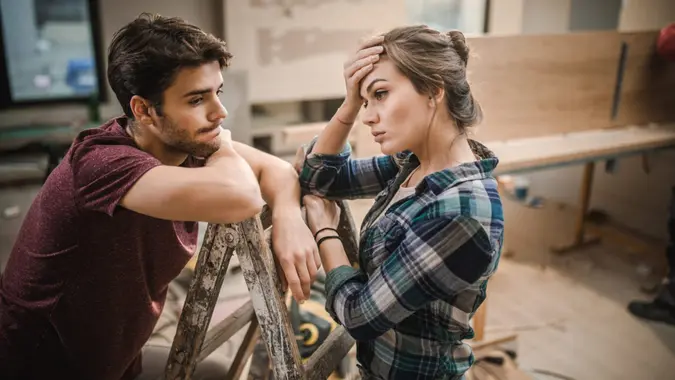 skynesher / Getty Images
According to NPR, Hot Wheels are one of the most inflation-proof items in American history, hovering around $1 for more than 50 years while U.S. currency forfeited the power to purchase just about everything else.
Unfortunately, the most famous name in model toy cars is the exception, not the rule.
While inflation drives up the cost of nearly everything we buy over time, it forces some prices skyward faster than others. Over the last three decades, consumers watched helplessly as products and services that average people could afford in the 1990s gradually became luxuries, including these four once-common expenditures that are now out of reach for many.
Hiring a Babysitter
Raising kids was always expensive, but hiring someone to watch them while you worked didn't always pilfer more than one dollar in three from your paycheck.
"Childcare was cheap in the '90s," said Melanie Musson, a finance expert and insurance planner with Clearsurance.
According to a report by the Annie E. Casey Foundation, childcare costs have risen by 220% since 1990 to $10,600 for one child in 2021 — 35% of a single parent's income.
The exorbitant cost of full-time childcare is one of the biggest obstacles facing mothers in the workforce — but even hiring a sitter for a single evening can now add hundreds to a night out.
"Many parents remember their teen years when they would babysit for a couple of dollars an hour," said Musson. "Now, childcare costs about 100% more than minimum wage."
Make Your Money Work Better for You
But even that would be considered a steal in many households. According to Parents.com, the average babysitter now charges more than $20 an hour for a single child.
"So, going out when you have children is a luxury for many people," said Musson.
Remodeling Your Home
If you haven't updated your home in a few decades, prepare for some serious sticker shock when you solicit bids from contractors.
"Renovating or remodeling a house has become more expensive due to rising material and labor costs," said Richard Zi, a 12-year construction industry veteran and general manager of Central Wires, an electrical cable manufacturer. "Customizing a home or adding personalized features was more attainable a few decades ago. However, with increased labor costs and higher expectations for quality, customization has become a luxury for many."
In 1992, Remodeling Magazine quoted the national average for a major kitchen renovation at $19,800, or $43,437 in 2023 dollars. But in 2023, the Remodeling Magazine Cost vs. Value report stated that a midrange major kitchen remodel now costs $77,939 — $154,483 for an upscale kitchen.
In 1992, the average bathroom remodel cost $7,600, which is $16,673 in 2023 dollars. But the cost of a midrange bathroom remodel in 2023 is more like $14,606 — $76,827 for an upscale bathroom.
A bathroom addition cost $9,900 in 1992 — $21,719, adjusted for inflation. But in 2023, the same work costs $57,090 for a midrange bathroom or $104,733 for an upscale job.
Buying a Car
It's not just services like renovations and babysitting that stopped being doable over the decades.
"Many consumer goods used to be affordable but have become luxury items for many today," said Laura Adams, MBA, an award-winning personal finance author and expert with Finder. "Specific makes and models of cars are out of reach for many average consumers."
Make Your Money Work Better for You
According to the Department of Energy, the average new car cost $15,042 in 1990. That's $35,423 in today's dollars — but the average driver has not been able to keep up with automotive inflation no matter how much horsepower is under the hood.
According to Kelley Blue Book (KBB), the average new car costs $48,334 — about $18,000 more than it should, based on the Consumer Price Index.
Cash-strapped motorists used to find relief in the previously owned market — but not anymore.
The Department of Energy says the average used car cost $6,830 in 1990, or $16,084 adjusted for inflation. But according to KBB, the average driver needs $26,651 to drive off the lot in a used vehicle in 2023.
Furnishing Your House
In a March article titled "The Uncomfortable Truth About Why Buying Furniture Is So Miserable," The Assembly wrote, "Shopping for a simple couch or dresser is driving Americans mad. The cheap stuff breaks (or never arrives) and the good stuff is unaffordable."
Financial planner and Wall Street veteran Andrew Lokenauth, founder of Fluent in Finance, has seen that dynamic play out over 30 years.
"Decades ago, brand new, quality furniture and appliances were made to be repaired, not replaced," he said.
Bureau of Labor Statistics data shows that $20 worth of furniture in 1935 would cost $145.52 in 1990. Adjusted for inflation, $145.52 should buy $342.69 worth of furniture in 2023, but in real purchasing power, it buys only $171.81 — barely enough for a disposable Ikea piece made mostly of particle board.
More From GOBankingRates
Make Your Money Work Better for You