Social Security Cuts Are on the Table: 5 Expenses Retirees Spend the Most Money On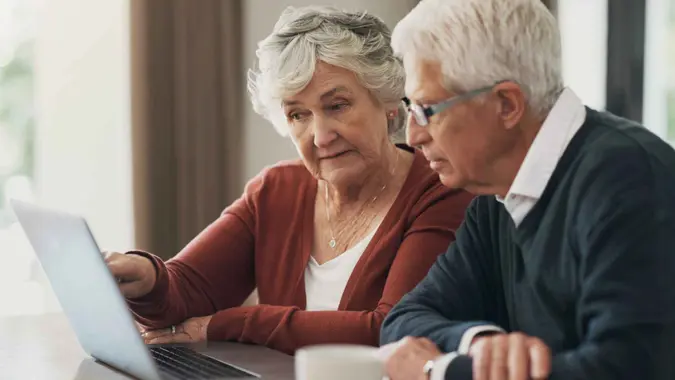 shapecharge / Getty Images
For millions of Americans, Social Security is the bedrock of their retirement. About 66 million people — or roughly 1 in every 5 U.S. residents — collected Social Security benefits in February 2023, according to the Center on Budget and Policy Priorities. But the government program, in existence since the mid-1930s, is in trouble. Not only is the Social Security fund running out of money — and on track for depletion in a decade — but there are new proposals for budget cuts on the table.
As previously reported by GOBankingRates, a group of Republican lawmakers looking to slash government spending are taking aim at Social Security. Last June, the 176-member House Republican Study Committee (RSC) approved a fiscal blueprint that would gradually increase the full retirement age (FRA) to 69 years old for seniors who turn 62 in 2033. Right now, the FRA is 66 or 67, depending on when you were born. This means less money in Social Security benefits for retirees, in the long run.
With the fate of Social Security hanging in political limbo, it's crucial that both present retirees and future retirees are fully informed on the expenses that people in their golden years spend the most on. Here's a look at these most common expenses, as explored by finance and retirement experts.
Home Maintenance
If you've been nestled in your home for more than a handful of years, you're probably ready for some upgrades, or, at the very least, some home maintenance. This is especially true if you plan to stay in your abode for the long haul (i.e., throughout retirement or most of it).
"The longer you've lived in your home, the larger your maintenance costs are likely to be as systems age and require larger repairs or replacement," said Jeremy Bohne, founder of Paceline Wealth Management. "Roofing, heating and air conditioning systems lead to large expenses if they must be upgraded."
Make Your Money Work Better for You
Travel
Many Americans save "bucket list" and other travel experiences for their retirement, when they can kick back and relax without having to check in with the boss ever again. But travel, especially in today's inflated climate, can be a big expense for which you'll want to brace yourself.
"People understand that travel is a priority in retirement, but what they don't often account for is that it isn't all for vacation," Bohne said. "Visiting adult children and grandkids can rival the cost of vacation for those who are interested and able to do it."
Healthcare (Even Medicare)
It's difficult to know how much you'll need to set aside for healthcare in retirement, because it's all so dependent on one's unique situation; but it likely will be a substantial expense.
"Healthcare is often the wildcard in retirement expenses given the sheer size it can reach, as well as difficulty in predicting when or how long it may be required," Bohne said. "It also tends to increase at a higher rate than overall inflation, which is also problematic."
Christian Simmons, a certified educator in personal finance and a financial writer for RetireGuide.com, notes that even with things like Medicare and Medigap, there's no way around the fact that medical expenses are a major drain in retirement.
"A recent Fidelity study even found that the average couple may need more than $300,000 in retirement exclusively for medical expenses," Simmons said. "Costs are also on the rise, with the Medicare Part B premium projected to increase in 2024."
Make Your Money Work Better for You
Property Taxes
If you're a homeowner, you're well acquainted with the brutal burden of property taxes. These just don't quit, no matter how long you've owned. And they tend to go up over the years as real estate prices spike.
"Property taxes must always be paid, but unlike a mortgage, they can never be paid off permanently," Bohne said. "Assessed values tend to lag market value, but a run up in real estate prices means that property taxes will follow on a gradual basis."
Home Insurance
"One factor that many people may have overlooked is that home insurance is becoming less affordable, or even [less] available in certain parts of the country," Bohne said. "Because of climate change, natural disasters such as wildfires and hurricanes are more frequent and severe. The result is that premiums are skyrocketing for at-risk areas — hint: warm places people want to retire — and some carriers are leaving these states altogether."
More From GOBankingRates