8 Online Shops To Stay Away From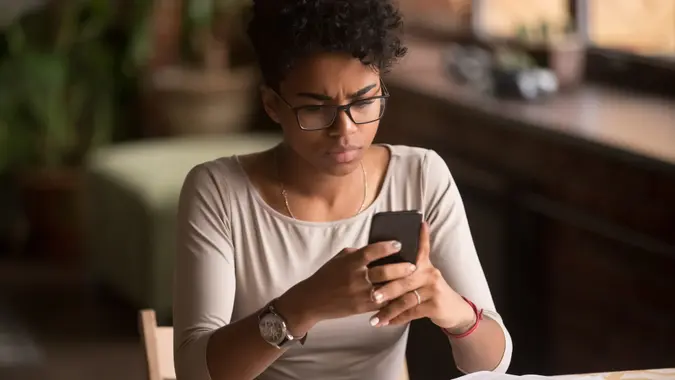 fizkes / Getty Images/iStockphoto
Doing your holiday shopping online can be very convenient and even save you money. Unfortunately, some online stores advertising great deals are actually scams that take your money, send fake goods or misuse your financial information. These sites usually have common warning signs you can watch for, including unrealistic prices, little contact information and questionable customer reviews.
Based on information from ScamAdviser, reviews and the sites themselves, these eight online shops are likely scams you should stay away from.
1. TiffanyCoShop.com
Advertising luxurious jewelry, this online shop entices customers with extreme discounts. It uses the branding, images and product names of Tiffany & Co., though the real company doesn't list the site as an authorized retailer. The ScamAdviser Trust Score is 2/100 due to issues such as negative reviews, few visitors and anonymous ownership. Plus, there's no "about us" page, and the shop's physical address and checkout process are suspicious.
2. PiloLtd.com
Also mirrored as PiloSaleLtd.com, this suspicious store advertises cheap gadgets, toys, home items, clothes and other items. But not only does it have a low 8/100 ScamAdviser Trust Score, but TrustPilot also shows many complaints regarding missing or deceptive items and customer service issues. Plus, the site is hard to navigate and lacks a phone number and company information on the "about us" page.
3. BedBathClose.com
After Bed Bath & Beyond's bankruptcy filing earlier this year, some fake online stores popped up advertising closeout deals. This one has a 3/100 ScamAdviser Trust Score and claims to be helping the retailer get rid of its merchandise. The online store's red flags include the use of the retailer's images, layout issues and listings for products at more than 90% off. The only contact information is an email address, and customers often report bad experiences.
Make Your Money Work Better for You
4. SueWhitehurst.shop
With a ScamAdviser Trust Score of 1/100, this store lists Nike Air Jordan, Yeezy or Dunk shoes at cheap prices. Having an unusual URL, it displays a Nike Factory Store logo but claims to be Trendy Closet on the "about us" page. Other issues include copied product listings, no associated social media and an empty customer reviews page.
5. Luvasti.com
Luvasti appears to sell rings, necklaces and bracelets for men and women. While the prices aren't necessarily very cheap, the site used to offer discounts through TikTok before it wiped its social media presence completely. Having a ScamAdviser Trust Score of 1/100, the shop has some classic red flags, including product pages with suspicious five-star reviews, no contact information and mostly boilerplate policy pages. 
6. ZamzBuy.com
Along with coming across ZamsBuy's website or ads, you might receive emails about its deals on a small selection of clothing. The suspicious online retailer appears to use stolen product details. It also displays grammar errors, provides insufficient "about us" and contact information and lacks customer reviews on the product pages. ScamAdviser says the shop is new and gives it only a 1/100 Trust Score.
7. WalOfficials.com
Displaying Walmart's logo, this fake store impersonates the company and claims to offer bikes, printers, grills and other household goods for unusually low prices. However, you'll notice some issues if you look closely, including broken image links, typos and a contact address associated with known scam sites. The product pages usually lack customer reviews, too. The site's ScamAdviser Trust Score is 1/100.
Make Your Money Work Better for You
8. VolcomLifestyle.com
With a 1/100 ScamAdviser Trust Score, VolcomLifestyle.com tries to replicate the brand's authentic website, including using its logo and a similar layout. It takes the site's product images and information but advertises 80% or higher discounts and bonus gifts. Unlike the real retailer, this shop says it's based out of Ireland as Fadel-Beatty Limited, and there's no phone number for support.
More From GOBankingRates