Real Estate Agents Reveal Where They Would Retire on Just a Social Security Check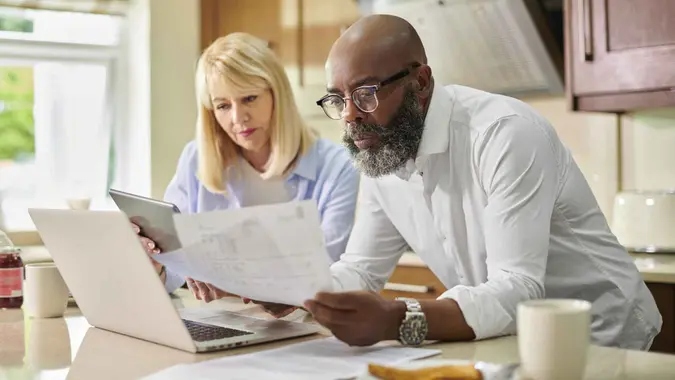 sturti / Getty Images
Social Security is meant to supplement your income during retirement, but with the average benefit amount being just $1,707, it's simply not enough for most people to live comfortably on. That's why so many financial experts recommend having more than one source of income or a significant nest egg when retiring.
But for better or worse, not everyone has multiple income streams or a large nest egg when they retire. Some of this might be due to personal choices made along the way, while some of it is due to external circumstances. Whatever the case may be, if you only have your Social Security paycheck to get you through your retirement years, you'll need to think strategically about where you live and how you spend your money.
GOBankingRates spoke with several real estate agents about where they would retire if they relied on Social Security alone for their income. These were their top choices.
Drexel Heights, Arizona
Rinal Patel, licensed real estate agent and the founder of We Buy Philly Home, said one of her top choices would be Drexel Heights, Arizona. One of the biggest reasons for this is the location's overall affordability. However, Patel chose this location for other reasons, as well, such as its breathtaking views and proximity to the bigger cities.
"The feeling of being well in the midst of nature has always been, for me, an allurement to the suburban areas," said Patel. "Also, its proximity to the metropolitan [area] comes as an added advantage. This way, I get to enjoy the best of both worlds by living a peaceful, green and serene retirement in a beautiful suburban city while never getting to feel completely out of reach of the city and all of its wonderful attractions."
Make Your Money Work Better for You
Dunedin, Florida
If not Drexel, Patel's second choice would be Dunedin, Florida.
"The truth is, with Florida, there are so many attractions, making it difficult to choose one particular location. However, so far, Dunedin seems to be the second on my list," said Patel. "From pine forests to white sand beaches to very affordable homes and reasonable — and very much appealing — cost of living. Also, access to quality healthcare and the strong and welcoming feeling of community just goes as icing on the cake."
Sardis Lake, Mississippi
Located in the northern part of Mississippi is Sardis Lake, realtor Erin Hybart's top retirement destination if she were to live only on a Social Security check.
"If I had to choose a place in the U.S. to get the most for my check, it would be in northern Mississippi on the west side of the Sardis Lake area. The area is beautiful, and it is still affordable to find a place that will give you some space to spread out," said Hybart.
Plus, Sardis Lake is relatively close to Oxford — perfect for retirees who might need convenient access to medical care. But that's not all.
"The state is tax-friendly to retirees and is overall very laid-back," added Hybart. "The weather is nice without really harsh winters. There is a lot of nature to explore, and you get a little elevation in the northern Mississippi area."
Make Your Money Work Better for You
Salt Lake City, Utah
Joshua Martin, a licensed realtor and the owner and founder of Atticus Home Buyers, chose Salt Lake City, Utah as their top choice for retiring on a Social Security check alone.
"Salt Lake City has this special charm that just makes it feel like home. The people there are so friendly and welcoming, it's like having a big extended family. And let me tell you, the community spirit is alive and thriving," said Martin. "There are always events and activities happening, from farmers markets to neighborhood block parties. It's the kind of place where you can easily make new friends and feel connected."
Affordability is another key reason for this choice.
"The cost of living is reasonable, so you can make your Social Security check stretch further," added Martin. "Plus, there's a strong job market and excellent healthcare options, so you can feel secure and taken care of."
Chattanooga or Knoxville, Tennessee
For Molly Haines, a real estate broker and owner of Cash Home Buyers, two cities in Tennessee would be high on her list: Chattanooga and Knoxville.
"If I were looking to retire on a limited income, such as a Social Security check, I would consider the charming affordability of Chattanooga, Tennessee," said Haines. The city's arts scene, beautiful nature and strong community spirit also appeal to Haines.
And if not Chattanooga, then Haines suggested Knoxville as another viable option.
Make Your Money Work Better for You
"Knoxville, Tennessee really stands out as a great option for retirees who might be on a tighter budget. It's got a lower cost of living compared to many other places in the U.S., which means you can find affordable housing, reasonable prices at the grocery store, and not spend too much on getting around the city," said Haines.
"There are plenty of affordable entertainment options, from local theatres to sports events, so you can make the most of your budget," she added. "And when it comes to healthcare, you're in good hands, thanks to places like the University of Tennessee Medical Centre."
Plus, Knoxville has the added bonus of being in close proximity to Great Smoky Mountains National Park. The city also boasts an abundance of recreational activities, cultural events, festivals, a great climate and affordable educational opportunities for retirees.
Baytown, Texas — Or Overseas
Marty Zankich, licensed realtor and owner of Reschool (Chamberlin Real Estate School), said Baytown, Texas would be high on the list of places to retire on a tight budget — if you want to stay stateside.
"If you are intent on staying stateside, look at distant, lesser-known suburbs of larger, well-known cities. An example is Baytown Texas, a much less expensive suburb of Houston," said Zankich. "Be warned though, that a lot of these less expensive suburbs aren't exactly the quaint, picturesque towns that you see in Hallmark movies. Living is rough in some of these areas."
For those who are willing to go abroad, Zankich suggested a place like Belize, Mexico or Thailand. These locations "are all home to large expatriate communities of retirees, from both the United States and Great Britain. Retiring abroad is a good way to make your retirement savings outlast you."
Make Your Money Work Better for You
Bottom Line
Ultimately, your options might be a bit limited when you only have your Social Security check to rely on. It's important to consider the cost of living and overall affordability when making your decision. And, if you still have some time before you retire, try to find other ways to build your retirement income starting now, so that you have more choices when the time comes.
More From GOBankingRates