Half of Americans Not Using Two-Factor Authentication: 5 Reasons You Should, According to an Identity Theft Expert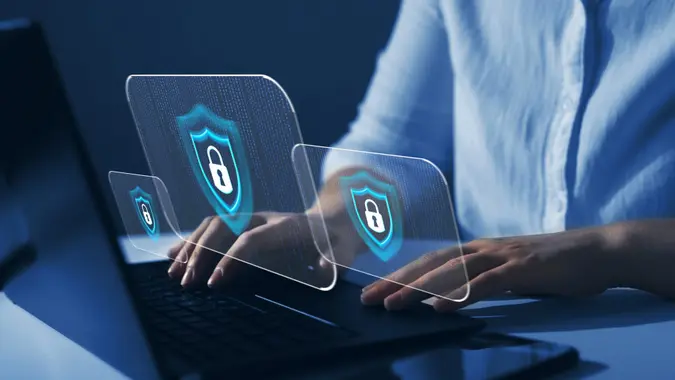 Galeanu Mihai / Getty Images/iStockphoto
Which security measure do you use with your financial accounts: standard authentication via a strong password or two-factor authentication (2FA)? 
In August 2023, GOBankingRates polled 1,141 Americans to learn more about the ways they protect themselves from identity theft. Forty-seven percent of overall respondents said they use two-factor authentication. This means 53% of respondents, more than half of Americans, do not use 2FA.
Even the strongest passwords can be vulnerable to cyberattacks. GOBankingRates is joined by Bryan Hornung, CEO of Xact IT Solutions, who cites the importance of using 2FA in identity theft protection efforts. 
If you're not using two-factor authentication yet, here are five reasons why you should start.
Enhanced Security Layer
Setting up and turning on 2FA means adding an extra verification step that isn't offered through the creation of a strong password. 
Doing so, Hornung said, provides an extra layer of protection against compromised credentials through phishing, social engineering, brute force attacks or information on the dark web.
Make Your Money Work Better for You
Protection of Financial Data
"2FA acts as a formidable barrier against unauthorized access in banking," Hornung said. "An intruder would need something the user knows, such as a password, and something the user has, like a smartphone or fingerprint, to break in."
Minimizing Identity Theft Risks
Forty-seven percent of respondents surveyed by GOBankingRates cited 2FA as one of the ways they protect themselves from identity theft. It's one of the reasons why it's important to turn on 2FA. 
By adding this extra layer of verification, 2FA significantly reduces the risk of identity theft. If a cybercriminal were to somehow gain access to login credentials, Hornung said they would still need the second factor to proceed. This would make it even more challenging to hack into an account.
User-Friendly
One of the misconceptions surrounding 2FA is it's a complicated, time-consuming process to set up and turn on. However, this is not true. Turning on 2FA, Hornung said, is a simple and effective method to boost security without increasing complexity. 
Make Your Money Work Better for You
Applicability Across Platforms
From email accounts to online shopping, Hornung said 2FA can protect various online platforms and safeguard not only finances but all sensitive personal information.
More From GOBankingRates