When It Comes to Retirement Savings, Gen Z Is the Most Confident Generation — Here's Why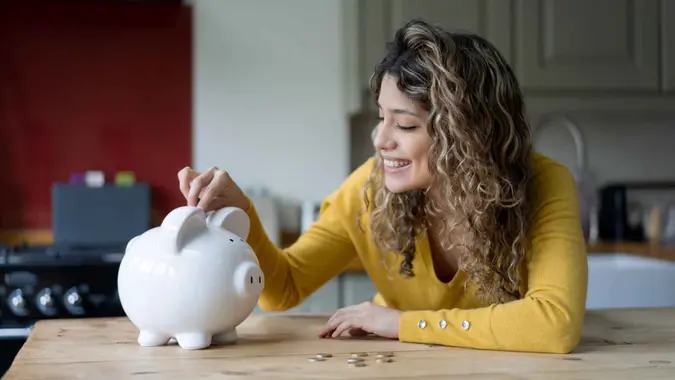 Hispanolistic / Getty Images
Gen Z Americans — the first digitally native generation — are still years away from retirement. But surprisingly, when it comes to how they think they will fare during their golden years, they are the most confident generation.
Indeed, a new GOBankingRates survey found that 31% of Gen Z Americans said they'll have enough savings when it comes to retirement. Meanwhile, 50% of them said they are somewhat confident and 19%  said they are not confident at all.
In contrast, the survey's data showed that older generations have a gloomier outlook when it comes to their retirement.
For instance, 28% of the 25-to-34 age group said they are not confident they'll have saved enough money, a figure which increases with age.
For the 35-to-44 age bracket, 39% share the sentiment and it jumps to 46% for the 45-to-54 age group; 50% for the 55-to 64 age group; before falling a bit to 41% for the 65 and over age bracket, the survey found.
So why is GenZ feeling so secure about their future financial well-being?
According to Austin Kilgore, an analyst with the Achieve Center for Consumer Insights, there are many reasons for Gen Z to be optimistic about their long-term financial prospects.
Less Unemployment, Higher Wages
"Gen Z adults are on pace to be more educated than the generations before them, and their lives have been imbued with technology — both factors that will serve them well long into adulthood," he said. "Notwithstanding the recent effects of the pandemic and inflation, Gen Zers are also entering the workforce at a time when overall unemployment remains low and wages are growing."
Make Your Money Work Better for You
Kilgore noted, however, that there are also factors that should temper Gen Zers exuberance about retirement: the unemployment rate among young Americans is more than double that of older adults.
In addition, he said Gen Z workers are far less likely than older generations to receive defined-benefit retirement benefits from their jobs, rising healthcare costs show no signs of slowing and there is considerable uncertainty about the long-term viability of Social Security.
"The pessimism about retirement among older workers reflects how difficult it has become for Americans to anticipate their long-term financial needs," said Kilgore. "This is especially true in light of unexpected global shocks like the pandemic and Great Recession, which have been disruptive to even the best-prepared workers and devastating to those further behind."
Retirement Saving Is a Top Priority
A July Transamerica survey also found that saving for retirement is a top financial priority — 35% — for Gen Zers, and that a whopping 66% are saving for retirement through a 401(k) or similar plans and/or outside the workplace.
"This is a great start and explains why they are confident," said Kendall Meade, Certified Financial Planner at SoFi. "The downside is that many Gen Zers are skipping some steps. They do not have an emergency fund which can lead to emergency situations in the future that lead to high-interest rate debts or having to dip into retirement savings."
Indeed, according to the Transamerica survey, they only have a median of $1,000 in emergency savings.
Make Your Money Work Better for You
They Started Saving Early
In addition, Transamerica found that they started saving at age 19. And of those participating in a 401(k) or similar plan, they said they contribute an average of 20% of their annual pay.
Transamerica also found that Gen Z Americans have saved a median $29,000 in retirement accounts.
According to Peter C. Earle, an economist with American Institute for Economic Research, Gen Zers are more like their great-great-grandparents than their parents or grandparents when it comes to saving.
"The major reason why is their acknowledgement that the social safety net that was there for their parents, grandparents, and even great-grandparents will probably not be there for them. And if it is still around, by the time they're eligible those entitlements will be a pale shadow of what's being paid out today," added Earle.   
Time Is on Their Side
One obvious, but nonetheless important, factor contributing to their optimism, is that they have a longer time horizon to plan their retirement. And this gift of time comes with the gift of compound interest.  
According to Catherine Collinson, CEO and president of Transamerica Institute and TCRS, Gen Z workers are establishing themselves in the workforce and gaining access to employment, compensation and benefits.
"They have a long-time horizon to build and grow their retirement savings, especially if they can quickly recover from recent challenges," she said in a press release about the survey. "Staying focused and becoming even more resilient are key ingredients for their future success."
More Access to Information and Tools
Gen Z is the first digitally native generation, and as such, they have access to more democratized financial tools and information than their older cohorts. And with more information, comes more awareness and preparedness.
Make Your Money Work Better for You
With the rise of so-called "fin-fluencers," Gen Z is almost five times more likely to get financial advice from social media platforms than older Americans, according to the World Economic Forum.
 "This generation has seen different tools that have generated profound returns in short periods of time," said Sebastian Jania, owner of Ontario Property Buyers. "Examples of this are the cryptocurrency space as well as witnessing AI millionaires and billionaires achieve wealth in a very short period of time."
More From GOBankingRates