I'm a Self-Made Millionaire: This Bad Financial Advice Won't Make You Rich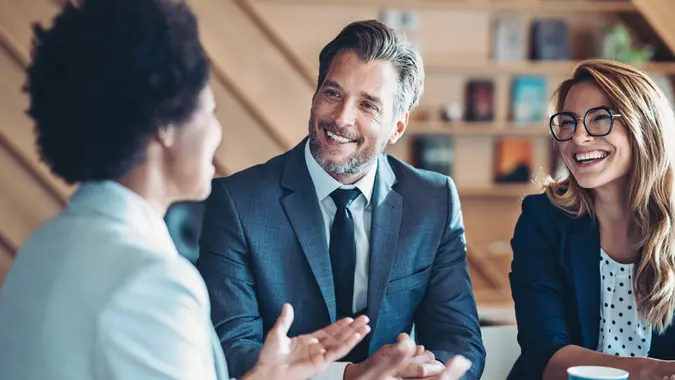 pixelfit / Getty Images
Some pieces of money advice will always stand the test of time, like a penny saved is a penny earned and believing in the power of compound interest. Other types of money advice have rules that no longer apply to the changing financial landscape, especially if you are a self-made millionaire.
GOBankingRates spoke to three self-made millionaires about outdated financial advice that won't make you rich. If you want to grow your wealth, don't follow this bad advice.
It Takes Money To Make Money
Self-made millionaire Brian David Crane, founder and CMO of Spread Great Ideas, said the financial advice "it takes money to make money" isn't accurate. True assets, Crane said, are ideas, the ability to analyze the market needs for a specific product or service and the willingness to take the first step to test your prototype or idea.
Those who think money is the only thing standing between them and success will find their creativity is crippled before they even start.
"All you need to have is a passion for what you are doing," Crane said, "the willingness to take risks, a mentality where you fail fast if you must but adopt and adapt and never forgetting that if you have a far better and creative way of solving other people's problems you will always have a market to cater to and build wealth."
Invest In What's Trending
One of the most dubious pieces of financial advice Alan Fendrich, CEO and founder of Advanced Hiring System, has heard is to invest in what's trending. 
Make Your Money Work Better for You
Fendrich, a self-made millionaire, said trends are fleeting. Creating a strategy based on trends is not an investment. It's a gamble. 
"It's chasing the 'get rich quick' mirage and ignores the reality of building wealth," Fendrich said. "It's a marathon, not a sprint." 
Those who listen and invest in trends now will find themselves prioritizing short-term gain over long-term stability. Fendrich recommends building wealth by conducting thorough research and focusing on prudent diversification and regular portfolio reviews. 
Don't Take Risks
When Dielle Charon wanted to quit her 9-to-5 job to run a business full time, many people advised her not to do it. Charon was told it would be an unstable decision to walk away from a safe and comfortable job. Today, Charon is a business coach and self-made millionaire. The only way this was possible was by taking a risk and starting her own business. 
"When we don't take educated risks, we aren't allowing for wealth opportunities," said Charon, adding that a risk can mean more than starting a business. It can also apply to working with a new business partner or making an investment. 
"I was educated in my risk," she said. "I had saved a year of business and personal expenses. I knew there was risk, but I set myself up to be able to take the risk and this ultimately brought me wealth."
More From GOBankingRates
Make Your Money Work Better for You