I'm a Self-Made Millionaire: Here's Why I Don't Think I Have Enough To Retire Yet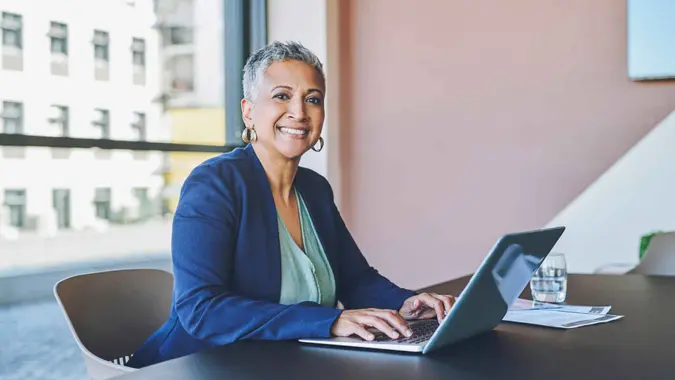 Charday Penn / iStock.com
There's no magic number that's right for every nest egg, but according to AARP, studies show the average person thinks they'll need $1 million to retire securely.
But with some analysts calculating that $1 million will last only 20 years, many self-made millionaires are not confident in their ability to retire comfortably despite their impressive achievements and enviable net worths.
GOBankingRates spoke with three successful professionals who built seven-figure fortunes, yet still don't feel they have enough to retire the way they'd like to. Here are their stories, a glimpse at how they built their wealth, their reasons for doubting their readiness to walk away from their careers and the amount they think they would need to leave their working lives behind.
For One Real Estate Pro, There's No Such Thing as Too Much Security
Greg Gaude is the owner of Maui Home Buyers in Makawao, Hawaii, a real estate company that he runs with his business partner, another longtime Maui resident. His success in one of the country's priciest real estate markets has made him a millionaire — but he still doesn't feel secure enough to retire.
So, why would a millionaire who could probably stop working without having to worry about money choose to keep laboring?
"The simple answer is… more," said Gaude. "It's interesting how our goals seem to constantly move as we approach them. However, I do think I've done a good job of not falling for the addiction to more too severely."
Make Your Money Work Better for You
When Gaude says "more," he doesn't mean material possessions or assets. He craves more of the security that money can provide against the volatility that's inherent to the industry that made him rich.
"I mostly want more protection against market corrections," he said. "For example, if home prices dropped or rents went down, it could hurt. So, I'd like to have more than one income stream that could maintain my lifestyle. That way, if something ever happened that destroyed the real estate market, I would have another income to fall back on."
An Entrepreneur Wouldn't Retire If She Could — But $5 Million Might Change Her Mind
Ritika Asrani is the sole owner of Century21 St Maarten, a luxury real estate agency in Sint Maarten in the Caribbean specializing in the sale of luxury condos, hotels and villas. The company also generates income through property management and rentals. Asrani — a 25-year entrepreneur and real estate professional — built the company into a firm that was named the top real estate agency on the island for 13 years, including in 2023.
She has what most people consider to be more than enough wealth to retire, but she doesn't agree — and even if she did, money isn't the only reason she's not ready to walk away from the career she built.
"Many self-made millionaires, including myself, often hesitate to retire, because they're passionate about what they do and enjoy the journey more than the destination," said Asrani. "It's not always about the money. It's about the satisfaction of creating something meaningful."
But that doesn't mean she hasn't come up with a rough dollar amount that might tempt her to call it quits.
"As for the financial aspect, feeling secure about retirement varies from person to person," said Asrani. "Personally, I would feel secure with a retirement nest egg of $5 million. This number is derived from a combination of factors, including my lifestyle preferences, expected expenses and the desire to leave a legacy for my family. It's about having enough to enjoy retirement to the fullest without worrying about financial constraints."
Make Your Money Work Better for You
$5 Million Is Good, but $10 Million Is Better
Fawn Bowe is the founder of Skincare Stacy, a skincare, beauty and biohacking site, and the co-founder of biöm, a successful personal care products company. An entrepreneur by nature, she's been creating online revenue streams since she was a teenager.
She knew she was on the road to success when she achieved her first $10,000 day, and today she's a millionaire — but she won't feel truly confident until she's the kind of millionaire with eight figures instead of seven and physical properties to keep the money rolling in.
"Given rising interest rates and inflation, I won't feel I have enough money to retire until I expand my investment portfolio into real estate," said Bowe. "While I don't have a specific retirement number in mind, I do know that I want to have enough money to pay for my kids' college funds or even to give them capital to start their own businesses someday. That might be around the $10 million mark."
More From GOBankingRates