5 Side Gigs for Retirees That Can Help Supplement Retirement Income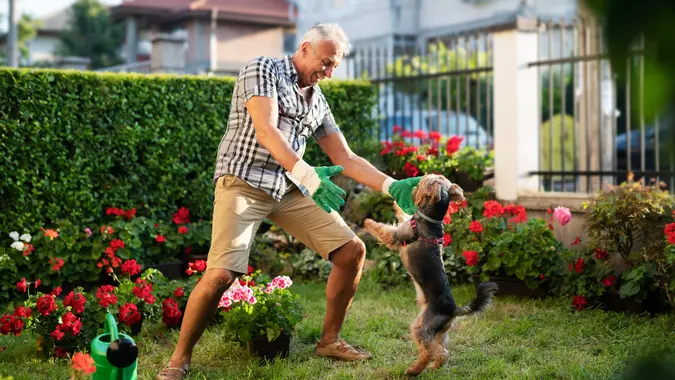 ArtistGNDphotography / Getty Images
Retiring from the workforce means you'll have more free time than ever. While there will be times when you enjoy having fewer responsibilities, you may also get bored at other times if you're used to always being active. If you ever get bored, various side gigs are available to bring in some extra money. Numerous side gigs for retirees can give you something to do while allowing you to boost your income. 
What are ideal side gigs for retirees looking to make more money?
Watching Dogs On Rover
If you're looking to stay active or if you want to be around pets, you can sign up with an app like Rover. This platform allows you to make money through various pet-sitting options. You can get paid to go for walks or have dogs stay with you.
How Much Can You Make With This Side Gig?
You can earn up to $100 per night for boarding.
You can earn up to $35 for an hour-long walk.
The pay for house sitting can range from $50 to $100 per night.
The best way to figure out how much you could earn is to search sitter rates in your community to see what the pay range is. Once you build up your profile, you can increase your rates, as well.
Make Your Money Work Better for You
Selling Arts and Digital Printables on Etsy
If you enjoy creating arts and crafts or want to test the waters with digital printables, you can make money on a platform like Etsy.
How Can You Get Started On Etsy?
Think of a digital printable or craft that you could create. GOBankingRates recently examined how Taylor Swift fans made money from selling bracelets. You could jump on a trend like this or find something to add to the marketplace based on your skill set. The items that you could sell range from digital templates to crafts.
How much can you make here? One shop owner made $16,000 from selling Taylor Swift friendship bracelets alone. The pay will depend on what kind of product you sell and its popularity. You can also increase your income by listing these items on other platforms, like Facebook Marketplace.
Offer Freelancing Services With Your Expertise
Chances are that you put in decades of work to grow professionally in your career. You could likely offer your services as a freelancer, where you get paid per project. There's plenty of demand on the freelance job boards for all kinds of different work.
How Can You Start Offering Freelance Services?
Go through freelance job boards, like Upwork or Freelancer.com, to see what jobs typically pay.
Find a job that you could perform.
Bid on jobs.
Complete the projects.
Build up your portfolio.
How Much Can You Earn Freelancing?
The amount that you earn will depend on the service that you offer. If you're more experienced, then you could earn the top wage. Here are some of the pay ranges for various services on Freelancer.com:
Depending on the client, Logo design could earn anywhere from $30 to $250.
You can get paid $120 to $230 per hour for interpretation services.
You can earn anywhere from $100 to over $1,000 for writing services, from creating resumes to helping people apply for business proposals.
Make Your Money Work Better for You
If you take some time to explore freelance jobs, you'll see the pay range to get an idea of what to expect in terms of income. From there, you can decide how many jobs you're willing to bid to determine how much you earn from this side gig. If you don't have any marketable skills, then you could take the time to learn a skill like writing or editing to find freelance work in this field.
Ride-Share Driving
If you want to be social and stay busy, you can sign up as a ride-share driver with a service like Uber or Lyft. Depending on the area that you live in, you can make some decent money from this option. The pay will depend on the areas that you work and how much time you put in. Many retirees have turned to this option, since it gives them an opportunity to stay social and active.
Renting Out Extra Space
One side gig that could bring in extra money with minimal effort is renting out space on a short-term rental platform like Airbnb. You could have an extra bedroom or an entire basement that isn't used anymore. This extra space could lead to a side gig as a host.
How Can You Start Making Money With Short-Term Rentals?
Think of what type of space you can list on Airbnb. You can rent your spare bedroom, the basement or even your entire home when you travel. You could also get creative and set up a tiny home or a trailer on your property.
Look at what comparable spaces are charging. You want to assess the market to see what similar listings are going for.
List your space and work on getting those five-star reviews. You may have to spend some time on the initial setup, but once you have your unit ready, this could be a fairly passive source of income.
Make Your Money Work Better for You
How Much Can You Earn Here?
The pay will depend on your space, the location and the time of the year. Here are some pay ranges for a random weekend in September:
You can rent out a tiny home for over $150 per night in Alabama.
A room in Greensboro, North Carolina, could earn you $400 for the weekend.
You can charge $50 per night to have someone stay in a room in Orlando.
Airbnb offers an estimated earnings calculator so that you can see what the potential is. You can also invest in upgrading your space to increase your earning potential.
What To Consider Before Starting a Side Gig
It's important that you review the financial implications of taking on a side gig with your various income streams in your retirement years. Chances are that your taxes were fairly simple when you were working. However, in your retirement years, you're going to have different streams of income that affect your taxes.
Here are some considerations about side hustle income:
Will this new income stream put you into a different tax bracket?
How much Social Security income are you bringing in?
At the end of the day, you have to do what's best for your situation, so you're going to want to speak with your accountant about any side gigs that you pursue. 
Closing Thoughts
You may find yourself looking for something to do or an additional income stream to help you live more comfortably in your golden years. Luckily, side gigs like pet sitting or hosting your spare room could provide you with additional income while allowing you to be social.
More From GOBankingRates
Make Your Money Work Better for You