Side Gig: Earn Up To $200/Hour With This Easy-To-Start Job, No College Degree Required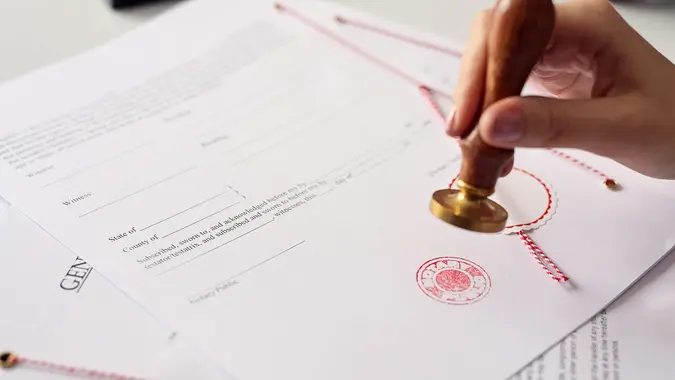 Daniel Jedzura / Shutterstock.com
Contract work that doesn't require a college degree tends to pay less — but not always. For example, notary signing agents play a critical role in the final stage of the loan process. The highest earners make three figures an hour, and you can do it without a college degree.
Here's a look at a lesser-known potential side hustle that you can start in less than a month with a minimal investment. Over time, you might be able to build it into something big — and if it's not for you, you'll also learn about alternative contract jobs that are easy to start but pay well.
Notary Signing Agents Earn Money When People Borrow It
Anyone who meets their state's requirements for a notary public can complete specialized training to notarize and handle loan documents. The law doesn't require certification, but many companies that contract signing agents do. Either way, you'll have to pay for training and errors and omissions insurance, but according to the National Notary Association, "The cost of becoming a certified signing agent typically ranges from $75 to a few hundred dollars."
The barriers to entry are low, but the pay can be high.
"Becoming a notary public or a signing agent is indeed a viable option for a job or side hustle that doesn't require a college degree but can potentially pay well," said Kimberley Tyler-Smith, an executive at the career tech platform Resume Worded. "While the earnings can vary depending on factors such as location and demand, it is possible for experienced signing agents to earn $100 or more per hour."
Make Your Money Work Better for You
Even the Average Is Much Better Than Average
According to ZipRecruiter, the average notary signing agent earns $47 an hour — more than double the $21 that goes to the average earner across all occupations. While notary signing agents in the 25th percentile make $17.55, that's close to the bottom. ZipRecruiter says that "wages below this are outliers."
Those in the top 25th percentile earn $84.86 an hour — and that is not an outlier. More than one in five notary signing agents make between $73.56 and 86.30 hourly. On the far end of the scale are the truly high earners who command up to $150 an hour.
However, you should expect to work up to that kind of pay.
"It's important to note that reaching the higher end of the income scale typically requires building a client base and gaining experience in the field," said Tyler-Smith.
Think Hard About Your Industry and Specialty
Sumeet Kumar, a certified financial education instructor and founder of MoneyFromSideHustle, agrees that working as a notary signing agent can be an accessible and profitable venture — but your location, field and niche will play a big role in your earnings.
"There is demand for this role across various industries like legal, finance, and real estate," said Kumar. "Startup costs and requirements vary by state but are generally relatively low. Some signing agents do indeed report earnings in the range of $100 to $200 per hour, although that's at the high end. Average earnings may be lower — around $65 — and income can be dependent on factors like geographic location and the number of assignments taken."
Make Your Money Work Better for You
Kumar noted that pay is typically on a per-signing basis, not an hourly basis, so clusters of assignments in close proximity allow for higher earnings than far-flung assignments with lots of driving in between.
Also, it matters who issues the assignment.
"Notaries and signing agents who work directly with escrow officers and title agents often earn more than those who work for loan signing service providers," said Kumar. "This is because working directly allows notaries to negotiate their fees, while service providers often take a cut."
That's Not the Only Low-Barrier, High-Pay Contract Job
Notary signing agents aren't alone in enjoying good pay without a college degree. The following jobs fit the bill, too. And just like signing agents, they work on a contract basis, so they're all potential side hustles.
Freelance Web Developer
Since just about every business needs a professional digital presence, freelance web developers are in high demand — and they're not all college grads.
"Many successful web developers or designers are self-taught or have pursued online courses and certifications to enhance their skills," said Tyler-Smith. "By building a portfolio and marketing their services, freelance web developers or designers have the potential to earn a substantial income, often exceeding $100 an hour, depending on their expertise and the complexity of the projects they undertake."
According to Talent.com, the average freelance web developer earns $146,250 a year.
Specialized Personal Trainer
According to Kumar, the average pay for personal trainers is around $30 per hour, which Salary.com backs up — but it can go much higher depending on your expertise, clientele and most importantly, your specialty.
Make Your Money Work Better for You
"To become a personal trainer, you'll need to get certified by a respected organization such as the American Council on Exercise (ACE) or the National Academy of Sports Medicine (NASM)," said Kumar. "Many successful personal trainers develop a niche, such as post-natal fitness or sports-specific training, which can help attract clients and justify higher fees of more than $100 an hour."
Wedding Officiant
If you have excellent public speaking skills and can handle the pressure of the most important part of a couple's most important day, you can make big money — at least on a seasonal basis — as a wedding officiant.
"By offering customized ceremony scripts and conducting rehearsals, you can provide a valuable service to couples and charge premium rates," said Marc Morego, chief strategy officer at Service Club Delivery, a recruitment outsourcing firm. "Depending on the location and the complexity of the ceremony, wedding officiants can earn over $100 an hour. You can become ordained online or check the legal requirements in your jurisdiction."
According to WeddingWire, the average couple pays between $200-$450 for their services.
More From GOBankingRates