Social Security 2023: 4 Moves Boomers Can Make Now If They're Worried About Cuts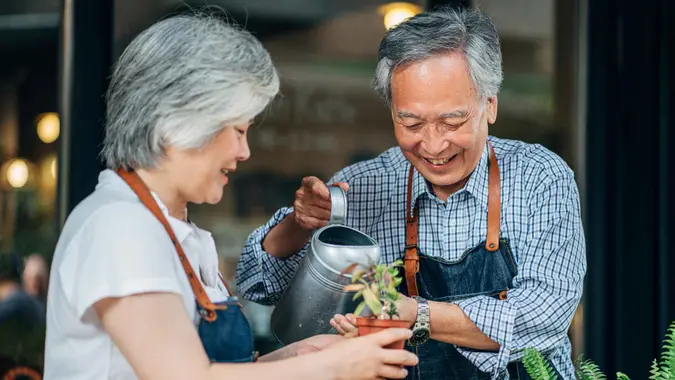 South_agency / Getty Images
Baby boomers wondering about the future of Social Security and deciding what to do about it may want to start by asking themselves one question: "Should I really be worried about cuts to Social Security?"
The ongoing departure of boomers from the workforce, combined with more boomers grabbing their benefits, is increasingly straining the system. Politicians have some tough decisions ahead of them. Experts say the outlook for boomers is far from grim, however.
"Despite the recent legislative rhetoric, while there is some likelihood that there could be some means testing of Social Security, the pending demise of Social Security is greatly exaggerated," said Robert Johnson, a professor at the Heider College of Business at Creighton University.
"Besides being political suicide, the elimination of Social Security is not consistent with the value system of the United States. Many other government funded programs would be eliminated or cut back before Social Security."
Nevertheless, it's a "when-not-if" situation for the benefits age to be raised and for Social Security taxes to increase, according to Daniel Roccato, clinical professor of finance at the University of San Diego. "Everyone knows those things are going to happen," he said.
Roccato concurs with Johnson, however, in noting that boomers — the youngest of whom will turn 60 next year — are far less likely to take the brunt of any significant changes.
"Every proposal, every discussion I've seen by political leaders with regards to Social Security reform starts at (age) 55," Roccato said. "Whatever changes are going to happen won't impact you … For 55 and below, watch out."
Make Your Money Work Better for You
All that said, no one can predict the future with 100% certainty. Plus, it never hurts to be prepared. Here are a few moves boomers should consider if they're worried about Social Security cuts.
Reconfigure Financial Forecast With Less From Social Security
In other words, practice for cuts in case they happen. Plot your financial future with less coming in via Social Security checks. How much do things change?
If you don't like what you see in terms of your lifestyle, long-term goals or other areas, you can start making adjustments to your finances right now — before it's too late. If those Social Security cuts never materialize, you'll be that much better off.
Start Taking Social Security at the Earliest Opportunity
But wait a minute — doesn't conventional wisdom call for holding off as long as you can? Isn't full retirement age the goal?
Not necessarily, Johnson advised. Your payments may be smaller if you go early, but if you firmly believe Social Security will be significantly reduced during your window, you can certainly grab it sooner. Don't forget to factor in your health, as well.
"When analysts say that the best strategy is delaying taking Social Security, they are making two major assumptions — that the recipient will live a long life, and that Social Security will remain intact," Johnson said. "One needs to take one's own health situation into account when drawing Social Security. If you have several mortality factors, it may make sense to start drawing Social Security sooner rather than later."
Make Your Money Work Better for You
Beef Up Your Roth IRA
If you're worried about making up for lost Social Security benefits, one of the last things you want during retirement is for big chunks of your savings to go to the IRS. For traditional IRAs, that's exactly what happens.
With Roth IRAs, however, you can withdraw tax-free during retirement. Consider boosting your Roth contributions now, even if it means tightening things up beyond your comfort level in the present. And don't forget that you qualify for "catch-up" contributions (through which you can exceed the usual limits) at age 50.
It's an effective way to brace for any shortfalls down the road.
Supplement Your Income Before, and Possibly During, Retirement
It may seem obvious, but if you're worried you'll be short on money later in life, there are ways to bring in more outside of retirement plans and Social Security.
Whether you've retired from your full-time job or not, it may be time to start bringing in some money with a side hustle. See if that hardware store you've gone to for years is hiring part-time workers. Log some miles with an app-based ride share company. Write or edit online content. Consider turning hobbies like casual jewelry-making into something lucrative.
With the gig economy opening up new opportunities for freelancers and temporary workers, there's no shortage of opportunities. Side gigs can be a fantastic way to increase your financial peace of mind. You might even have a fun time doing it.
More From GOBankingRates
Make Your Money Work Better for You