Student Loans 2023: 3 Scams Borrowers Need To Be Aware Of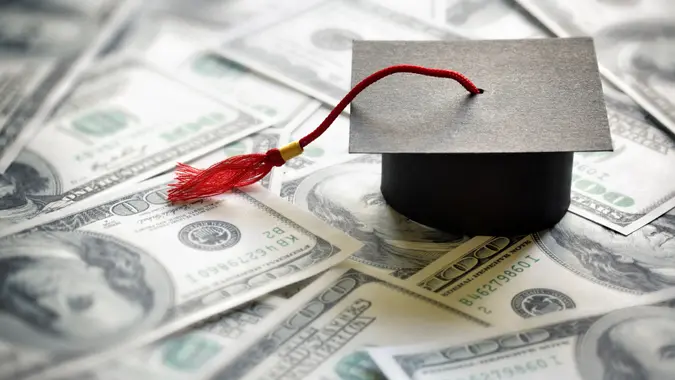 BrianAJackson / Getty Images/iStockphoto
Student borrowers in America owe their lenders a combined $1.76 trillion, according to the Education Data Initiative. With that much money changing hands, you can count on criminals to try to siphon off as much as they can for themselves.
According to Forbes and anti-spam/scam platform RoboKiller, Americans lost $5 billion to student loan fraud in 2022. 
Borrowers received 700 million student-loan-related robocalls every month last year. While many were certainly legitimate, others were scams that typically fall into one of the following three categories.
Student Loan Forgiveness and Elimination Scams
President Biden's proposed student loan elimination program remains blocked by a federal court order. Separately, the president issued a one-time waiver that made it easier to qualify for the Public Service Loan Forgiveness (PSLF). While the waiver expired, hundreds of thousands of qualifying borrowers are still waiting for their applications to be processed.
Needless to say, there's a lot of confusion around the issue — and scammers know it. 
According to the U.S. Federal Student Aid (FSA) office, swindlers are contacting borrowers and playing on the misinformation surrounding the issue. The exact language varies, but the tone is always urgent, with the caller claiming that the borrower's loan qualifies for full discharge but they must act fast because applications are first come, first served, or the program soon expires. 
They'll typically ask for an upfront or monthly fee and/or try to harvest your private data, including your FSA ID, which the Department of Education and its partners never solicit.
Many related scams don't mention federal programs or presidential initiatives specifically, but they promise to have your debts canceled, forgiven or otherwise eliminated.
Make Your Money Work Better for You
Student Loan Consolidation Scams
The Texas Office of the Attorney General plainly states, "If a company charges you money upfront to consolidate your federal student loans, it is a scam."
Charging a "processing fee" to consolidate student loans is not a new fraud, but it's as prevalent as ever in 2023. The reason for the enduring nature of this scam is that consolidation can be beneficial.
But you can consolidate your own federal loans for free at StudentLoans.gov. FSA reminds borrowers that there is no cost to apply for direct consolidation and that private organizations that offer to help with loans for fees "have no affiliation with the U.S. Department of Education (ED) or ED's federal loan servicers."
Student Loan Negotiation Scam
Between debt elimination and debt consolidation is debt negotiation. For many scammers, pretending to bargain with your lenders on your behalf is a lucrative middle ground. 
According to FSA, third parties don't have the power to negotiate any special deals on your behalf; and, because federal law determines income-driven payment plans, there's typically nothing to negotiate.
Even so, scammers are borrowing from the playbook of loan modification and debt relief fraudsters who have long plagued the credit card and auto loan industries.
Criminals purporting to represent financial services companies contact borrowers with offers to work with their lenders to reduce the amount they owe, lower their interest rates or improve their loan terms. They might ask for a processing fee or simply lie and say they worked out a deal for you to pay off the loan in one lump sum that they'll give the lender on your behalf. Of course, they never do.
Make Your Money Work Better for You
According to Student Loan Planner, unscrupulous or fake lawyers and law firms run a version of this scam as well.
Know the Warning Signs and Protect Yourself
To prevent some portion of your money from joining the $5 billion lost to student loan scammers last year, stay safe and remember the golden rule of fraud protection: If it sounds too good to be true, it probably is. 
According to Federal Student Aid, otherwise thoughtful people drop their guard because scammers tell them what they want to hear — promises to lower interest rates, extend deadlines, reduce the amount owed or even wash away their debt altogether.
Also, Keep an Eye Out For: 
Fees: Borrowing fees are common, but they're rolled into the principal of legitimate loans. You should never pay to borrow money, service an existing loan, fill out a FAFSA form or switch to a new plan. 
Solicitation of personal information: Neither your loan provider nor the Department of Education will ever ask for your FSA ID or password. You should be leery of any marketer or anyone claiming to be a financial professional who asks you to reveal that or any private information.
Urgency: Most student loan scams have one thing in common — pressure. Anyone urging you to act immediately should be considered suspicious.
Finally, do your research. The fear of due diligence is why scammers pressure their victims to act immediately. Keep in mind that many fraudsters have sophisticated, professional-looking websites and social media profiles. But anyone can build an online presence — don't take their word for it.
Research any person or business who contacts you and don't take for granted official-sounding language like "partner of the Department of Education," "consumer advocacy group" or "pandemic grant," all of which are terms that watchdogs see more commonly in scams today.
More From GOBankingRates
Make Your Money Work Better for You