Suze Orman: 6 Retirement Must-Dos in 2023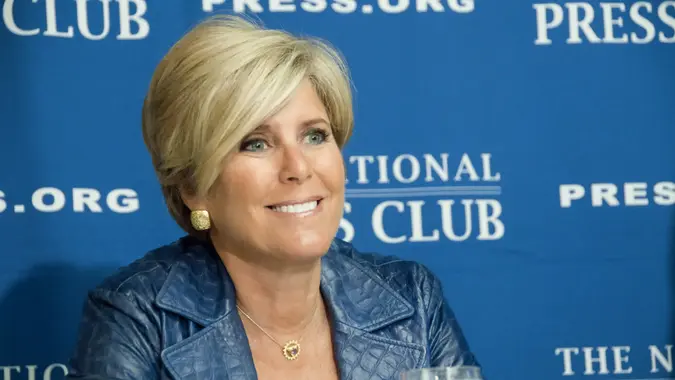 Albert H. Teich / Shutterstock.com
We're in Q4, which means it's time to conduct a maintenance checkup on your retirement saving strategy.
This tip comes courtesy of money expert Suze Orman, who recommends prioritizing becoming debt-free and saving as much money as possible to reach your financial goals in retirement. At the start of 2023, Orman blogged about the top six items everyone needs to cross off their retirement to-do list. If you haven't checked off this list, there's still time to wrap it up before the year ends.
Take care of these six retirement must-dos in 2023.
1. Contribute Enough to Your 401(k) To Get the Maximum Match
According to Orman, one in four savers do not contribute enough to qualify for the biggest possible matching contribution from their employer.
There's a simple way to fix this issue, especially if you recently changed jobs and relied on your plan to choose the right starting contribution rate. Orman recommends reaching out to HR and asking what your contribution rate needs to be to qualify for the maximum match. Once you know this rate, you can make the switch.
2. Boost Your 401(k) Contribution Rate By 1%
It is common savings advice to save at least 10% of your gross income for retirement. If you have been consistently doing this, Orman recommends bumping up to saving at least 15%.
Take a moment to boost your contribution rate by 1% in 2023. Those who commit to increasing their contribution rate by 1% each year will easily be able to reach the 15% target rate.
Make Your Money Work Better for You
3. Put Half of a Raise Towards Retirement
All of your wants, like taking a vacation or buying a fancy new car, can wait. If you received a raise this year, Orman said to put half of it towards boosting your retirement savings.
4. Use a Roth 401(k)
Some employers offer their employees the option to contribute to a traditional 401(k) or Roth 401(k). Orman recommends taking the Roth 401(k) option.
What if it's not an option? The post on Orman's blog reads you should contribute enough to the traditional 401(k) to qualify for the max matching contribution. Then, open a Roth IRA and max out contributions each year into that account.
5. Save Money in a Roth IRA
What if your employer doesn't offer a 401(k)? Orman recommends opening a Roth IRA and maxing out your contributions into it each year.
Unsure about the funds or ETFs you should invest in? The post on Orman's blog reads a smart core holding is a U.S. total market stock index fund or ETF.
6. Review Your Stocks and Bonds
Some 401(k) plans offer automated rebalancing, but this is not true of all plans.
Before 2023 ends, Orman said to check your mix of stocks and bonds and make sure it's where you want it to be. Keep in mind you don't need to worry about any tax bills when you buy and/or sell shares of funds you own inside your 401(k).
More From GOBankingRates
Make Your Money Work Better for You