I Travel the World in My Retirement: How I Save and Budget To Afford Every Expense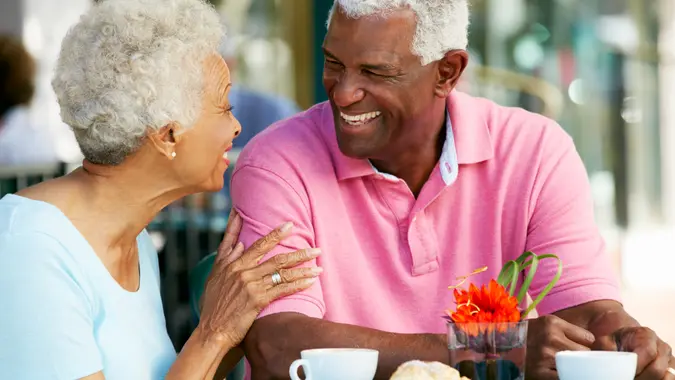 ©Shutterstock.com
The dream for many hard-working people is to one day be able to retire and travel the world. However, with rising costs and life getting in the way, the thought of becoming a vagabond who travels in retirement may feel like a distant fantasy. 
The good news is that you don't have to read about travel in books or see it in movies. You can travel the world in retirement. We spoke to Norm Bour, a travel writer who started Travel Younger after leaving the U.S. in 2019 with his wife. Since leaving the country, they've become permanent nomads who have visited 37 countries in these past few years. 
Here's how Norm and his wife have managed to travel the world in retirement. We will look at how they save and budget to afford this lifestyle. 
Look Through Your Living Costs
"We travel and live on MUCH less money than we did in California, and our monthly budget is between $2,500-$3,000," Bour said when speaking about his living costs while traveling in retirement. "Our lodging is the biggest part, but a fraction of my (then in 2019) rent of $2,300 per month." Bour is spending less on lodging because he looked through his living costs to determine how to save money. 
Traveling in retirement may seem unaffordable because you're currently spending too much on your living costs. If you want to travel, you will have to start by going through your living expenses to see if you can minimize them. You should also run the math to see how much it would cost to travel compared to staying where you are. 
Make Your Money Work Better for You
Minimize Your Expenses
"We have no car and don't spend money on anything unless it involves eating, wearing, living, or traveling," Bour said about cutting out expenses so they could travel full time in retirement. When you minimize your expenses, you give yourself the flexibility to live your dream lifestyle. 
If you want to travel during your golden years, certain sacrifices must be made. For example, while it may be tempting to purchase a new home or vehicle as a reward for retiring, it's important to remember that this money could be used toward funding your global travels. 
Plan in Advance
Travel can become pretty expensive if you don't plan in advance or if you're only moving around during busy seasons. The Bours plan their travels so that they can land the best deals on flights and accommodations so that they're not overspending on travel. A little bit of due diligence goes a long way when it comes to traveling the world in retirement. 
Understand That Travel Isn't Just for the Rich
"I never recovered from the 2008 recession, so when I hit 62 and started getting Social Security, I recognized that I had guaranteed income for life," Bour said candidly on how they could afford to travel the world. "In California, it was poverty level, but in most of the places we have lived, it is borderline luxury." One of the most common misconceptions about travel is that only the rich can afford it. Times have changed, and you don't have to be wealthy to explore the globe. Regular people who don't retire with millions can travel in retirement with a bit of creativity. 
Manage Your Spending on the Road
Travel can become expensive if you don't plan in advance or if you don't perform extensive research. Norm shared two tips for managing your spending when traveling the world in retirement.
Make Your Money Work Better for You
Avoid Tourist Traps
"We watch our cash flow, don't do touristy things, and have a wonderful quality of life." Life on the road could become a hefty investment if you're always visiting tourist attractions and moving around during the peak season. The Bours prevent overspending by finding joy in simple activities when traveling the globe. 
Find Cheap Accommodations
Norm and his wife are huge fans of Airbnb, and they've stayed in over 130 different units on the road. You can extend your travels by finding cheap lodging. Here are two tips for saving on accommodations when traveling in retirement:
Stay 30 days or longer so that you get a significant discount. There are various options for deals on extended stays. 
When you search out your intended location, use the filter to dial in your upper price range. If $900 is your monthly max, use a range of $xx-$900; that is all you'll get.
If you're looking for a lower price on an Airbnb that has caught your eye, you can always request a discount. Here's the message that Bour sends out to Airbnb hosts to request a deal:
"We are full-time travelers, and your place is very nice, but we have a fixed budget we need to stay within. Are you open to a lower price?" 
From there, Norm and his wife will sell themselves based on their reviews and how they won't need anything from the hosts. This system helps them save money on accommodations as they travel on a fixed budget as retirees. 
Take the Leap
"There are no big tips, other than just to leave the U.S. and live abroad," Bour said on how he and his wife decided to take the leap to travel full time in retirement. It won't always be easy, but you have to trust the process and make the jump at some point. The beauty of the internet and social media is that you can figure everything out from your phone. 
Make Your Money Work Better for You
Closing Thoughts
You don't have to retire with millions in the bank to travel the world. Many regular people out here are traveling the globe and enjoying life in retirement on modest incomes. It's important to remember that travel is different for everyone. Some people will only travel to luxurious resorts, while others don't mind looking for deals to stay on the road longer. Your retirement travel will be unique to you. 
More From GOBankingRates