I'm a Luxury Real Estate Agent: 6 Types of Homes That Are Overpriced and Overhyped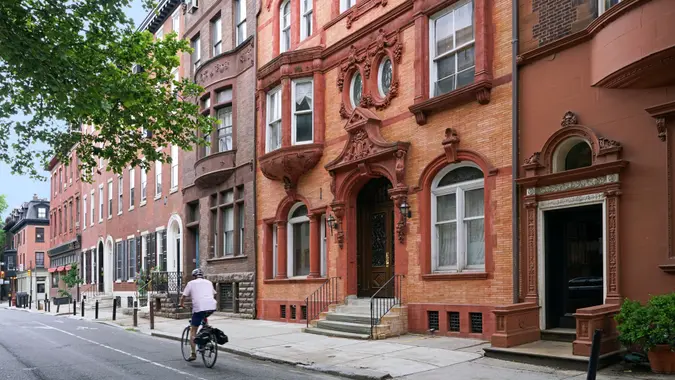 peterspiro / Getty Images/iStockphoto
The housing market has seen a tremendous boom in recent years, with home prices skyrocketing across the country. While the demand for homes remains high, certain types of houses call for buyers to exercise caution and consider whether the price tag is justified — or if it's inflated solely due to hype.
Just because a home is excessively lavish or advertised as exclusive does not mean it's worth its high cost when more affordable and practical options exist. According to real estate experts, here are six types of homes that are either overpriced or overhyped.
Snout Houses
Maureen McDermut, Realtor with Sotheby's International in Montecito, highlighted the overpriced nature of snout houses in modern suburbs. As she explained, snout houses are homes with garages that prominently protrude from the front and center of the house. 
"The design enables builders to put more homes in their neighborhoods, but overall, these homes lack space and aren't as functional as other design options. Many modern suburbs have these homes and they are priced well above market because they are newer builds."
The awkward protruding garage design disrupts the snout house's footprint. Yet due to their shiny new construction, snout houses often get listed far above market value. McDermut advised buyers to be wary of overpaying for the novelty of these suboptimal suburban homes.
Suburban McMansions 
Sprawling suburban homes with 5,000+ square feet of living space have proliferated across the country. Yet these giant homes can be difficult to sell thanks to high maintenance costs and declining demand for large homes in isolated areas. The big yards, multi-car garages, and open floor plans that once defined these houses are now seen as wasteful.
Make Your Money Work Better for You
As Brian Burke, owner of Kenna Real Estate explained, McMansions are characterized by their massive size and hollow, Swiss cheese-like design. In 2023, a typical 8,000 square foot McMansion sells for around $1.8 million. However, these giant homes lack architectural balance and contain many unusable voids between rooms. Their sheer size can make heating, cooling and maintaining them incredibly expensive. While they aim to impress with scale, McMansions are not the most practical or cost-effective housing option.
Storybook Houses
Storybook houses blend fanciful elements like curved walls, mismatched frames and towering ceilings. Their whimsical style comes at a steep price though. Built custom in the 1920s-30s, their rarity and intricate details rocket costs upward.
While adorable, storybook houses are not optimized for modern living. Their curved walls and cathedral ceilings make temperature regulation and renovations challenging. These homes exude old-world charm but require constant, costly upkeep. Their custom nature also makes resale difficult. Storybook houses entail great expense for those drawn to their quirky aesthetic.
"You'll have the name and fame of owning a rare house but not a good option for living," said Burke. "While they may exude charm, storybook houses require heavy maintenance — a unique choice but a costly living experience."
Brownstones
Burke also warned buyers to exercise caution when considering a historical brownstone. Brownstones reflect 19th century-era architecture with their iconic brownstone and limestone facades. Concentrated in upscale urban neighborhoods, these townhouses command premium prices.
Their handsome materials like rare brown limestone and ornate detailing require intensive maintenance, elevating costs further. While undoubtedly charming, brownstones' rarity, coveted locations, and need for continual upkeep make them an extremely expensive housing choice. Their cultural cachet comes at a steep price.
Make Your Money Work Better for You
Downtown Penthouses
With urban living on the rise, luxury penthouses in major metro areas have exploded in popularity. These upscale units promise top amenities and on-site services. However, the eye-popping price tags — think in the multi-millions — rarely align with the actual value once you consider other factors.
"A downtown skyscraper penthouse seems like the epitome of extravagant living, but in reality, the residents face damage through weather, maintenance issues, and accessibility," Jake Rockwell, owner of Rockwell Group, pointed out.
Located at the top of skyscrapers, penthouses endure the harshest weather impacts from storms and heavy snowfall. Maintaining large terraces at such heights proves challenging and costly, with little machinery access. The constant hum of rooftop machinery like HVAC units also detracts from the ambiance. Any leaks or pipe damage ripple downwards, requiring expensive repairs to dozens of floors below. The realities seldom match the luxury hype.
Rockwell also noted another major concern: "During an emergency, it takes the most time to come down from a penthouse while the emergency service providers arrive last."
Tiny Homes
Tiny homes have been lauded as chic, eco-friendly living options. But the sky-high prices for homes under 400 square feet just can't be justified.
Chris McGuire, owner of Real Estate Exam Ninja, said, "While they can be an affordable solution for some, the inflated prices for trendy designs or in sought-after locations often make them overpriced compared to their actual square footage and functionality."
More From GOBankingRates
Make Your Money Work Better for You