What It Means To Live a Truly Rich Life and How To Achieve It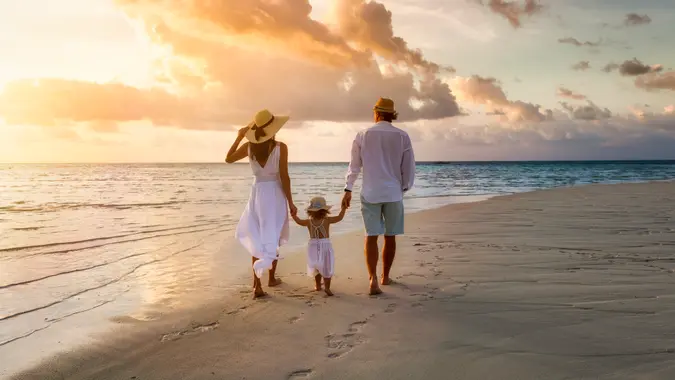 SHansche / Getty Images/iStockphoto
Being "rich" means different things to different people — and it doesn't always have to do with money. In fact, a 2018 GOBankingRates survey found that nearly half of Americans — 49% — defined being rich in a way that had nothing to do with financial wealth. According to the survey, 30% of Americans believe that being rich means living a happy life no matter how much money you earn, and 19% define wealth as having meaningful relationships with friends and family.
My personal definition of living a rich life has changed and evolved over time. Now, I can't help but think how important it is for me to know that if I lost my job tomorrow that I could still pay my bills, and to have the financial freedom to breathe. I haven't always had that. When I was younger, I was irresponsible with my money. Though exotic trips, expensive clothes and fancy restaurants were fun, the bills and debt they left me with were not. I thought "living richer" was all about throwing caution to the wind and not worrying if I could afford something or not. Thinking and living like that only led to extreme financial hardship, stress and unhappiness. It wasn't until I stopped trying to look and act "rich" and comparing myself to others that I found what "Live Richer" truly means.
Helpful:
"Live Richer" to me is no longer searching for happiness in physical things. Instead, it's finding it where I'm at, and ultimately within myself. It's about putting money away for rainy days instead of worrying about your next Instagram post or having the right outfit, car or home. Saving money and budgeting isn't always fun or sexy, but the sense of peace and worth that comes from having a savings account and a retirement plan is priceless.
Check Out:
See:
Having struggles with money and not being able to buy everything I thought I wanted helped me develop my character, and be more aware and compassionate toward others and their money struggles. That's why the "Live Richer" series and Your Money Champion column are so important to me. Through helping people with their hardest money questions and sharing expert advice, I've learned that with the right planning and a little bit of discipline, it's possible to earn more, save more and live well in every phase of life — and for a month GOBankingRates will be teaching you how to do just that.
To kick off our month of living richer, I spoke to some very influential, successful people about how they define living a "rich life" — here's what they had to say.
Barbara Corcoran: Real Estate Mogul and Business Expert
"By most people's standards, my parents were poor. But they were never depleted, weak or needy, and cared for all 10 of us with an abundance of love. They just didn't value money. Today people say I'm rich — flush with cash, as they say, a lucky son of a gun. But I don't put much value on it. My real worth is the time I spend with the people I love, measured by the enduring affection my family and friends have for me over a lifetime."
Stop Now:
Deepak Chopra, MD: Founder of Chopra Global and The Chopra Foundation
"To live richer is to follow the inner path to wealth and abundance. This includes the progressive realization of worthy goals, to love and have compassion and, most importantly, to always be in touch with your creative consciousness, which is the source of all riches."
Tips:
Apolo Ohno: 8-Time Olympic Medalist, Personal Capital's Next Financial Hero
"It is a life filled with love, acceptance, empathy, gratitude, fire, discipline and a wholesome experience of being present. In a world filled with distractions and next-level hype activity, I feel the ultimate 'rich life' is to be present, committed to the path that we have chosen and grateful for the time that we have. Financially living in abundance is not only a physical trait but a mental one as well. To indeed be free, we must be willing to see things as they are, not as the world tells us they should be or what we want them to be. The Olympic path has taught me that anything can happen at any moment and to leave no stones unturned in our preparation, but grateful for the result. Embody the process over the prize."
Important:
Although living a rich life means more than being financially well-off, we here at GOBankingRates want to help you make the most of the money you have and create better habits to enable you to live the life of your dreams — whatever that may look like for you. Over the next 31 days, we'll be sharing tips for budgeting, saving and investing, making the most of your career, dealing with debt and living richer throughout every life milestone. Check back every day for new, approachable ways you can live richer.
More From GOBankingRates
Gabrielle Olya contributed to the reporting for this article.