5 Financial Moves To Make After Your Student Loan Is Forgiven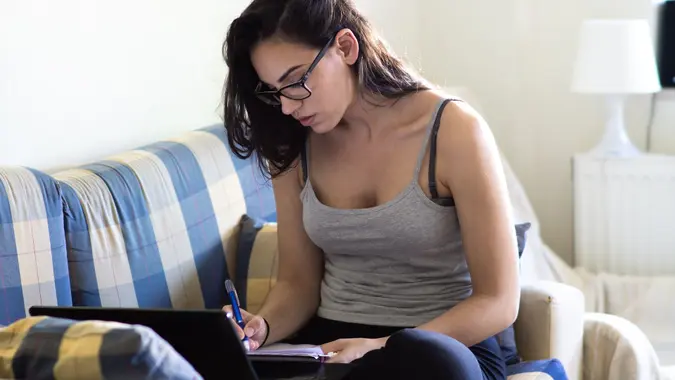 Yannis Sfetkos / iStock.com
The U.S. Department of Education recently announced a number of changes it will be making to expand the number eligible student loan forgiveness recipients. The largest number of people who will now be eligible under the new rules will be federal government employees.  
See: 5 Signs of Predatory Student Lending and How To Avoid It
Find: 3 Ways To Prepare For When Student Loan Forbearance Ends
President Joe Biden has also stated he supports a $10,000 portion of forgiveness for each student, but feels that larger amounts should be decided by Congress.
If you are one of the thousands that will be affected by these new changes, here are a couple of strategies you can start utilizing once your loan is forgiven and you have a little extra cash.
1. Forgiveness Letter
The first thing you should do is get written confirmation of your forgiveness from your loan operator. The process might take several months and it is best to ensure that as soon as your loans are forgiven, you put the request in.
More: 50 College Student Discounts for 2021
2. High-Yield Savings Account
Instead of now having extra discretionary income on your hands, think about putting the money you would have been putting toward your loan into an interest-bearing high-yield savings account. These types of accounts allow for a higher return than a simple savings account, and are even offered online by many institutions — in some cases, your credit card company could even be one of them. 
3. Low-Limit Credit Card
If you already have a savings fund but were unable to build up your credit before due to loan payments, now is the time to start building up a credit score. The best thing to do is apply for a low-limit credit card to get your start. Try to not make the limit any higher than your monthly payment was in order to budget appropriately for amounts you know you can handle. If a card company offers you a $1,000 limit for example, you can call them and have it lowered to whatever amount your loan payment used to be.
Student Loans: Financial Aid Tips & Advice
Find: A Look at Americans' Student Loan Debt by State
4. Retirement Funds
If having student loans prevented you from contributing to a 401(k) or other retirement accounts, now is the time to start. The longer you are invested in these types of accounts, the more it will pay off in the future. You can start small by investing whatever your loan amount was into a monthly contribution to a 401(k) or IRA.
5. Side Hustle
If saving in traditional accounts is not your thing, try investing in your own business. Alternative ways of making income became very popular during the pandemic, and a lot of people have figured out new ways to make money while they sleep. Whether it's creating your own digital files to be redistributed online through platforms like Etsy and Amazon, or figuring out how to help others complete tasks on sites like Fiverr and Upwork, you can use extra cash or skills you already have to earn extra money on the side.
More From GOBankingRates
Last updated: Oct. 15, 2021