Avoid These Apartment Red Flags for First-Time Renters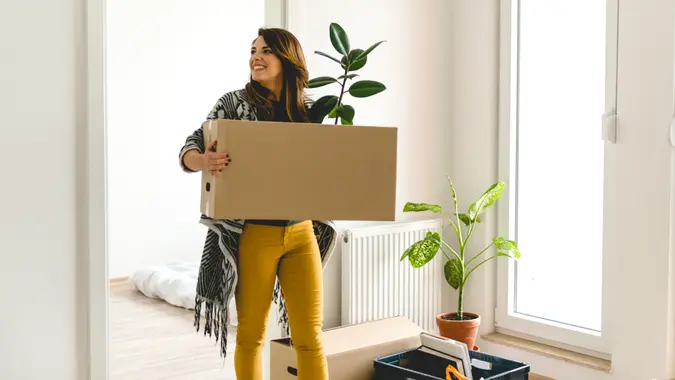 StockRocket / Getty Images/iStockphoto
For many people, moving into their first apartment is a rite of passage into adulthood. Whether you're renting on your own, with roommates or a significant other, finding a space to call your own is undeniably one of life's greatest joys. And nothing can turn that joy into despair like realizing you've made a terrible mistake only after you've signed the lease.
See Our List: 100 Most Influential Money Experts
Find Out: Should You Still Buy a Home in Today's Market?
Want to avoid the pain and suffering of hating your apartment and having to pay rent for the privilege? Here are some tell-tale red flags to watch out for if you want to avoid paying with both your wallet and your happiness.
You Can't See the Apartment Before Move-In
Ever see an apartment that's too good to be true and think, "How hasn't this been snapped up yet?" If you call and are told you can see a similar apartment because "this one isn't move-in ready yet," it might be a good time to start checking other listings. Not all apartments — not even ones that claim to be identical — are created equal. There's a huge difference between an apartment that promises great light and faces the front of the building and one that promises the same and is firmly situated in front of a brick wall. You don't want to find that out only after you've signed the lease.
If you haven't toured the apartment before move-in day, you might also be in for a rude awakening when it comes to the apartment's general state. The show unit could have hardwood floors while the unit you're moving into might inexplicably have carpet. Or the previous tenant might have been a smoker. Or the paint might be peeling. You should always check out the exact unit you'll be living in and ask questions.
Here's one more thing to consider if you're thinking about renting an apartment sight unseen: If the listing you're looking at is all about how great the neighborhood is and 4 out of 5 pictures are of local shops, restaurants and the bus stop nearby, that may be a tell that spending time outside the apartment is much more pleasant than staying inside and enjoying your space.
Live Richer Podcast: How To Get Rid of Your Student Loan Debt
There Are No Amenities
When you're excited to move, it's easy to forget what you need to live a comfortable life. An apartment can be in an excellent location and still make you miserable.
Do you have a lot of stuff? Make sure there's ample storage space. Don't send your laundry out to be hand-washed and folded? Consider whether the building's laundry facilities (or lack thereof) are a good fit for you. If you're someone who can't imagine walking three blocks to a laundromat to wash your socks, then you shouldn't move into a building that requires it. You'll either curse the day you moved in every time you do laundry or…do laundry much less frequently. That's not going to make you happier.
You should also ensure that the building is equipped for Wi-Fi and, if it is, whether you'll be expected to sign up for a particular internet provider. Live in a city where it gets hot in the summer or really cold in the winter? Make sure that the building is ready for at least one of those instances.
Of course, no apartment is perfect and you'll have to make some compromises — they build character! — but the place you (ironically?) hang your "live, laugh, love" carvings should allow you to do at least one of those things in relative comfort.
(Also: Are you allowed to hang things on the walls? Better check before you start dreaming about your trip to IKEA.)
There Are Roommates and the Rent Isn't Fair
If you're moving in with roommates, everyone should be paying a proportional share of the rent. Maybe there's an agreement about who's paying what based on room size, but everyone should be happy with the amount being paid per room. If you're moving in with a couple, for instance, and they're claiming that rent should be half-and-half because you've got a room to yourself and they don't, consider the fact that you're paying for much more than just a bedroom — there are shared living spaces, kitchens and bathrooms to think about, too. Resentment over rent can ruin even the best of friendships.
Rules You Can't Live With
One of the best things about moving into your own space is that you get to make the rules. Kind of. Every building and roommate situation will have its own regulations — but some are far more restrictive than others. At least one of your friends will have a story about a situation that went south because the rules just weren't livable. (Like a landlord who lives on site and requires you to take showers that are five minutes or less.)
If you're being told the rules and thinking, "I don't like this but I can kinda make it work?" — take a breath and think again. There are lots of apartments in the world — plenty of which don't require that you have all your lights off at a certain time or forbid friends from staying over.
The Building Is in Poor Condition
If you walk in for a tour and notice that the building isn't well-maintained, you should consider the lack of upkeep a rule and not an exception. Landlords want to put their best foot forward when convincing you to sign a contract, so if the building you're walking into is dirty or feels unsafe you should expect it to remain that way for the duration of your stay.
If you ask the landlord or property manager how easy it is to get someone to come out and inspect if there's a plumbing or electrical problem in the apartment and they start getting cagey, you can take it as a sign that you may have to learn to do or pay for your own maintenance.
Promises That Aren't in Writing
If you're taking a tour of an apartment, point out something that seems off — a broken doorbell, for instance — and the landlord promises to get it done "soon," make sure to get that promise in black ink (blue is fine). If the change hasn't happened before someone new moved into the apartment, who's to say it ever will?
Fees, Fees and More Fees
It's understandable that your landlord might need to charge a late fee if your rent isn't on time or ask for a larger deposit if you're bringing along a pet, but if you're moving into a building that nickel and dimes you for every little thing, puts exorbitant premiums on amenities or requires a deposit that's larger than usual (check your state laws for more information) it might be a sign that your dreams lie elsewhere.
Shared Utilities Among Apartments
Tenants from different apartments shouldn't have to share utilities — especially because not everyone uses them equally. If the property requires that everyone chip in for each other's garbage and water you might want to think twice before moving in. Who knows if the guy next door takes two-hour showers every morning? (Although if there's enough hot water for that, it might be worth it.)
Mid-Lease Changes
If your lease says that the landlord or property manager can make changes to the lease at any time, it's time to politely walk out of the apartment and then run as fast as you can in any direction that gets you out of the building. The whole point of a lease is to ensure that conditions stay the same through the leasing period, so if you're asked to sign something that gives the owner or manager the ability to change anything at any time without both parties signing off on it, you can either back away or not be surprised when your rent suddenly goes up for no reason.
More From GOBankingRates