6 Best Free AI Programs for Beginners To Save and Make Money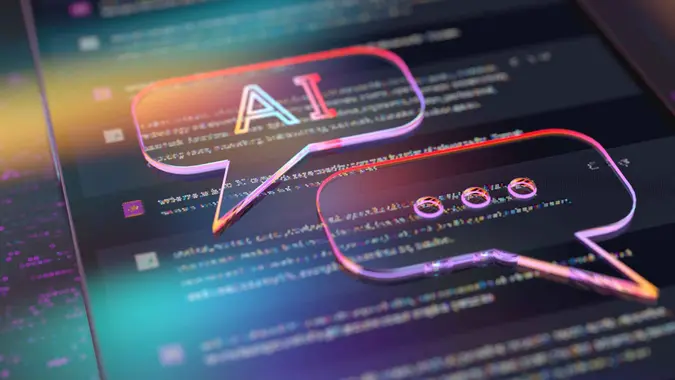 Vertigo3d / Getty Images
The world of artificial intelligence (AI) has been rapidly expanding, infiltrating various fields, industries and professions. Surprisingly, a recent survey conducted by GOBankingRates revealed that 45.43% of Americans have yet to experience the wonders of AI.
While some may approach AI with a sense of casualness, others find the increasing intelligence of these generative tools rather daunting. However, as AI continues to revolutionize the modern landscape, it presents opportunities for automation, cost savings and even money-making endeavors.
Discover the power of AI with these six user-friendly programs that can set you on a path to savings and earning more money through their automation capabilities.
ChatGPT
ChatGPT, powered by OpenAI, is one of the most versatile and user-friendly AI tools on the market. It utilizes natural language processing to assist with content creation, research and interactive learning. This tool is beloved by writers and content creators as it is a powerful language model that can help overcome writer's block and generate creative ideas. 
"The free version, which runs on the GPT-3.5 model, makes a lot of mistakes — but it's very good for getting a huge chunk of low-quality text onto the page at lightning speed, making it perfect for writing first drafts of anything from emails to website content," said Ben Steele, social media marketer at The Big Phone Store.
Beyond writing assistance, ChatGPT can lend a helping hand to beginners in coding and other technical domains. With its ability to analyze code, provide personalized guidance and address coding challenges, it becomes an invaluable resource for those stepping into the world of programming.
Grammarly
If you aren't using this AI-powered language tool already, it's time to start. This free app takes seconds to download and can be used on a computer, tablet and phone. Long cherished by many writers, Grammarly's AI algorithms delve beyond simple grammar corrections. As a result, it offers insightful suggestions to enhance writing clarity, coherence and overall style.
"Because Grammarly has been around for a little longer, it might feel out of place on this list — but this free tool uses AI processing to determine the tone and purpose of your writing and suggest changes," Steele said. "As time has gone on, Grammarly has become even more intelligent, and now it even provides its own generative AI tools for premium users."
Craiyon
Art and creativity lovers are sure to appreciate Craiyon, an AI image generator that churns out an impressive array of unlimited images. Users simply type a description of the image they want to be created and specify any style preferences, then click "Draw" for an original image in seconds.
"It can be difficult to find AI image generators that produce images for free, but Craiyon, based on the original version of DALL-E (which is now owned by OpenAI), can generate a wide range of never-before-seen images in a variety of styles, at no cost," Steele said.
Midjourney
For those looking to visually enrich their work, Midjourney is also a beginner-friendly AI art tool where users can transform tests into engaging visuals, and streamline the creation of digitally compelling content. 
"A high-quality AI 'art' generator," Steele said. "To use this program for free, you'll need to join Midjourney's community on Discord — but you can earn free credits by rating the images that the model has produced."
Bing Chat
If you find yourself having a hard time keeping up with the latest current events but want to stay in the know, be sure to take advantage of the AI tool built into the Microsoft Edge browser sidebar. Bing Chat indexes the entirety of the web, so it has access to the latest events, stories and research.
"If given permission, you can quickly ask Bing to summarize any webpage you're looking at, or search the web for extra information," Steele said. "Bing Chat only gives short answers to your queries, but there's also a generative tool built in to the browser for making draft emails or articles faster than ever."
Synthesia
For those eager to create captivating and personalized videos effortlessly, Synthesia is the answer. This powerful AI-driven video creation platform empowers beginners to translate text input into realistic video presentations.
Through Synthesia, aspiring content creators, educators and business owners can produce professional-looking videos without the complexities of traditional video editing. The AI takes charge, generating dynamic visuals and animations aligned with the provided text, resulting in engaging and impactful videos.
More From GOBankingRates