Break a Resolution Already? How To Get Back on Track After a Financial Slip-Up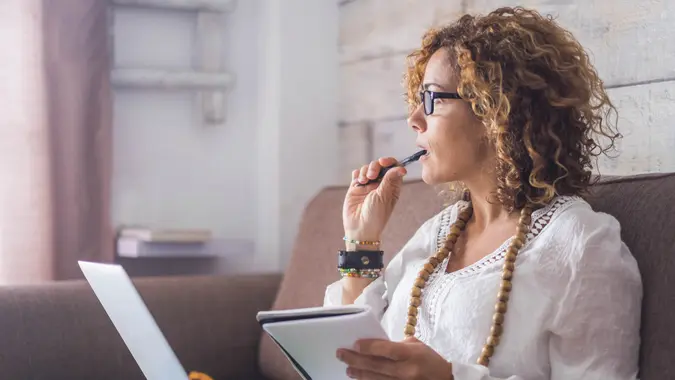 simonapilolla / Getty Images/iStockphoto
Among the slew of champagne-tinged resolutions declared on New Year's Eve, cutting back on spending and getting one's finances in order was a big one. 
Save More: Unplug These Appliances That Hike Up Your Electricity Bill
Important: $1M Is No Longer the Standard Nest Egg – Here's How Much Most Americans Think You Actually Need To Retire
"Recent research from MassMutual found that roughly a quarter of Americans (26%) plan to make a financial resolution for 2022," said Paul LaPiana, CFP, head of product with MassMutual. "Of those planning to make a financial resolution, top resolutions include putting more money into savings (37%), sticking to a budget (27%), enjoying more experiences (25%), paying bills on time (22%), and starting an emergency fund (22%)."
Now, only a handful of days into 2022, those impassioned pledges may already be losing some of their steam. Indeed you may have already broken your promise to yourself (and to your bank account). 
Also See: The 8-Step Plan To Achieving Financial Freedom
If you've already slipped up on your path to the new and improved you in 2022, and say, spent more than you should have or saved less than you said you would, don't go letting yourself off the hook just yet. New Year's resolutions are infamously tricky to keep, and dropping the ball is to be expected. Fortunately, it's not too late to get back on track.  
Forgive Yourself — Then Reassess 
The first step that people should take upon realizing that they've broken a resolution is to forgive themselves, said Vince Shorb, CEO of National Financial Educators Council. 
Next, they should assess their financial situation and their goals.  
"From there they can prioritize what they need to work on – those items that are most important and urgent to improving their financial situation," Shorb said. "Now that they have a plan on what to address, they can systematically address these challenges and celebrate with each milestone accomplished." 
Advice: 12 Essential Money Tips for Every Phase of Your Financial Life
A Slip-up Is Not a Catastrophe 
"In most cases, there isn't any long term harm if you slip up and break a financial resolution early in the new year," said Anna Barker, personal finance expert and founder of LogicalDollar.  "What's more important is that you look at what caused you to break this and figure out how to fix it going forward."
Get Real
"To repair financial resolutions, you need to be honest with yourself and realistic in order to stay on track with your goals, and to stay motivated," said Andrew Lokenauth, a personal finance expert and money educator. "If your resolutions are unrealistic, you may fall behind and feel unmotivated to continue."
Helpful: 35 Useless Expenses You Need To Slash From Your Budget Now
Focus On Building a Long-Term Routine
Change doesn't happen overnight, but it can happen over 365 consecutive nights! 
"After your first trip to the gym, you won't see big changes [and] you also won't see big changes after one week of saving money," said Matt Dixon at TruNorth Advisors. "You need to think long-term!" 
For instance, if you've resolved to save more for retirement, you should make a habit of regularly putting money into a retirement account, like a Roth IRA. 
"Even if you only contribute a small amount from each paycheck, it can make a big difference in your savings, especially if you start early and give your money time to grow," Dixon said.
Learn: Savings Tricks From Regular People Who Are Sitting on Millions
Break Your Resolution(s) Into Parts 
"Break your financial resolution into parts rather than one large yearly goal," said Simon Huften, president of LifeInsuranceCanada.com. "If it is a savings or spending-related goal, decide how much you need to save or spend each month to reach that goal, rather than over the long term. Write your financial goals down on a calendar or notebook so that you can physically check off items when you accomplish them."
Trim the Fat 
"Evaluate your financial resolution to determine if there are areas where you promised yourself too lofty a goal, and decide if you should cut parts of it," Huften said. "Be creative with your resolution, and don't cut out things entirely; simply take the cheaper option."
Cut Costs: How To Save Money on All Your Monthly Expenses and Bills
Get Professional Help — Or Just Bring In a Responsible, Trusted Friend 
"While you can set personal spending goals and create a budget for yourself, it will be simpler to stick to your money-saving objectives if you have someone with whom you can check in regularly or even seek advice," said Justin Nabity, CFP, founder and CEO of Physicians Thrive. "Consider working with an accredited financial professional, such as a CFP® or a Certified Public Accountant, for hands-on assistance (CPA). These professionals can provide a wide range of personal finance advice, such as how to construct budgets, lessen your dependency on credit, pay off debts, and build savings."
If you're not up for hiring a pro, consider enlisting an accountability partner with whom you can openly and honestly focus on meeting your goals.  
"You can also form a partnership with a trusted friend who is attempting to improve his or her financial situation so that you can share your goals and hold each other accountable for your financial resolutions," Nabity said. 
Remember Why You Made the Resolution in the First Place 
"​​When your financial resolution starts slipping, remember why you made the resolution in the first place," said DeShena Woodard, a financial freedom coach. "Chances are you're feeling some frustration or disappointment with your current financial situation and you want to make a change. So before you do the thing that you've resolved to stop doing, you can either try focusing on the pain it's causing you that you want to avoid. Or focus on the joy or benefit you'll receive from the goal that you're trying to achieve."
The Ultimate Financial Planning Guide: Do It Like the Pros in 6 Steps
Keep Track of What's Working for You With Your Resolutions 
Now that we know all about why people fail to stay the course with their resolution, we should also consider why people stick to them. 
According to Fidelity's 2022 Financial Resolutions Study, 71% of Americans were able to stick with a financial resolution in 2021 versus 58% in 2020. Those who stuck with financial resolutions in 2021, provided the following reasons:
It felt good to make progress, so they stuck with it (32%)
They were motivated by their passion to reach their goal (29%)
The goal was realistic and easy to maintain over the long term (27%)
The goal was clear and specific (25%)
They set smaller milestones along the way to stay motivated (22%)
So, as you fall off your financial resolutions and (hopefully) get back on them again, pay attention to what's working for you — it just might give you the push you need to succeed. 
Even A Little Progress Counts! 
"Even if you failed at your financial resolution, if you made any progress at all, that is better than doing nothing," said Hunter Guthrie, a licensed insurance agent with Coho Financial Group. "Having saved or invested just $50 is still an improvement from saving $0. If you feel your resolve lacking just remind yourself of why you want to do this in the first place. Review the work you did in the beginning and get yourself fired back up."
More From GOBankingRates