Download These 5 Automatic Savings Apps To Grow Your Savings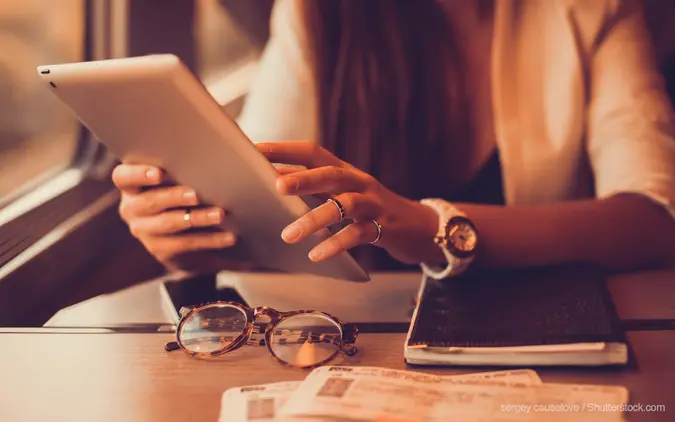 Sergey Causelove / Shutterstock.com
Sometimes it feels like staying in good financial health is a never-ending juggling act. You want to save for the future, make the right investments and understand your spending habits. It's easy to feel overwhelmed and even lose focus if you manage your finances solo. But don't sweat it — expense apps can help you out! Using set it and forget it tools can help manage your money and meet your financial goals. Weigh the pros and cons of these automatic savings apps and pick the automatic savings app that's the best fit for you. 
Acorns
Best for: Getting started with micro-investing.
Acorns is a savings-investment hybrid that automates the process of saving and investing for users. 
Download the app and link all of your credit or debit cards. All purchases made by a user are rounded up to the nearest dollar. Sign up for the Round-Ups feature and that spare change is put into savings. This savings is invested into a diverse portfolio of low-cost EFTs. 
Acorns asks new users questions about their income, net worth and risk tolerance to select the best investment strategy. If you're new to investing, Acorns helps users start, build and grow their investments over time. 
Bonus Financial Benefit: The Acorns app has a cash-back feature called Acorns Earn. Purchase certain items with any of their 350+ partner companies, like Walmart and Nordstrom, and receive bonus Earn investments when you shop.
Cost: Acorns bundles its products into two subscription tier options:
Personal, at $3 a month, is an all-in-one investment, retirement and checking account. A metal debit card, bonus investments and money advice are included with a personal account. 
Family, at $5 a month, features investment accounts for kids. Additionally, it includes personal investment, retirement and checking accounts.
And if you are experiencing financial hardship and were previously paying $1 per month, you may opt into the Acorns Assist Subscription to stay at the $1 tier.
Downside: You may not select your own investments on Acorns.
Where To Download The App: Find Acorns on Google Play and App Store.
Digit
Best for: Getting spending habits under control.
Digit has designed a smart bank account that uses algorithms and AI to track and estimate your spending.
Download the Digit app, connect it to your bank account and set a savings goal. The amount specified as a goal is deducted from your bank account by the app. Digit estimates your future expenditure based on your transaction history. 
Bonus Financial Benefit: Digit calculates how much of your deposits go into bills, savings and long-term investments. Once Digit understands your saving goals and existing expenses, the app calculates the right amount from deposits to move into these accounts. 
Cost: Digit is free for the first six months. After the end of your free trial, the all-in-one app is $5 a month. 
Downside: Monthly fee costs. There isn't a free version of Digit or a basic version available at a lower price point.
Where To Download The App: Find Digit on Google Play and App Store.
Chime®
Best for: Individuals with few financial resources.
Chime®, a financial technology company, follows the premise that basic banking services should be helpful, easy and free.1 
Chime offers a annual percentage yield2 on your savings account. Users may utilize Chime's popular features like Save When I Get Paid to automatically save a percentage of every paycheck. Chime does not charge a minimum balance, monthly fees or overdraft fees to open an account. 
Bonus Financial Benefit: Use the Chime SpotMe®3 feature for extra cash to cover expenses. SpotMe® keeps you from paying fees for certain transactions that overdraw your account.  
Cost: Chime does not require users to pay a membership fee. 
Downside: Chime is not a traditional banking platform. This means it does not have branches where it's possible to receive in-person service.
Where To Download The App: Find Chime on Google Play and App Store.
Qapital
Best for: Creating a goal-oriented approach to savings.
Qapital is an automatic savings app that allows users to save, invest and spend with any goal in mind. 
This app is ideal for users that would like a goal-oriented approach to their savings. Connect your funding account and choose Goals you would like to save toward. Then, apply Qapital's Rules to automatically send money to your Goals. Track weekly spending through your Qapital Spending account and use Qapital Invest to reach long-term Goals. 
Bonus Financial Benefit: Once you reach an Investment Goal, your Qapital Invest account will place your money in an EFT portfolio. This gives you a diverse portfolio of stocks and bonds, plus the benefit of compound interest. 
Cost: Qapital is free for the first 30 days. After the end of your 30-day free trial, Qapital offers users three paid plans:
Basic, at $3 a month, allows you to save with your goals in mind.
Complete, at $6 a month, provides access to more functions like Payday Divvy and Spending Sweet Spot.
Premier, at $12 a month, allows access to all Basic and Complete features plus Money Missions.
Downside: Monthly fee costs. Qapital Premier's $12 price point is a few dollars more expensive than Digit.
Where To Download The App: Find Qapital on Google Play and App Store.
Mint
Best for: Serious savers ready to see the complete financial picture.
Based on all-time app downloads, Mint is the number one most downloaded personal finance app. You may link multiple accounts to Mint to track spending, find savings you might have missed through Mintsights and use custom goals to improve your spending habits and remain focused on your financial goals. 
Bonus Financial Benefit: Need help negotiating your monthly bills? Mint's Bill Negotiation feature helps users save hundreds of dollars through their partner Billshark. 
Cost: The Mint app is free to users. Upgrade to the Mint ad-free experience for $0.99 a month. A Mint Premium subscription is $4.99 a month — this gives users ad-free access to view projected monthly spending and learn about your money's growth potential.
Downside: You need a paid account on Mint to enjoy an ad-free experience.
Where To Download The App: Find Mint on Google Play and App Store.
More From GOBankingRates
1Chime is a financial technology company, not a bank. Banking services provided by The Bancorp Bank or Stride Bank, N.A.; Members FDIC
2The Annual Percentage Yield ("APY") for the Chime Savings Account is variable and may change at any time. The disclosed APY is effective as of November 17th, 2022. No minimum balance required. Must have $0.01 in savings to earn interest.
3Chime SpotMe is an optional, no fee service that requires a single deposit of $200 or more in qualifying direct deposits to the Chime Checking Account each month. All qualifying members will be allowed to overdraw their account up to $20 on debit card purchases and cash withdrawals initially, but may be later eligible for a higher limit of up to $200 or more based on member's Chime Account history, direct deposit frequency and amount, spending activity and other risk-based factors. Your limit will be displayed to you within the Chime mobile app. You will receive notice of any changes to your limit. Your limit may change at any time, at Chime's discretion. Although there are no overdraft fees, there may be out-of-network or third party fees associated with ATM transactions. SpotMe won't cover non-debit card transactions, including ACH transfers, Pay Friends transfers, or Chime Checkbook transactions. See Terms and Conditions.