Surviving Finance and Stress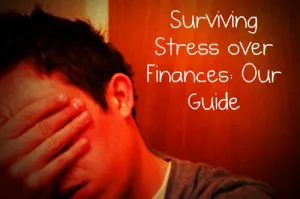 When financial troubles hit you hard, it can be difficult to know how to cope.
You might have creditors calling and sending letters, a mortgage lender asking for your next payment, and the repo guy knocking on your door – all while you have little ones asking for food you don't have.
There's no doubt that the stress can be overwhelming, but the good news is, there are ways to cope. You can explore what you shouldn't do during this difficult time, look at how you found yourself in this situation and determine how to resolve your issue. Even hearing personals stories can make you feel better.
If you're in the midst of financial stress right now, it's time to lift yourself up. Let's take a look at some articles that may help you cope with the situation:
What Not to Do
Have you ever sat at your kitchen table staring at a pile of debt not sure what to do about it? You may want to pull your hair out – or pull someone else's hair out.
There are things you can do to make yourself feel better, then there are things you should avoid at all costs (pulling money out of your 401k, leaving your home behind, harming your family, committing a crime). If you think you may be on the verge of doing something crazy, now's the time to learn what not to do when under financial stress.
Where Your Stress Came From
One of the best ways to overcome a difficult situation is to analyze how you got there in the first place.
This is just as true for a financial stress as it would be for a bad relationship. You may have made irresponsible purchases that resulted in a pile up of debt, purchased insurance you couldn't afford, obtained a mortgage with an adjustable rate or even found yourself laid off from your job.
Whatever the reason is, after you've found it you want to look at solutions; these steps will help you get to a place of resolve. So if you don't yet know where your financial stress came from, get ready to explore.
Read Some Personal Stories
Sometimes you may feel that no one knows your struggle or  no one knows your pain. However, the millions of current laid-off workers know exactly what financial stress feels like.
When in this type of situation, everyone needs a shoulder to lean on, and sometimes that shoulder comes in the form of a personal story. Whether you're learning about the college student who made tons of financial mistakes, or the disabled worker who fell into debt at no fault of his own, you can empathize with them and also feel inspired by the ways they were able to turn their debt tragedies into success stories.
If financial stress is a part of your life, there's no reason to suffer through it. Instead, it's good to work towards uplifting your spirits – and financial well-being – so you can soon have your own success story to tell.