I'm a Financial Advisor: Here Are 8 Things To Consider When Creating a Family Financial Plan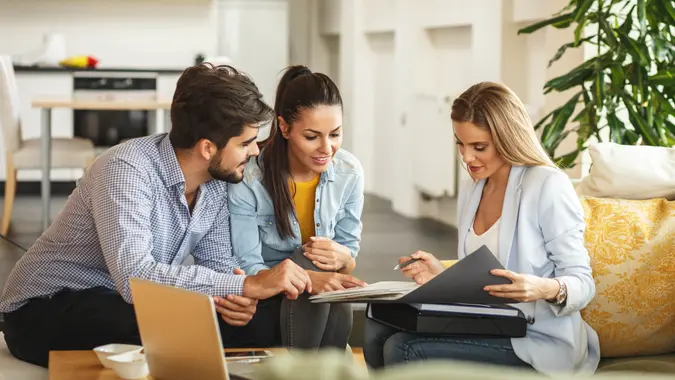 SolisImages / Getty Images/iStockphoto
Many of us start out our adult lives being somewhat selfish with our finances. But that lifestlye can easily be turned upside down when you get married, have children or are a caregiver for an aging relative.
Regardless of your current family situation, it's critical to create a secure financial plan. What should that look like? Let's explore below, with the help of a few experts.
Ask Yourself the Right Questions
When making a financial plan for your family, you have to ask yourself some very important questions.  
"Can you afford your house and car? These are typically the two biggest expenses people have," said Joe Wilson, a registered financial advisor and partner at Ten Point Financial, LLC. "If you stretched yourself too thin on these it may be time to consider downsizing."
Assess and Pay Down Debt 
It's also vital to take the time to understand your debt situation.
"Debt sinks the financial well being of more families than anything else and it isn't even close," Wilson said. "Map out the high interest debts you have (anything except your mortgage) and choose either the debt snowball or debt avalanche method to pay them down. It won't be fun, but choose long-term freedom over short-term discomfort."
Take Control of Your Spending
You'll be spending a lot more money with a family than you were when you were single, so you need to be extra vigilant about your spending by tracking it carefully. 
"There are multiple apps out there that allow you to track your expenses with no effort other than downloading the app," Wilson said. "Visibility to where your money goes will go a long way [toward] understanding where to make changes."
Plan for Education 
With student loan debt at astonishing highs, making a plan for your kids' education sooner than later is a great idea. 
"If you have children, explore options for saving for their education, such as 529 plans or other education savings accounts," said Kami Adams, a financial advisor with Creative Legacy Group. "Start early to take advantage of compounding growth."
Consider Your Mortality: Get Life Insurance and Make an Estate Plan 
As grim as it is, you may not always be around to support your family with your income. In light of the possibility of your death, life insurance is a good investment. 
"Life insurance gets a bad wrap because there are bad types out there but term life insurance is very affordable and will leave your family protected in the event [that] something happens to you," Wilson said. "Having a detailed estate plan will also ensure your kids and assets go to who you want." 
Keep Your Cash in a High-Yield Savings Account
Most banks offer savings accounts, but not all of the institutions that provide these offer high-yield savings accounts. Do a little searching and find an FDIC-backed institution that offers high-yield savings accounts.  
"These types of accounts are currently paying out more than 4% while many banks are at less than 1%," Wilson said. "That is a lot of extra cash for doing nothing but opening a new account."
Invest Early and Often
Whether or not you were an avid investor before you started a family, investing can help your family's finances greatly in the long run.
"It doesn't matter how much you start investing with," Wilson said. "Developing the behavior and discipline to invest every month is more important than the amount."
Plan When To Claim Social Security
Try not to wait until you're on the brink of your golden years to decide when you'll be claiming Social Security.
"When determining the best age to start taking Social Security. you want to consider your own longevity," said Kendall Meade, certified financial planner at SoFi. "For those who may have medical conditions or a family history that leads them to believe they have a shorter life expectancy it can make sense to take Social Security sooner. For those who expect to live longer they can get a larger benefit by delaying. You also want to keep in mind that if you are still working it may be worth it to delay Social Security so that your benefit is not reduced." 
If you aren't sure how to decide, it's recommended by Meade to reach out to a financial planner who can help you analyze what is best for your specific situation. 
More From GOBankingRates