Financial Advisor Help: Here's When You Should Have Asked for It But Didn't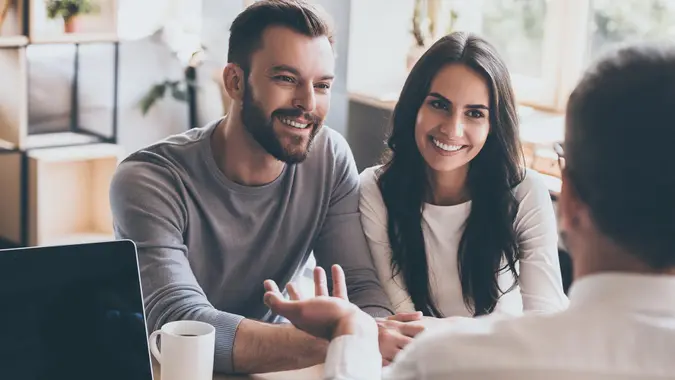 ©Shutterstock.com
Financial advisors are not a luxury reserved for the wealthy. If you need help with any part of your financial life, a financial advisor can provide you with guidance and expertise to help you make sound decisions that will have a positive impact on your financial future. Financial advice is something you should seek when you need it — especially when there is a change in your circumstances or you're experiencing money-related challenges. Here are five times when you should have asked for a financial advisor's help.
You Became Self-Employed
If you've finally made the leap and become self-employed, you have some decisions to make, especially when it comes to health and life insurance benefits and retirement planning. A financial advisor can give you the advice and guidance you need.
"Get with a qualified financial professional to help you line up the value of the W2 compensation package you have now to include benefits, 401(k) matching monies and any balances that will be lost from non-vesting … against providing a similar or better earnings and benefits package on your own as an entrepreneur," said Amy Rose Herrick, ChFC, a profit-building specialist and owner of Secret Profits. "Do you pay for health insurance pre-tax? Will you be able to deduct a private policy premium you buy yourself above the line or only on Schedule A if you can itemize? Will you lose life, disability or long-term care insurance group benefits?"
You Received an Inheritance
Receiving an inheritance can be exciting and overwhelming at the same time. It can help to have objective, seasoned advice from a financial advisor to help you make the right decisions for your newfound wealth.
"It may be tempting to take an inheritance and spend that money or simply stay with the advisor that mom and/or dad worked with out of emotional reasons," said Casey A. Marx, RICP,  founder and CEO of Crown Haven Wealth Advisors in Carmel, Indiana. "The reality is that more than likely there are better options for you out there that you can discover by seeking the help of the right advisor for you."
You Received a Windfall
Chloe Moore, founder of Financial Staples discussed her experience with younger workers who suddenly received a large bonus or other sums of money, who may need help managing their newfound wealth.
"I work with young technology professionals and many of them have complex compensation packages," she said. "If you receive a significant sign on bonus, annual bonus or an equity grant (stock options or restricted stock units), it helps to have a financial planner in your corner. If you receive a bonus or windfall, you may need help prioritizing between paying off debts or funding savings and investment goals.
"A financial planner can help you decide how to best use the additional funds. Equity compensation such as stock options and restricted stock units is very complicated. You have to make critical decisions and there are tax consequences. A financial planner can help you understand how equity compensation works, the tax consequences, and how it fits into your financial plan. They can also help you think through important decisions like when to exercise or when to sell the stock."
You Were Overwhelmed With Debt
Adam Vega, CFP, a wealth advisor and president of Avance Private Wealth in Delray Beach, Florida said that you should consult with a financial advisor at any time that your finances are causing you increased stress or anxiety, such as overwhelming debt.
"It's common to see people putting off starting something or doing something as they don't want to think about the issue," said Vega. "We often see this with large debt balances such as credit cards or student loans; people prefer to look the other way than address it head-on. If you start to feel like this, it's often a good time to consider bringing on an advisor that specializes in debt management."
You Were Facing a Life-Changing Financial Decision
"When you're on the cusp of making a life-changing financial decision, you'll need the tools, experience, and objectivity a financial advisor brings to help you make the best decision the first time," said Aaron Simmons, an investment advisor for a national bank holding company and founder of Test Prep Genie. "Because this is just one of those things that you can't take back once the decision has been made. A wealth manager can help you quantify the decision, understand the impact on other areas of your life, and assess your alternatives."
Your Finances Were Disorganized
"A lot of us put our investment "eggs" in different baskets without having a savings or investment strategy," said James Bullard, a financial advisor for a global financial services firm and owner of SoundFro. "It can be hard to know where you stand when your accounts are scattered across multiple institutions. A financial advisor would be of great assistance in this case. He can help you move or consolidate old 401(k)s, IRAs, and brokerage accounts in one spot or at least as few as possible. During this process, you can also discuss developing a cohesive investment strategy and understand how you're tracking towards your goals. If your accounts are scattered across multiple institutions, it's hard to know where you stand."
Good To Know

When searching for a financial advisor, look for one that is a fiduciary, which means the advisor will put clients' interests first. A fee-only financial advisor will most likely be a fiduciary. However, commission-based advisors are more likely to recommend a product or service that benefits them, not so much you.
Our in-house research team and on-site financial experts work together to create content that's accurate, impartial, and up to date. We fact-check every single statistic, quote and fact using trusted primary resources to make sure the information we provide is correct. You can learn more about GOBankingRates' processes and standards in our editorial policy.