I'm a Financial Advisor: Here Are 7 Red Flags You Should Avoid When Seeking Financial Advice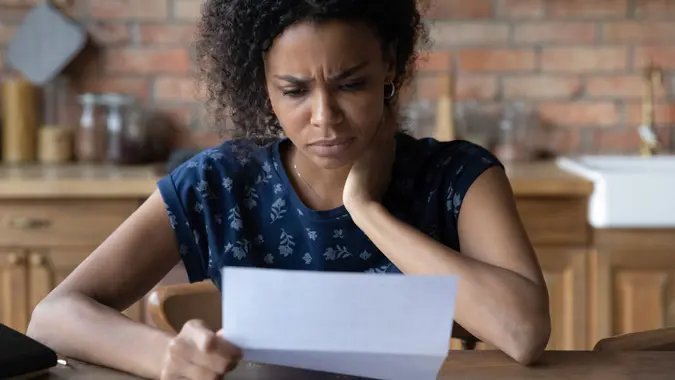 fizkes / Getty Images/iStockphoto
Many people consult family members or friends when they need financial advice. While some people mean well when they provide advice, others may offer advice full of bad intentions for your money. 
Some red flags can be easier to spot than others. GOBankingRates spoke to two financial advisors to learn more about obvious and less obvious red flags to avoid when seeking financial advice.
No Credentials or Qualifications
Money is a complicated subject. It's crucial to seek guidance from professionals with the appropriate education, certifications and experience in the financial industry, said Donna S. Cates, CDFA at Money Matters Wealth Solutions. Those who take advice from someone without the necessary credentials or qualifications increase their risk of receiving inaccurate or misleading information. 
There's a Conflict of Interest
While most of us hope to receive advice that prioritizes our financial well-being, some people giving financial advice may have ulterior motives. 
Rather than do what is in your best interest, Cates said some people may recommend products or services where they stand to benefit financially. 
You're Being Pressured To Act
Is someone trying to rush you into making a major decision with your money? Are they using phrases like "This is a once-in-a-lifetime opportunity!" or "This is a foolproof investing strategy!"? Do they promise a guaranteed return? Do they want you to sign a document or wire over a large amount of money immediately? These are all high-pressure sales tactics, according to Cates. 
It's a red flag if you're being pressured into making quick decisions with your money. "Decisions about your finances should be made carefully and thoughtfully, giving you the time and space to fully understand the implications and potential risks involved," Cates said. 
There's No Proof of Success
It's a red flag when people who have a "great investment opportunity" cannot demonstrate any prior success of said investment, said Kathleen Owens, financial advisor and fiduciary at Aurora Financial Planning & Investment Management.  
"Don't blindly trust the person that they are telling you the truth. Trust your gut and do your due diligence on the person offering the investment AND on the investment itself, prior to risking your money," Owens recommended. "If the person can't or won't give you information about the investment, run away."
You're Being Offered a Private Placement Investment
A huge red flag, and major financial risk, is getting tipped off about private placement investments. These are investments that are not listed on NYSE or Nasdaq. 
"When investing in publicly traded companies, you have some protection. When investing in a private placement 'deal' you have no protection," Owens said.
You're Approached With a Small Investment
Owens uses the example of someone who comes to you with a small investment. If you invest and it is "successful," this person will continue coming to you with larger investments. Owens said this is a test where the other person is trying to see how much money they can get from you.
The Advice Given Is a One-Size-Fits-All Approach
Everyone has a unique financial situation with goals, risk tolerance and a time horizon that differs from others. It's a red flag to receive advice offering generic solutions that don't consider your specific circumstances. 
"Financial advice should be tailored to your individual needs, taking into consideration factors such as your age, income, financial obligations and long-term objectives," Cates said. 
More From GOBankingRates