I'm a Financial Advisor: Here Are 6 Things My Clients Don't Like To Hear — and Why I Tell Them Anyway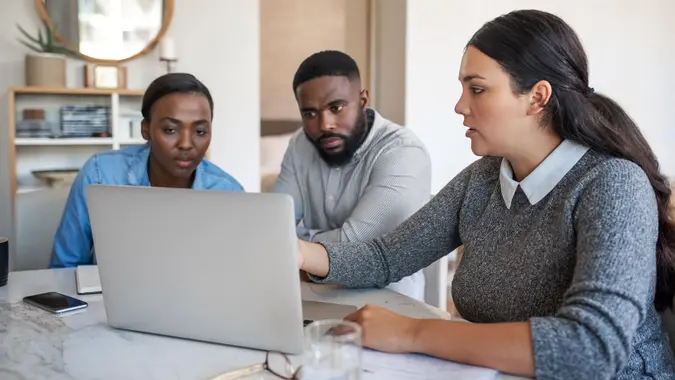 ©Shutterstock.com
Financial advisors have an important role to play in helping clients manage their money and plan for their financial futures. Part of this planning means providing honest advice about various money topics, even if clients don't always enjoy hearing everything an advisor has to tell them.
GOBankingRates is joined by a panel of financial experts — Louis Barajas, CFP and co-founder of International Private Wealth Advisors (IPWA); Brenton D. Harrison, CFP and financial advisor at New Money, New Problems; Thomas Kopelman, financial planner and co-founder at AllStreet Wealth; and Prince Dykes, managing partner at Royal Financial Investment Group and co-founder at Global Children Financial Literacy Foundation — to discuss which pieces of advice clients struggle most with digesting.
Here are six things clients may not enjoy hearing and why financial advisors tell them anyway.
That House Won't Get Less Expensive by Waiting
Harrison, who said he's not a financial advisor who feels everyone should buy a house, has met with clients who have been waiting a year for prices or interest rates to fall in cities like Los Angeles, Miami and Nashville, Tennessee. Both have continued to increase in the last year.
If you want to buy a home and can find one with a mortgage fitting your budget, Harrison recommends considering buying at the price and interest rate in front of you. This is also true of houses that may be a little more expensive than you'd like.
"As your pay increases with promotions or inflation, the fixed housing cost may become less of a burden over time," Harrison said. "If interest rates do fall, you may be able to refinance at a rate and payment that is even more convenient. The key is to be honest with yourself about whether you can truly afford the payment now, or if you're stretching yourself hoping time will take care of things for you."
No One Plans For Divorce When Getting Married
The last conversation most people planning a wedding want to talk about is divorce, but it may be one of the most important considerations you and your partner will have together. Dykes said the biggest financial decision most people will make in life is who they decide to marry.
According to the American Psychological Association, more than 20% of first marriages end in divorce within five years. By the 20-year mark, 48% of marriages have dissolved. If you get divorced, Dykes said this can cost 50% of one's wealth to be wiped out in an instant. 
"Knowing the statistics, I always recommend a prenuptial agreement with single clients," Dykes said.
You Are Spending Too Much Money
There's a pretty common reason why Barajas said clients do not like to hear they are spending too much money. Usually, it's because it means making a lifestyle change, especially if an advisor insists they cut back on spending to reach their goals. 
"The goal is to first find out the 'why' behind their goals," Barajas said. "Ignoring the advice will lead to them undermining and/or sabotaging their long-term goals."
You Don't Need To Overcomplicate Your Finances
Not overcomplicating your finances is another piece of advice Kopelman said his clients don't like to hear. 
Once you start making a lot of money, it's easy to think you need to invest in everything: real estate, private investments and investment in friends' businesses until you have lost control of your finances. Oftentimes, Kopelman said you don't need to invest in everything that gets put in front of you.
Losing Money Doesn't Mean You Change Your Investments
When a financial advisor recommends an investment to a client, it's no fun to meet with the client when said recommended investment is losing money. Often, many clients will think the next best move to make is to switch strategies.
Instead of doing this, Harrison recommends walking clients through a series of questions when evaluating a losing investment. Some of these questions include the following:
How are similarly allocated investments performing?
If the investment has a portion of the market it uses as a benchmark to assess its performance, what did the benchmark return during the same period?
Has the client's appetite for risk changed since we chose the investment?
Once you go through these questions with the client and it seems like the investment is performing as expected, Harrison may recommend staying the course.
"The first rule of investing is buy low and sell high. If you sold every time the market dropped, where do you think that would get you in the long run?" Harrison said.
No One Wants To Plan For Their Own Death
As Benjamin Franklin once said, the only two certainties of the world are death and taxes. 
Even if nobody wants to plan for their own death, much less talk about it, Dykes said knowing your financial impact is a part of your financial plan. If you pass away with unpaid mortgages, car loans, student loans and credit cards, it can crash your family's finances. 
Having witnessed clients die and leave their loved ones with pieces to pick up, Dykes highly recommends everyone have a conversation with their financial advisor about being properly insured to cover financial debts after their death.
More From GOBankingRates