Financial Planning Is Good for Your Overall Health, Study Finds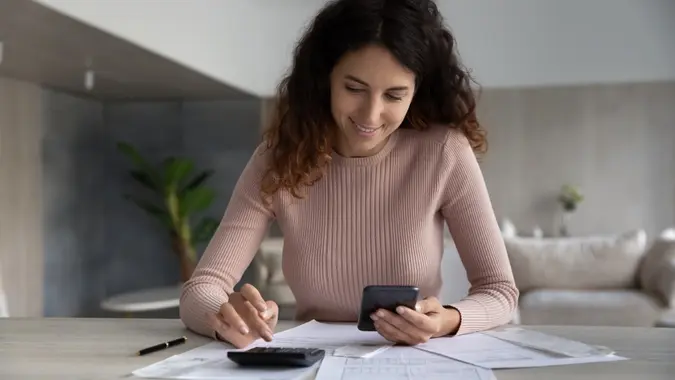 fizkes / iStock.com
Having a plan in place can help you to meet your short- and long-term financial goals, such as paying off debt or saving for retirement. But a new study has found that the benefits of financial planning go beyond the fiscal.
Northwestern Mutual's 2022 Planning & Progress Study found that people with financial plans and those who work with financial advisors are happier and sleep better than those who don't plan or work with advisors.
Why Having a Financial Plan in Place Can Be Good for Your Health
If Northwestern Mutual's study is any indication, having a financial plan could be one of the keys to achieving happiness. Eighty-seven percent of Americans surveyed who work with financial advisors reported that they are very or somewhat happy, as did 84% of those who consider themselves disciplined planners. Those numbers are lower for those who do not have financial advisors (72%) and those who are informal or non-planners (68%).
There also seems to be a correlation between financial planning and getting quality sleep. Eighty-one percent of Americans who work with financial advisors said they sleep well or very well, and 76% of disciplined planners said the same. Among people who don't work with financial advisors, 65% said they sleep well or very well, and that percentage dropped to 62% for informal planners and non-planners.
"When we set out to conduct this study, we were interested in looking beyond traditional financial wellness categories and exploring topics that are top of mind for many people in their day-to-day lives, such as how well they're sleeping at night and how happy they feel overall," said Christian Mitchell, executive vice president and chief customer officer at Northwestern Mutual. "As we dug into the results, we saw that people who have an advisor or identify as a disciplined planner reported being happier and sleeping better. This signaled to us that there is a clear link between financial wellness and overall wellness."
Because finances are a common source of anxiety and stress, it makes sense that those who have plans would be less stressed — and therefore be happier and sleep better.
"Finances play a crucial role in our lives; so, when we experience anxiety around our finances, it can negatively impact our overall wellness," Mitchell said. "Having a financial plan in place or working with an advisor eliminates a lot of the uncertainty surrounding your finances and allows you to feel more confident about your complete financial picture. This clarity can help create peace of mind and even lead to increased happiness and better sleep."
How To Become a 'Disciplined Planner' If You Aren't One
If you consider yourself to be an informal or non-planner, it can be challenging to transform into a disciplined planner. But knowing that this improves not only your finances but your health should be good motivation to start getting disciplined about your financial plans.
"There can be multiple paths to becoming a more disciplined planner," Mitchell said. "For some, it may start with identifying and building healthy financial habits in the short term, such as setting a budget, reducing spending or paying down debt. For others, it may be starting to think through longer-term financial goals, such as buying a house or saving for retirement.
"In either case, putting a plan in place that will allow you to reach those milestones can be a great first step. A trusted financial advisor can help you navigate this process and ensure you stay on track through any unexpected twists and turns along your unique path to financial security."
More From GOBankingRates