Financial Records Buried in Old Google Accounts? You're About To Lose Them Forever — 5 Steps To Take Today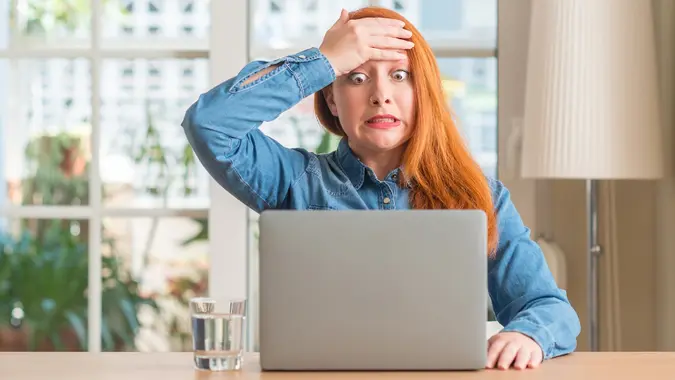 AaronAmat / iStock.com
If you have an old Google account with financial emails and documents, you could lose your important records permanently as soon as Dec. 1. Having updated its inactivity policy in May, Google will soon begin deleting personal accounts that have remained unused for two years or more. It is taking this action, which will happen in stages, partly due to online security concerns involving old accounts. 
Here are five steps you can take to keep your Google account and safeguard your financial records.
1. Check for Inactive Account Notifications
Some good news is that you won't have to worry about Google deleting your account without any warning. The company says that you can expect several months' notice. Specifically, you'll find notification emails sent to both the affected and recovery accounts. These emails will also explain how you can save your account from deletion.
In some cases, you might not receive an inactivity notice even if you haven't used the account within the last few years. That's because the company is making certain exceptions. For example, if you've uploaded YouTube content or subscribed to Google One, Google won't delete the account.
2. Access Your Old Google Account
If your account is in danger of becoming inactive, all you need to do is sign in to it on any device and use one of Google's services. This can be as simple as forwarding an email to a friend, checking out YouTube videos, getting a new app or searching for a recipe.
It's possible that you've forgotten your login details for a very old Google account. Thankfully, Google offers multiple ways to regain access. These include looking up your email address, resetting your password and using your recovery email or phone number.
3. Consider Downloading Your Financial Records
While you're logged in, consider locating and downloading any important financial records to your computer or another device as a backup. Examples could include invoices, receipts, account statements and insurance documents. Make sure to look for documents stored on Google Drive, images on Google Photos and emails and attachments in your Gmail inbox.
You'll find a "download" option on each file and email. For Google Drive files, you'll usually be able to save the download in one of several formats. By default, emails download as EML files that you can only open in a desktop mail app, but you can choose the "print" option to save them as PDF files instead.
Along with saving these documents digitally, you might want to print hard copies of the most important ones. You could place them in a fireproof safe or safe deposit box.
4. Prepare To Keep Your Google Account Active
After getting your financial records, periodically log in and use your Google account moving forward. That way, you won't need to worry about your account becoming inactive and being deleted with all your data. You should also keep your account recovery information updated in case you lose access.
5. Explore Other Storage Options for Your Financial Records
You may want to rethink how you store your digital financial records since using a platform like Google can be risky. Along with potential account deletions, security breaches can put sensitive information at risk.
This is especially true for financial documents that contain account numbers, your Social Security number and similar details that someone could use maliciously. The credit bureau Experian recommends encrypting digital records on your computer or using a secure cloud storage service.
More From GOBankingRates