I'm a Former Banker: Here Are 6 Things I Learned About How Money Affects People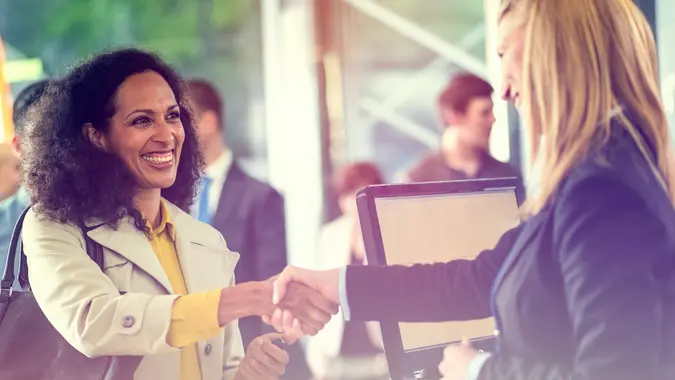 simonkr / Getty Images
People's relationships with money can define their entire lives — and no one has a more intimate window into how those relationships play out than those who deal with money for a living.
GOBankingRates spoke with two professionals who have worked in nearly every facet of the banking industry. Both revealed unique observations on how people view money, how it changes their behavior and how their perceptions of it can chart the course for their financial lives.
An Industry Veteran Knows Money Can Define the Person
Alan Beard is the managing director and CEO of Interlink Capital Strategies, a business development and financial advisory firm. He has co-authored and edited several industry publications, is a sought-after speaker on international finance topics and has served as an adjunct professor at Georgetown University, teaching executive MBA and certificate students in international business and finance since 1994.
His banking industry pedigree includes four years as the director of Delphos International, where he assisted a buyout from Banc One, now JP Morgan Chase, and established a new business line for merchant banking activities in emerging markets. Previously, he served as senior vice president of Banc One Capital Markets, as vice president of Delphos International, as a senior loan officer at Eximbank and as a financial analyst at the International Trade Administration.
Along the way, he has learned a lot about how people view money and how money impacts how they think and who they are.
Many People Treat Money as an Expression of Self-Worth
There's a reason that people who have money — and plenty of those who do not — advertise their affluence with fancy cars, designer purses and other trophy merchandise designed to project wealth.
"Some individuals tie their self-esteem and self-worth directly to their financial success," said Beard. "They may feel a sense of validation when their wealth is acknowledged, and a financial setback can deeply affect their self-esteem."
Money Can Act as an Emotional Amplifier
In many ways, money can have the same effect on people's personalities as alcohol, serving as a magnifier of existing but muted underlying characteristics and dispositions.
"Money can amplify existing personality traits and emotions," said Beard. "For example, a generous person may become even more charitable with wealth, while a cautious individual might become more risk-averse."
Money Can Trigger Obsessive Fixation
As Beard said, wealth can make people more inclined to be generous — but it doesn't take a banking industry veteran to know that it can also bring out the worst in people.
"A few people become obsessed with accumulating wealth to an unhealthy degree," said Beard. "This obsession can lead to neglect of other aspects of life, such as relationships, health and personal well-being."
A Career Financier Sees Lots of Money Mismatches
Rory Donadio, CEO of Tribeca Capital Group and owner of the Montclair Funding Group, has spent more than 30 years in the financial industry in both traditional and alternative banking.
Tribeca has been a pioneer in the niche field of lawsuit loans and financing, but Donadio's long tenure in the banking and lending industry has given him a unique perspective on how people across the income spectrum view money.
Financial Shortsightedness Is Both Common and Destructive
Donadio's banking experience has shown him that when it comes to money, people tend not to see the forest for the financial trees.
"One pattern I've noticed is that many people tend to view money through the lens of their immediate needs, often failing to plan for the long term," he said. "This lack of foresight often leads to insufficient savings and an over-reliance on credit cards, creating a cycle of debt that can be challenging to break."
Those With Real Wealth Are Least Likely To Project It
As Beard observed, people often tie wealth to self-worth — which is why those who don't have it are most likely to posture as if they do.
"I've observed a surprising disconnect between wealth and ostentation," said Donadio. "Some of our wealthiest clients are the least flashy. They often drive modest cars, live in comfortable but not extravagant homes, and are more likely to invest their money in stocks, bonds or businesses than to spend it on designer clothes or luxury goods."
Some People Mistakenly Think Cash Can Be a Substitute for Credit
When people with poor financial habits increase their earnings, their tendency toward money mismanagement can lead them to squander their rising incomes. That's because they often learn the hard way that cash in the bank can't prevent a life of financial dysfunction if your credit isn't in order.
"Lastly, there's a common misconception about credit scores," said Donadio. "Many people, especially young adults, neglect the importance of a good credit score, not realizing that it significantly impacts their ability to obtain loans at favorable rates in the future. This oversight can lead to higher borrowing costs over time, eroding their wealth and financial stability."
More From GOBankingRates