11 Things That Rich and Poor People Use Completely Differently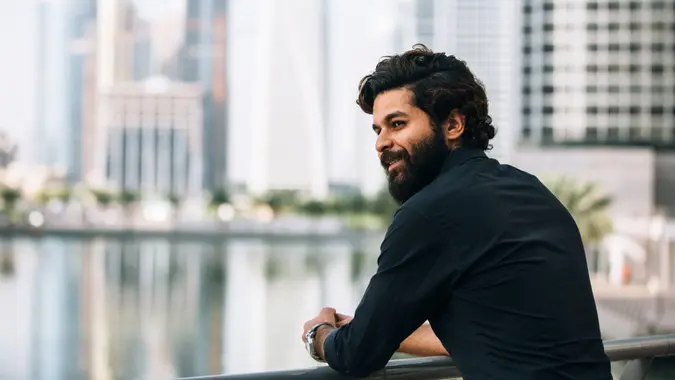 filadendron / Getty Images
Rich vs poor is more than just a matter of income; you can become rich if you know how to use the money you earn. As Jaspreet Singh mentioned in his YouTube show, Minority Mindset, recently reported by GOBankingRates: "Wealthy people want to use their money to grow their wealth, while most Americans want to use their money to drive a fast car."
See: What To Do if You Owe Back Taxes to the IRS
Read: How To Get Cash Back on Your Everyday Purchases
11 Ways You Can Use Money Like the Rich
Singh often talks about the ways that rich people use money differently than poor people. But it's not just money. There are many things that rich people and poor people use differently.
By understanding what these things are, you can learn to use your assets like a rich person and, over time, grow your wealth.
Keep in mind, these tips are not to mock lower-income individuals, but to share how mindset and perspective can make a difference in your future financial security.
Here are some ideas on how you can change the way you use your assets to accrue wealth.
1. Rental Properties
The hot real estate market and even hotter labor market has turned many millionaires into renters this year. They want mobility to take advantage of job opportunities and don't want to buy a home when the market is close to its peak. However, they are investing the money they would have spent on a down payment at a higher rate of return than they'd make in real estate.
Make Your Money Work Better for You
This is a new phenomenon, however. In general, the wealthy collect rent while the poor pay it.
If you own a home, even if the bank still holds the mortgage, you build equity you can borrow against at a relatively low rate. If you rent your home, you are only putting money in someone else's pocket.
2. Interest
Those who understand the power of compound interest will do everything they can to collect it. Those who don't understand it are often doomed to pay it in the form of high credit card and loan interest rates.
This describes a key difference of rich vs poor people. Wealthy people invest their money to earn compound interest, pay for their current lifestyle and save for retirement. Poor people borrow money and see the interest compound as they try to pay it back.
3. Time
Poor people often spend 40 hours or more per week working to barely make ends meet. The wealthy, on the other hand, look for ways to work smarter, not harder.
Contrary to popular belief, however, the rich do not have more leisure time than the poor. But rich people tend to be happier because they spend more time on fulfilling leisure activities, according to one study.
Millionaires dedicate 22% of their time to activities such as socializing, exercising, hobbies and volunteering. On the other hand, the rest of the population devotes 30.2% of their time to things like napping, relaxing or watching TV, according to Business Insider.
4. Social Media
Similarly, while lower- and middle-income individuals spend 14 hours a week on social media, on average, millionaires spend just 2.5 hours per week scrolling social media, BusinessInsider.com reported. An obvious exception might be billionaire Elon Musk, who appears to spend hours a day on X, formerly Twitter.
Make Your Money Work Better for You
While GOBankingRates didn't uncover any statistics on what the rich vs. poor do on social media, when you look at the LinkedIn feeds of people like Gary Vaynerchuk and Mark Cuban, who has 8 million followers, it's safe to say they aren't watching cat videos.
5. Hobbies
The above statistics show that while poor people use their hobbies as a diversion or an escape, wealthy individuals, for the most part, use hobbies like reading, exercising and socializing as a means of self-improvement.
6. Classic Cars
Classic cars are typically not cheap — unless you are the original owner and continue to drive and maintain it. While wealthy individuals may view classic cars that they purchase and restore as investments, poor people may simply continue to drive a vehicle from the 90s and early 2000s because they can't afford a new car.
7. Lunch
Poor people view lunch as a mid-day meal, crucial to keep hunger at bay. But the wealthy, like entrepreneur and author Ramit Sethi, view it as an opportunity for learning and networking.
In one blog post, he shared that the best $20 he ever spent was to find successful entrepreneurs and take them out to lunch to share their successes, mistakes and best advice.
8. Cash
While poor people view cash as a necessity to pay for things like food and rent, rich people view cash as a tool. Once their necessities are covered, smart, wealthy people look at their cash and ask, "How can I use this to make money for me?"
"The wealthiest people in this country don't make their money from their job. They make their money from their assets," Singh said. He advised, "Make yourself rich before you make everyone else around you rich."
Make Your Money Work Better for You
9. The Emergency Room
Many people agree that the U.S. healthcare system is broken. Wealthy people have the luxury of using hospital emergency rooms for critical emergencies, ranging from heart attacks and strokes to broken bones. And, in the case of a broken bone, they might be more likely to visit an urgent care as the first stop due to the convenience and rapid care.
On the other hand, due to high healthcare copays or lack of insurance, poor people tend to wait until a condition warrants emergency treatment and then visit the emergency room for care. Emergency room physicians are mandated, by law, to treat or stabilize any patient that comes through the door, regardless of their ability to pay.
But using an emergency room in this manner can often lead to hefty medical bills in the future, mounting debt and financial stress.
10. Stocks
With the growth of retail investing and the ability to purchase fractional shares of stocks, more people who may classify themselves as lower to middle-income are dabbling in investing in the stock market. According to a 2022 survey from BNY Mellon, most "traditional investors" in their mid-20s to mid-40s make between $50,000 and $100,000 annually and have as little as $10,000 to invest.
However, another study showed that nearly 80% of retail investors lost money over 12 months. That's because they try to "play the market" and ultimately lose to institutional investors who have the capacity and technology to act faster.
Make Your Money Work Better for You
The wealthy, on the other hand, invest with long-term gains in mind. They hold stocks, as Warren Buffett advises, for 10 years up to "forever," with the goal of building generational wealth.
11. Social Security
Without Social Security retirement benefits, 38% of adults ages 65 and over would be living below the poverty line, according to the Center on Budget and Policy Priorities. With benefits, only 10% live below the poverty line. That means 28% of the aging population rely on Social Security benefits to keep them out of poverty.
On the other hand, amongst wealthy adults, Social Security is just one of multiple streams of retirement income and can be used as part of their retirement strategy to minimize taxes and maximize their income in their later years.
While poor Americans use Social Security to survive as they age, rich Americans use it to supplement the retirement lifestyle they planned for during their working years.
Final Note
From tangible resources like cars and cash, to intangibles like free time, America's poor treat assets differently than the rich. This is not a judgement on their choices, but more a necessary consequence of living paycheck to paycheck.
With some insight into how the wealthy spend and invest their resources, lower income Americans can make small shifts to take steps to lift themselves out of poverty.   
Our in-house research team and on-site financial experts work together to create content that's accurate, impartial, and up to date. We fact-check every single statistic, quote and fact using trusted primary resources to make sure the information we provide is correct. You can learn more about GOBankingRates' processes and standards in our editorial policy.