Warren Buffett Sells $8 Billion Worth of Stock — What This Could Mean For Your Investments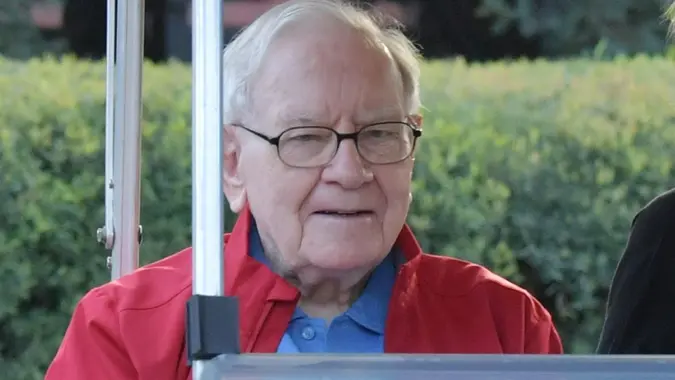 Andrew H. Walker / Shutterstock.com
Warren Buffett, the billionaire investor who famously said that the best holding period for a stock is "forever," sold $13 billion in stock in the second quarter while buying less than $5 billion, Newsweek reported. That's a net sale of $8 billion in stock for Buffett's investment firm, Berkshire Hathaway, according to the organization's second quarter earnings report.
The $8 billion in net sales followed a sale of $13.3 billion in stocks for Berkshire Hathaway in the first quarter. Since these sales all took place between January and July, the stock market has already felt the effects of the unloading with a dip in stock prices for ordinary investors. When a large firm like Berkshire-Hathaway buys or sells shares, it moves the market.
But what does it say for the future when a knowledgeable investor like Buffett is bolstering his company's cash reserves? "When a recession is right around the corner, Buffett knows that cash is king, particularly when he can earn a decent rate of interest on it," Steve H. Hanke, a professor of applied economics at Johns Hopkins University, said in an article published by Newsweek in May 2023.
Similarly, "Rich Dad, Poor Dad" author, entrepreneur and finance expert Robert Kiyosaki said on "Cavuto: Coast to Coast" that "Buffett is on the sideline with $147 billion, his money's in short-term treasuries." U.S. treasuries give a return-on-investment that can potentially keep pace with inflation as investors wait for the market to recover.
That recession hasn't materialized yet, but some finance experts and economists believe it is still looming.
"The money supply is fuel for the economy, and it has been contracting over the last year […] Following significant changes in the money supply, the economy changes course with a lag of 6-18 months. At present, the economy is running on fumes and a 2024 recession is inevitable," Hanke recently told Newsweek.
Fortunately, experts don't see a recession on the horizon for 2023. JP Morgan economist Michael Feroli recently wrote in a note, reported by Newsweek, that, "[W]e doubt the economy will quickly lose enough momentum to slip into a mild contraction as early as next quarter, as we had previously projected."
In June, Moody's Analytics' chief economist Mark Zandi told CNN that the odds of a recession in 2023 have dropped to one-in-three. However, that possibility rises to 50% in 2024.
It's possible Buffett is shoring up his cash reserves to buy stock when that happens, as Kiyosaki noted. The three factors Buffett views as risks to the U.S. economy — the U.S. banking sector, China, and the over-valued commercial real estate market — still exist.
Whether the U.S. can really have a soft landing from inflation and leave not just 2023, but 2024 unscathed, remains to be seen. Investors will be watching Buffett's next moves carefully to see if the Oracle of Omaha's lack of confidence in the stock market continues.
David Nicholas, president and founder of Nicholas Wealth Management, previously told Newsweek, "With economic uncertainty and earnings pressures, the time is right for investors to have increased Treasury exposure. Stocks are in a 'prove it' position compared to treasuries and this will only add additional pressure to stock prices."
More From GOBankingRates