Majority of Gen Z Can't Pay Their Monthly Bills: 6 Tips for Making Life More Affordable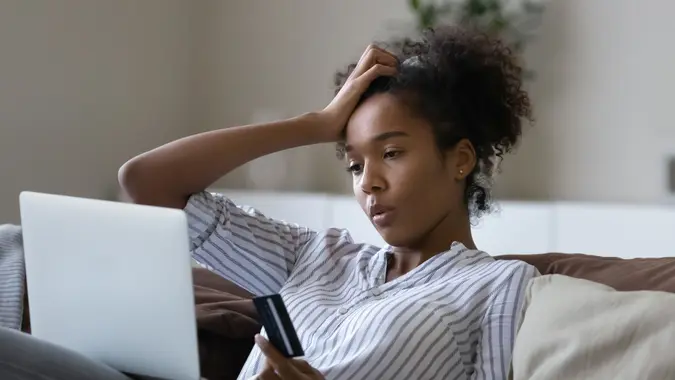 fizkes / Getty Images/iStockphoto
Inflation is hitting everyone's wallets, but it seems to be taking a particular toll on Gen Z. According to a recent poll by DailyPay, only 28% of Gen Z-ers can pay all of their bills on time. That means the majority of this generation can't afford all of their monthly expenses.
With inflation seemingly here to stay for a while, it's time for this generation to get strategic about making their lives more affordable. Here's what financial experts advise.
Stick To a Budget
It's easy to spend more than you can afford when you aren't tracking where your money is going.
"One of the most effective ways for Gen Z to save on their monthly bills is to carefully track and budget their expenses," said Mina Tadrus, CEO of Tadrus Capital. "By being aware of where their money is going, they can identify areas where they can cut back or make more cost-effective choices. For example, they may be able to save on their monthly bills by canceling subscriptions they no longer use or by choosing less expensive options for items like streaming services and gym memberships."
Shop Around for Better Deals on Essential Services
There are some expenses you will have to pay every month no matter what, but you may be paying more than you need to for them.
"When it comes to recurring expenses like cell phone plans, internet service and insurance, it pays to shop around and compare prices," Tadrus said. "Gen Z can use comparison websites and negotiate with providers to get the best rates."
Look for Ways To Cut Back on Housing Costs
Housing is often your biggest expense, so considering alternative living arrangements can help create more wiggle room in your monthly budget.
"Gen Z can save money on rent and utilities by sharing living expenses with roommates or by living in a smaller, more affordable apartment," Tadrus said. "They may also be able to save money by opting for a shorter lease term or by living in an area with lower costs of living."
You might also consider moving back home. The DailyPay survey found that 54% of Gen Z have chosen to live with their parents while they ride out the current economy.
"It's OK to live with your parents to save money," said Scott Lieberman, founder of TouchdownMoney.com. "In many European countries, it's common to live with your parents until age 30. My brother moved back home for one year to help save for a down payment on a home. As they say, you can take one step back to take two steps forward."
Spend Less on Transportation
"Transportation can be a significant expense for Gen Z, especially if they rely on a car," Tadrus said. "They can save money by carpooling, using public transportation or biking instead of driving."
Use Money-Saving Apps
When it comes to saving money, every little bit counts. Consider using cashback and money-saving apps to get a little bit of savings with every purchase.
"You can use the Upside app to save at gas stations and restaurants," said Todd Stearn, founder of TheMoneyManual.com. "I like the Rakuten and Fetch apps for saving while shopping."
Boost Your Income
"You can only save so much — be aggressive about earning more money," Lieberman said.
There are numerous ways to do this, including asking for a raise, searching for a better-paying job or starting a side gig.
"Do you have a skill that you do for your job or for a hobby? Offer that same skill by listing it on sites like Upwork, Facebook and Craigslist," Lieberman said. "This can include services like graphic design, video editing, cooking, fitness training, writing, researching, teaching and babysitting."
More From GOBankingRates