5 Go-To Money Apps for Gen Z and Millennials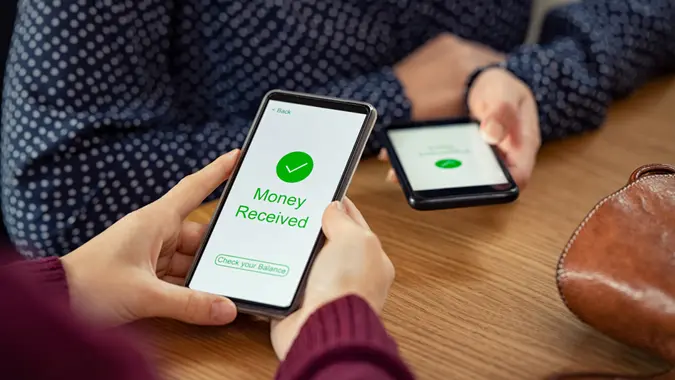 Ridofranz / Getty Images/iStockphoto
When it comes to getting started managing money, it is crucial to find a budgeting method that helps you stay organized and meet your financial goals.
Check Out: GOBankingRates' Best Online and Neobank Savings Accounts 2023
Consider: Protect Your Financial Future With Gold and Silver
Learn: Why 1 in 5 Americans Are Considering Switching Banks
If you are a Gen Zer or millennial, you've probably seen an ad or two on your phone for a handy-looking management app. However, you might be wary as to how helpful this type of tool really is when it comes to keeping track of your money. Although budgeting within an app is different from the pen-and-paper method of tracking your funds, it is an incredibly convenient — and less cumbersome — way to keep track of your money in today's digital landscape. 
If you have never budgeted before — or are an avid pen and paper budgeter — and are interested in the benefits and features money apps offer users, check out the benefits of budgeting this way and discover five money apps that Gen Z and millennials love.
Why Are Money Management Apps Helpful?
Everyone has different habits when it comes to saving and spending money, and different budgeting apps cater to different financial goals, offering users the opportunity to use apps that accommodate their preferences. 
Generally, money apps connect your bank account or credit cards and allow you to conveniently see your budget while out and about with friends or on vacation.
Take Our Poll: What Are Your Financial Priorities in 2023?
The one thing holding many people back from budgeting is trying to figure out how to make a budget. If you fall into this category, following a budgeting app is ideal because an app helps you create a workable budget based on your income and spending habits. You also can create budgeting categories that help you keep track of how much money you spend in different areas. 
Here are a few additional benefits of using these apps.
Saving Toward Financial Goals
If you are having a hard time-saving money, a money app can help you put set up savings categories and schedule automatic deposits of your money into a savings category monthly or weekly to help you stay on top of your goals.
Tracking Spending
One of the main benefits of using an app rather than a pen-and-paper method of budgeting is the apps automatically link your credit and debit accounts and are automatically tracking your purchases for you. 
Ease of Use
You can't beat the convenience and simplicity of using a money app. These programs eliminate the stress and anxiety that comes along with tracking finances and break-down budgeting for users in a manageable way.
5 Money Apps That Gen Z and Millennials Love
Now that we've taken a look at why these apps are so great, let's check out some of our favorite money management apps for Gen Z and millennials.
Mint
Mint stands out as a favorite financial app among Gen Z and millennial users for the comprehensive tools it offers that make budgeting convenient and easy. 
"Mint is a fabulous app for all of your budgeting, saving and [accounting] needs," said Jake Hill, CEO of DebtHammer. "Gen Z will appreciate the tracking that Mint executes on their spending, so they can visually see the effects, limitations and possibilities of their financial experiences. This app can help you plan for your future while also providing tips and strategies to best pay down debts, as Gen Z is more than familiar with."
Mint also features a suite of free features that are perfect for millennials or Gen Zers looking to start budgeting; over time, they can make upgrades as their budgeting needs evolve. 
YNAB (You Need A Budget)
You Need A Budget is the ideal app for any Gen Zer or millennial looking to get out of debt. Whether you are feeling the weight of student loans or a car or home payment, this app can help. YNAB features financial responsibility courses and a four-rule approach to simplify budgeting and get out of debt. 
"This is the best app for creating and sticking to a budget," said Andrew Lokenauth, founder of Fluent in Finance, a financial site that aims to help people improve their financial well-being. "It offers a simple interface and helpful tutorials to guide users through the budgeting process. It also allows you to connect your bank and credit card accounts to track your spending in real time."
Digit
Soon to be known as Oportun, Digit is ideal for anyone who wants to save money but is having a hard time staying disciplined. The app helps users save money without thinking about it by transferring small amounts from their checking account to a savings account daily. It is a great option for anyone looking to grow their savings.
"Digit has long been one of my favorite ways to save because they make it thoughtless," said Sam Garrison, president of Stackin, a financial wellness app. "Digit automatically takes a small — you don't even notice it — amount out of your bank account every few days. Digit works on the basis that if you can't see it, then you can't spend it. After a few months of using Digit, I had saved a lot more than I ever expected to."
Goodbudget Budget Planner
If you are looking to stay on top of your finances and prepare for the future, Goodbudget has got you covered with spending trackers and individualized budgets based on users' personal financial standing. 
"I've been using Goodbudget for about six months now, and I love how simple it has made my money management with its digital twist to the traditional envelope system," said Alvin Wei, co-founder of SEOAnt, an SEO tools app offering solutions for e-commerce. "Each month, I can input figures into different categories, and then Goodbudget will help budget it for me and set a certain amount for each item."
Wally: Smart Personal Finance
Another great money-management app option for Gen Z and millennial users is Wally. This app allows users to track expenses while offering a calendar view of their spending over the month and a feature to track their net worth. 
"As a Gen Zer, I find this finance app quite easy and seamless with its clean interface," said Mark Damsgaard, head of client advisory at Global Residence Index, a visa and migration agency. "It's great for tracking how much money comes in, how much goes out and where the money goes. I like that it can categorize transactions automatically and gives real-time updates on account balances. l also synced my other accounts — bank, PayPal, etc. — so I get the bigger picture of my finances."
More From GOBankingRates