Here's How To Build a 'Sunny Day' Fund in Addition to Emergency Savings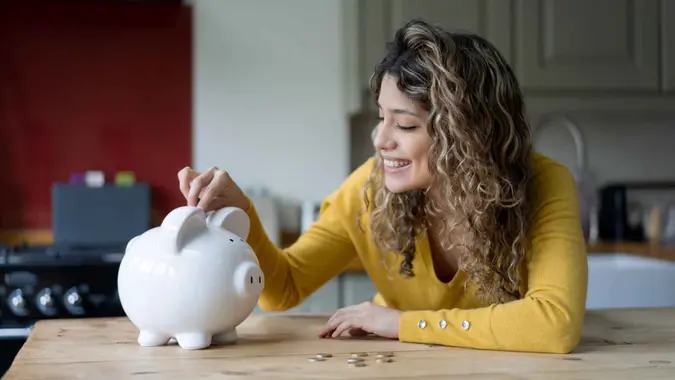 Hispanolistic / Getty Images
It's no surprise that saving money each month has become increasingly difficult thanks to stubborn inflation and rising interest rates. According to a recent survey reported on by CNBC, based on 2,500 respondents, Americans don't seem keen on beefing up their emergency funds. In fact, it was indicated that 81% of Americans say they didn't increase their emergency savings this year and 60% feel behind on their savings.
See: Which Bank Gives 6% Interest on Savings Accounts?
Find: 3 Things You Must Do When Your Savings Reach $50,000
But with the right financial decisions, CNBC reported that building a "sunny day" fund can help you avoid using your emergency cash.
What Is a 'Sunny Day' Fund?
CNBC describes a "sunny day" fund as a separate cash account that you keep in addition to your emergency fund. The idea is that this fund can be spent guilt-free or put toward exciting opportunities like a fun business venture or an impromptu vacation with friends.
Think of it as a "fun" fund that you can tap into so that you don't have to pull money out of your emergency holdings, which should be reserved for events like a job loss, surprise medical bills, etc.
However, you'll still need to maintain an emergency fund, too. Without extra savings in the bank, a financial emergency could result in you having to sell your investments or assume debt to come up with the necessary money. It's recommended to save three to six months' worth of monthly living expenses in a cash account.
How a 'Sunny Day' Fund Can Help Your Finances
Here are some tips you can use to start building your "sunny day" fund:
Put money in an income-producing cash account: Similar to your emergency savings, adding funds little by little to a high-yield savings account, for example, will allow your "sunny day" stash to grow risk-free until you want to spend some of it.
Earmark a certain percentage of your emergency savings toward your "sunny day" fund: If you add $100 per month to your emergency savings, consider adding a portion of that $100 per month to your separate fun money. Both funds will grow side by side, giving you peace of mind that you have money for emergencies and for entertainment.
Consider a taxable brokerage account: A taxable brokerage account will allow you to invest your "sunny day" money in assets that will continue to grow, but you can also withdraw these funds whenever you need them without penalty. This type of account is a smart idea for long-term goals like a year-long sabbatical from work.
Setting up such a fund serves a twofold purpose. Not only are you saving for something you actually want, but you're also keeping yourself from tapping into your emergency fund for non-emergencies.
More From GOBankingRates