Less Than 10% of Americans Are Taking Advice From a Financial Advisor: 6 Ways That Could Be Costing You Money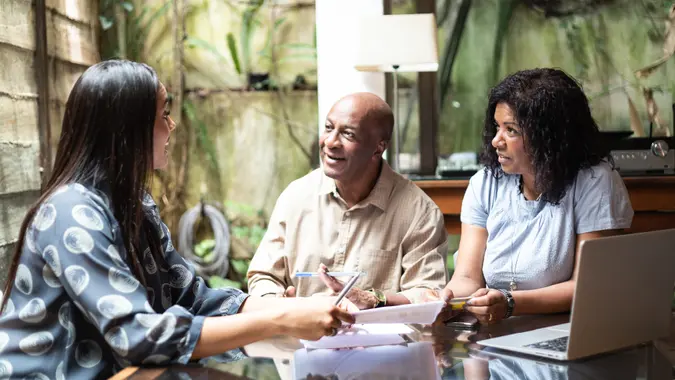 FG Trade / Getty Images
Whom do you depend on for financial advice? GOBankingRates recently surveyed 1,045 Americans to find out who acts as their primary source for money advice, and findings reveal that less than 10% of them receive guidance from a financial advisor or personal accountant.
Working with a financial advisor isn't free, but it is an investment in your financial future that can pay out substantial dividends. If you don't currently have an objective third-party advisor assisting you with your finances, here are some of the ways that could be costing you money.
You Could Be Paying Too Much in Taxes
The U.S. tax code is complicated to say the least, and if you lack the necessary expertise, you could be missing out on serious tax savings. Ever heard of tax loss harvesting?
"Without an advisor, it's likely most people aren't looking at their investments on a regular basis, and so they miss the opportunity to capture tax losses that lower their tax bill each year," said Christopher Manske, founder and president of Manske Wealth Management.
"For example, if Mary has a few investments and one of them dropped a lot, the advisor could sell it to 'harvest' the loss. This means the drop in value is now useful as a tax loss, and Mary will save money on her taxes."
A professional advisor will know all the tips, tricks and strategies to make sure you are keeping your tax burden as low as possible.
You Could Be Mismanaging Your Debt
Credit cards, student loans, mortgages – most of us are dealing with one or more forms of debt. While not all debt is necessarily bad, managing it efficiently means more than just making your payments on time. 
Andrew Latham, CFP and Director of Content at Supermoney, said that "[w]hen it comes to debt, how you pay is often as important as how much you pay."
Consider this: suppose you have a $20,000 credit card debt with an 18% interest rate and a $10,000 student loan with a 5% interest rate. You're paying $500 a month towards your debt.
On your own, you might be splitting your payments evenly between the two debts, paying $250 towards each. However, a financial advisor could have advised you to allocate a larger portion of your payment toward the high-interest credit card debt.
"By paying $400 towards the credit card debt and $100 towards the student loan, you would pay off the high-interest debt faster, saving you money on interest charges in the long run," noted Latham.
You Could Be Under-diversified
If you've spent some time learning about investing, you're probably already familiar with the concept of diversification. Diversification is a risk management strategy that mandates allocating your money across a number of different investments to reduce your risk – making sure you haven't put all your eggs in one basket.
Latham provided this example: Let's say you have a $50,000 investment portfolio that you manage yourself without any professional guidance. You've allocated 80% ($40,000) to stocks and 20% ($10,000) to bonds. However, a financial advisor might have recommended a more diversified allocation, such as 60% stocks, 30% bonds, and 10% alternative investments.
"Assuming the stock market takes a 10% downturn, and your stock investments drop by $4,000, a more diversified portfolio could have potentially reduced your losses… [a] financial advisor could have helped you optimize your asset allocation to minimize risk and potentially maximize returns," said Latham.
You Could Be Letting Emotion Affect Your Finances
Money is deeply emotional, especially during periods of economic uncertainty. If you're an anxious or risk-averse person, you might let your fear drive you to keep all of your money in cash.
Conversely, if you're the gambling type, you might get caught up in the excitement around a meme stock or over-hyped investment vehicle (if you bought an NFT you probably know what I'm talking about).
One of the great things about professional advice is that it's objective – your financial advisor will be able to bring a necessary non-emotional perspective to the table, and they can help you make a plan and (most importantly) stick to it.
"We often see investors who have good intentions but fail to get their financial plans off the ground. One of the largest benefits of using a financial advisor is maintaining the motivation and discipline needed when implementing a financial plan," said Tom Kennedy, CFP and Managing Partner at Global Wealth Advisors.
You Could Fail To Adjust to Changes
If you're a young person just starting their career, or haven't accumulated much in savings, you may think your situation isn't complicated enough to justify paying someone for financial advice.
But everyone's situation changes, either over time or unexpectedly, and if you aren't able to adjust quickly and make wise decisions you could be losing out big time.
"It can be costly for do-it-yourself investors that fail to seek professional help when their situation grows more complicated," continued Kennedy, "like reaching the point [when] they can save 20% of their annual income, when they finally grow a nest egg or when making dramatic changes to their savings or investment strategy. Failing to adjust planning can hamper an investor's ability to stay on track with their financial goals,"
You Have a Confidant in a Financial Advisor
No matter where you are on your financial journey — whether you need a check-up on your current financial plan, investment advice or are simply seeking an accountability partner — a financial advisor is a trusted confidant who will ensure you don't have to go it alone.
Alissa Krasner Maizes, financial planner and founder of Amplify My Wealth, said not to let analysis paralysis be your excuse for finding and working with a financial advisor. 
"Partnering with a financial advisor to attain an individualized financial plan that aligns with your goals and risk tolerance can help you along your journey to amplify your wealth," said Krasner Maizes.
More From GOBankingRates
Heather Taylor contributed to the reporting for this article.