How Much Money Do You Need To Consider a Financial Advisor?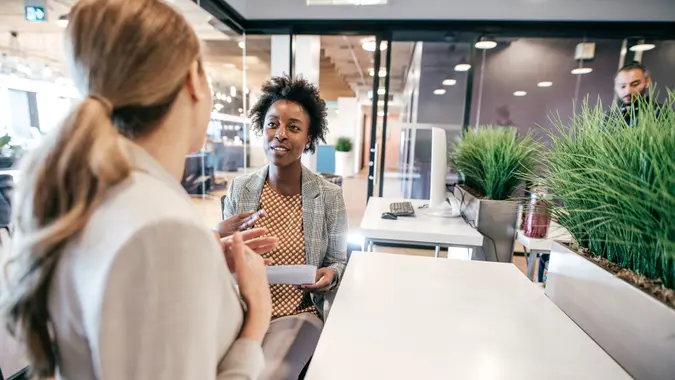 kate_sept2004 / Getty Images
We all have different financial circumstances and goals, and hiring a professional to help you navigate your specific circumstances may be invaluable. However, financial advisors do come at a cost — so when is it actually worth it to hire one? GOBankingRates spoke to financial professionals to get their take on the subject.
Tips: The Ultimate Financial Planning Guide: Do It Like the Pros in 6 Steps
Many Advisors Require a Minimum of $100,000 in Investible Assets
Some advisors have minimum asset thresholds, which typically start at $100,000 — though some may require a minimum of $500,000 or even $1 million. If you have less than $100,000 in assets, it might not be worth it for you to pay an advisor, said Christopher Berry, a financial advisor and certified elder law attorney for Castle Wealth Group in Brighton, Michigan.
Helpful: 12 COVID-Proof Money Tips From Financial Planners
"Before working with a financial advisor, consider saving a minimum of $100,000," he said. "There's not much that a financial advisor can do to help grow your nest egg if you have less than that saved away. Conversely, if you have more than $250,000, think about hiring a financial advisor, especially if you are close to or entering retirement. They can help create a plan for you to preserve and distribute your money after you stop working."
Juan Carlos Cruz, founder of Britewater Financial Group in Brooklyn, New York, also believes that $250,000 is a good benchmark — when you reach this level of assets, you will likely benefit from professional help.
"At $250,000, an advisor could really be an asset and really help you find new opportunities to further grow your assets," he said. "There are tools that could simulate and help mitigate risk and these advisors have access to these tools to help you."
Read: The 8-Step Plan To Achieving Financial Freedom
The costs associated with an advisor might not be affordable to someone with fewer assets.
"It's important to recognize that competent advisors cost money: fees can run $250 per hour to meet with a fee-only planner," said Pam Krueger, a registered financial advisor and the founder and CEO of Wealthramp.
Check Out: 12 Essential Money Tips for Every Phase of Your Financial Life
Some Experts Believe Your Circumstances Are a Better Indicator of a Need for Your Advisor Than Your Assets
"Many people believe only the very rich should hire a financial advisor, but I'm not sure asset level is the key factor when making the decision to work with a financial professional," said Scott Schleicher, financial planning specialist group manager and senior financial advisor at Personal Capital. "After all, what constitutes 'very rich' is pretty subjective. The factors that are probably more important to consider are: 1) How complex is your financial life? 2) How much time can you devote to managing your finances on your own? 3) Do you have any specific education or expertise in finance that would allow you to perform the associated tasks well?"
"Finance and investing are strange topics, in that they're the only professional areas of discipline that many in the general public are convinced they can handle themselves," he continued. "The reality is that some can, but many cannot. It's very challenging to allocate the required amount of time and discipline to investing one's own assets — and it's nearly impossible to remove emotion from the process, which is absolutely vital."
See: How To Be 'Financially Resilient' — Even in Times of Crisis
Although financial advisors are typically seen as a professional to hire when you are well established or near retirement, Robert R. Johnson, professor of finance at the Heider College of Business at Creighton University, believes that young people should consider hiring an advisor ASAP.
"I would contend that a financial professional provides a 25-year-old with limited assets more value than a 65-year old with ample assets," he said. "When we get sick we go to the doctor. When we get into legal trouble we hire a lawyer. Yet, somehow people believe that they should be able to navigate the ever increasingly perilous financial waters without professional help. Financial mistakes, particularly early in life, can be difficult to overcome and many people wait too long to establish a relationship with a qualified financial advisor. Making a few good financial decisions early in life can make the difference between a secure retirement and one fraught with difficulties."
Keep Reading: Best Financial Advice From Oprah and Other Big-Name Celebs
If You Don't Meet the Minimum Asset Thresholds To Hire an Advisor, Consider Seeking Out Other Resources
"Though wealthy clients often have more assets and require a more complex financial strategy, individuals and families with lesser assets still need help and guidance," said Ivan Watanabe, managing partner with Opus Private Client LLC. "For those with simpler financial situations, you may want to start by having a conversation with the people at your bank, utilizing the financial professional on your 401(k) plan at work or leveraging the junior financial professional at a successful practice."
For investing help, those who don't meet the threshold for a financial advisor can turn to technology to steer them in the right direction.
Get Advice: How To Rebound From a Bad Financial Year: 2020 Edition
"There are also many excellent robo-advisors that offer financial advisory access for low fees," said Barbara A. Friedberg, a financial expert and owner of Robo-Advisor Pros. "Betterment and Ellevest have good pricing and excellent financial advisory options. SoFi Invest Automated Investing offers fee-free investment management and financial advisory guidance is included."
You can also get more general advice from financial advisors for free.
"Attend a free workshop or webinar," Berry said. "Many financial advisors offer seminars, either in-person or online. Knowledge is power, and it is important to be educated in key financial concepts, regardless of what's in your bank account."
More From GOBankingRates
Last updated: Apr. 21, 2021