How Much To Tip Your Hairdresser: A Quick Reference Guide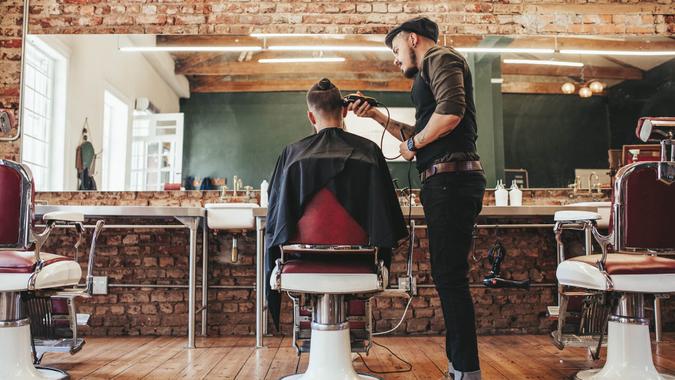 Jacob Ammentorp Lund / Getty Images/iStockphoto
Since it can take hours upon hours for hairstylists to style, cut and color hair, the expectation is they'll be compensated appropriately. In 2020, hairstylists earned a median pay of $27,630, so tips go a long way.
Tipping is common etiquette, and you should know how much to tip a hairstylist since it will save you awkwardness and calculations while you're getting your hair done.
This article will outline the basic hairstyling etiquette and tips on how much you should tip your stylist.
Why Should You Tip Hairdressers?
Think of it this way: it's your hairdressers' job to cut, style and/or color your hair. If they choose to go out of their way to clean the space for you, make small talk, give you compliments about your hair and offer a complimentary drink, it's courteous to tip them for their services.
By tipping a service provider, you show them your appreciation and strengthen your relationship with them. However, most people aren't familiar with the proper tipping rate for hairstylists. If you're sometimes uncertain what to tip your hairstylist, this guide is for you!
How Much Should You Tip a Hairdresser?
The short answer is 10% to 20%. If their service was reasonable, leave a 10% tip, but if it was above average, make it 15%.
Likewise, if you're thrilled with the job they did with your hair, leave a 20% tip.
For instance, if your total bill is $100, the tip will be:
10%: $10
15%: $15
20%: $20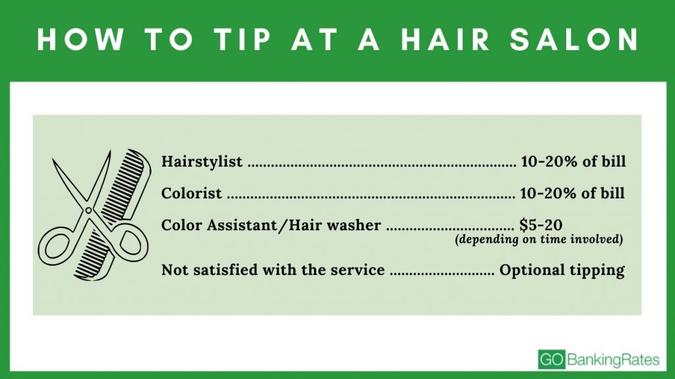 If you have your phone with you, it's pretty easy to calculate the tip. For example, if you want to tip 20%, divide 20 by 100 and multiply it by your total bill. That should give you the amount you need to tip.
Here's a table to help you out:
| Total Bill | Bad Services | Good Service | Excellent Service |
| --- | --- | --- | --- |
| $25 | $2.50 | $3.75 | $5 |
| $50 | $5.00 | $7.50 | $10.00 |
| $100 | $10.00 | $15.00 | $20.00 |
| $150 | $15.00 | $22.50 | $30.00 |
| $200 | $20.00 | $30.00 | $40.00 |
| $250 | $25.00 | $37.50 | $50.00 |
| $300 | $30.00 | $45.00 | $60.00 |
Easy, right?
How Much Should You Tip Your Hairstylist According to Service?
The amount you tip can also depend on the type of service provided to you. Some people may tip 10% to 15% on the total bill, while others may choose to leave no tip at all. However, you should only do that if the service was absolutely terrible. Not tipping is a rude money habit.
It is ultimately up to you how much you want to give your hairdresser as a gratuity, but here's a rough guide if you're unsure:
10% Tip
You should leave a 10% tip in the following instances:
You were in the salon for a very simple or less time-consuming service.
Your hair is short and easy to manage; thus, the hairdresser did not have to spend much time or effort on it.
It was a preliminary service, and you will be coming back for a more expensive hair treatment later.
You were not satisfied with the quality of service provided and plan on not coming back to the salon.
However, it's important to note that some hairstylists may not consider 10% an acceptable tip, thinking of it more as an 'obligation' on your part rather than an act of gratitude. So be sure to think twice before leaving a %10 tip.
15% Tip
You should tip your hairstylist 15% if:
It's a regular salon visit from you.
You're at a new salon for the first time.
You're satisfied with the results.
You're not exactly sure about how much to pay, so you split the difference on the common %10-%20 range.
If the service itself was expensive and you don't want to spend too much, you can leave a 15% tip.
15% is a sweet spot for most hairdressers since it's not too high and not too low. It's a way to show your hairstylist that they did a decent job on your hair and you're happy with the results.
20% Tip
Finally, 20% is an excellent tip for a hairstylist, and you should do so when:
You're over the moon about the quality of service and how your hair looks.
You are on good terms with your hairstylist and want to let them know they are appreciated.
You want to create a good relationship with the hairdresser because you love their services.
You want to tip extra for the holiday season.
20% is higher than what most people tip a hairdresser. However, you may want to tip this much every once in a while if you are on good terms with your regular hairdresser.
More Than 20%
It's not common for hairdressers to be tipped more than 20%. But, you should tip more if:
Your hair is challenging to manage, but the hairstylist did a great job at it.
You came in for a difficult hair color or cut.
You feel the price for the actual service is less than other salons, and you want to make sure the hairdresser gets their effort's worth.
Your hairstylist spent more time on your hair than they were required to.
How Much Should You Tip Your Hairstylist for Hair Color?
If you go in for hair color, you should tip at least 20%, since the process is time-consuming and your hairdresser would have to put other things on hold to cater to you.
Moreover, if someone other than the hairstylist is shampooing and conditioning your hair, you should tip them somewhere between $5 to $10.
You should tip more than 20% if:
Your hairstylist is also bleaching your strands.
If you've opted for a difficult hair coloring technique.
If your hairstylist is adding highlights.
If you're served a complimentary drink or snack while you wait for the hair color to set it.
Moreover, the tipping percentage can differ according to your location since the salon services are priced differently in each state.
Good To Know

You should opt for tipping a certain percentage rather than sticking to a $10 or $5 flat amount since you might be paying just $10 for a $200 service while the actual 20% tip for it would be $40.
GOBankingRates' Tipping Guides
Our in-house research team and on-site financial experts work together to create content that's accurate, impartial, and up to date. We fact-check every single statistic, quote and fact using trusted primary resources to make sure the information we provide is correct. You can learn more about GOBankingRates' processes and standards in our editorial policy.