How One Man Went From Prison to a Path of Wealth

8 min Read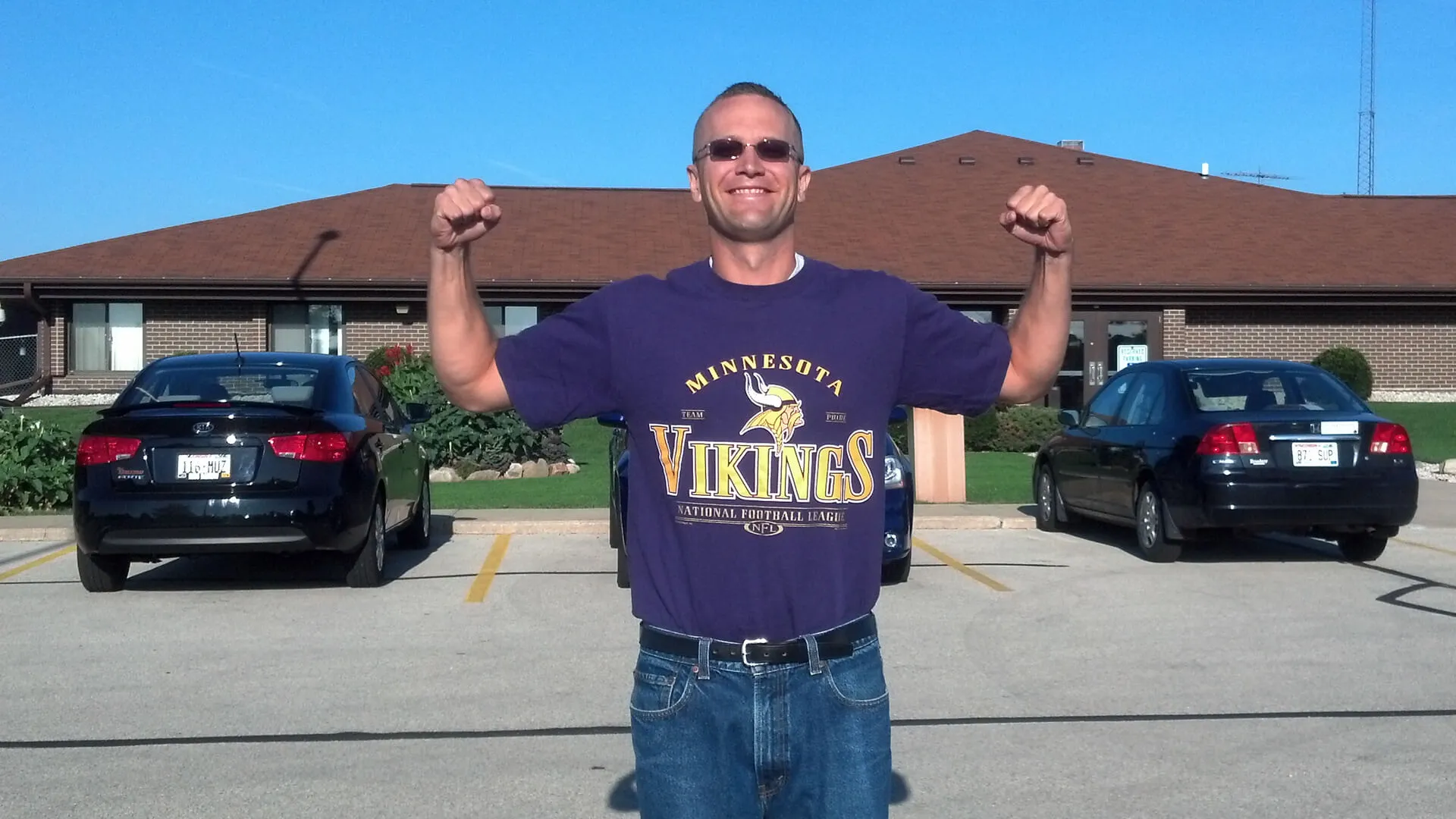 There probably aren't too many people who claim that a prison sentence inspired them to want to retire early. In fact, Billy B. might be the only one.
But the 10 years he spent in prison on a reckless homicide charge helped him find the motivation to seek financial independence after his release. "In prison, I didn't have to think about money," said Bill. "I loved that. I learned how to be happy in prison when I had nothing."
He was able to spend his time doing what he enjoys most — writing. In the five years since his release, Bill has been working to grow his wealth so he'll have the freedom to spend his time pursuing his dream of being a writer and helping others through his writing.
Click through to see how he made the transition from prison to a path toward financial independence.
How He Landed in Prison
In the summer of 2002, between his junior and senior years at University of Wisconsin-River Falls, Bill was using and selling drugs. "Life was one big massive party for me," said Bill, who only uses his first name to protect his identity on his blog, Wealth Well Done.
One night, he called a friend and asked him if he wanted to party. The friend came to Bill's apartment, gave him money for the prescription painkiller fentanyl that Bill had bought, and they both got high.
Bill's friend walked home around 3 a.m., then Bill headed off to his summer class a few hours later. On his way back from class, Bill called his friend's cellphone, but he didn't answer. So he called his friend's apartment. His roommate answered and said that his friend had died from an overdose and the police were there.
"That was the moment my life went from fun and games … to 'Oh, my God, my friend is dead and the police are looking for me,'" Bill said.
When the police caught up to him, he actually had other drugs on him because he had grabbed everything that was illegal in his apartment and was trying to run. So, he was charged with 10 felonies, including reckless homicide by delivery of a controlled substance because he had sold his friend the drugs on which he overdosed.
Bill was supposed to get 20 years in prison. But the other drug charges were dropped, and he was sentenced to 10 years for reckless homicide.
The Life He Left Behind
While in college, Bill majored in business and was on the dean's list for his good grades. He was from a family of business people and had grown up in a well-to-do community in Minnesota.
However, he had gotten hooked on partying and drugs at an early age. "My biggest problem was that I was living two different lives," Bill said. During the week, he was a suburban college boy. But on the weekends, he lived it up.
Find Out: Where Your Money Goes After These 16 Life Curveballs
The Arrest Was a Wake-Up Call
Although he'd been doing drugs for years, Bill had never been caught or gotten into serious trouble. So when he was arrested and charged with reckless homicide, he initially thought that he had every reason to give up on life.
Instead, his arrest became a wake-up call. "Two or three weeks after I was arrested, I realized my life story is going to be up to me now," he said. No longer would he be able to coast through life and get by on his somewhat privileged background. It would be entirely up to him to get his life back on track.
Bill Used His Time to Prepare for a Second Chance
Bill spent 10 years working to improve himself so he would have a second chance at life when he was released. He read and tried to surround himself with the "best" of the prison population — those who hadn't resigned themselves to passing time. He also spent two years on a work-release program to make money and have work skills to put on a resume.
Most importantly, Bill discovered a passion for writing. He even wrote a novel while in prison — with the help of author Gary Paulsen, who had become his mentor through a family connection.
"It was a period of self-education and self-development," said Bill.
He Left Prison With a Plan
When he was released in 2012 at age 31, Bill had three goals: finish his college degree in one year, get a job paying $10 an hour and save enough money to move out of his parents' home, where he was living after his release.
Bill went back to school at Metropolitan State University and got his bachelor's degree within a year. During that time, Bill got a job stacking magazines at a big-box retail store making close to $10 an hour. The hours were flexible, so he could still go to school and interview for better jobs.
During one of his interviews for a sales position, the owner was impressed by Bill's drive and told him he should start his own business.
He Started His Own Business
Bill loved the idea of self-employment but didn't know if he could do it. With his parents' encouragement, he launched a business selling branded apparel such as T-shirts to businesses. He didn't need money — just a computer and sweat equity — to get his business off the ground because he contracted with apparel manufacturers and screen printers to fill the orders for the branded gear he sold.
In the first six months, he had $10,000 in sales — just $2,000 in profit — and knew it wasn't enough to survive. But he gave himself another six months to make his business work. During that time, he made $180,000 in sales.
"Then I was off for the races," he said.
Did You Know? 7 Surprising Costs That Come With Starting a Business
He Saved Every Dollar He Earned
Bill continued to live with his parents and live frugally so he could save almost every dollar he earned. His goal was to be financially stable before moving out on his own.
While working and living at home, Bill started dating the woman who became his wife. By 2015, when they got married, he had saved enough to make a down payment of $40,000 on a $165,000 three-bedroom house that the couple moved into after their wedding.
He Grew His Wealth
Since being released from prison in 2012 and moving out of his parents' home in 2015, Bill has managed to stash $30,000 in retirement accounts and build a cash reserve of $30,000. He has about $25,000 invested in shares of one company and about $4,000 in other investments.
Bill's business now makes about $250,000 in sales annually, generating a $51,000 profit for him. In May 2017, he made a 25 percent down payment ($53,000) to buy the other half of the duplex that he and his wife bought in 2015. That property now generates $600 a month in rental income for him.
Bill's Net Worth Is $250,000 — and Growing
Bill estimates he is worth about $250,000 now with the equity in his properties, his savings and investments. His long-term goal is to generate enough passive income from rental properties and his blog, Wealth Well Done, to retire early.
However, Bill said that his vision of wealth isn't about money. "It's about having the freedom to do what your soul craves," he said.
Boost Your Wealth: How to Grow Your Net Worth to $1 Million
His Goal: Financial Independence
Bill's three goals after prison were only short-term goals. Now that he's financially stable, his longer-term goal is to achieve financial independence so that, ironically, he can live like he did while in prison.
Although his time in prison was hard and lonely, he didn't have to worry about money. He woke up, had coffee, worked on his writing, went for walk, wrote more, had dinner, then read and exercised. "That was bliss to me," Bill said.
If he can achieve financial independence, he can spend his time creating cool art without worrying about working to make money. He wants his art — whether it's his writing, speaking events or another outlet — to inspire people to live more awesome lives. "That would be my dream life," Bill said.
What He Wants Others to Learn From Him
If you're struggling financially, start by forgiving yourself for the mistakes that have landed you in your current position, Bill said.
"I found myself in a bad spot," he said. But he made the decision to forgive himself and work toward a better future. "I made a bad decision, but I'm not a bad person."
"Once you forgive yourself, figure out what your soul craves to do and go 100 percent after it," he continued. Do that by living frugally so your money problems cease to exist. Once you stop worrying about your finances, then you can focus more on figuring out what you're meant to do and put your money toward achieving that goal.
"What I learned from when I was in prison is that it's not about living your life for what other people think is right," he said. "It's about living the life you think is right."
Up Next: You Must Do These 5 Things If You Want to Retire Early
About the Author