How To Prepare Your Finances for 2022's Unpredictability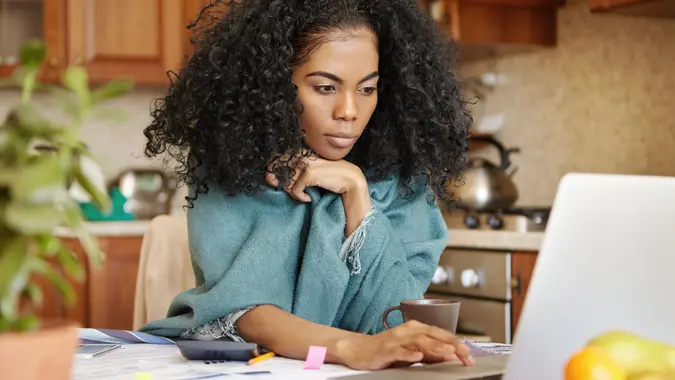 ©Shutterstock.com
Rising inflation, market volatility shifts and embracing change in a post-COVID-19 landscape are a few financial trends already defining 2022. What should Americans do in order to successfully navigate their finances throughout the year? 
Also Find: 5 Careers To Pursue To Become Rich Faster
Find Out: 10 Ways To Build Wealth Fast
In order to find out, we spoke with David Frederick, director of client success and advice at First Bank, Gabe Krajicek, CEO of Kasasa and two members of the BMO Private Wealth team — Bradley Eizenga, senior portfolio manager, and Wilkie Kam, portfolio manager and senior investment advisor. These are the steps they suggest taking for a financially secure 2022.
Adjust Budget for Inflation
Annual inflation is now at 7.5%, its highest gain since 1982. Difficult financial choices brought on by inflation mean that it's time to evaluate your finances. This means creating a budget and finding ways to cut back on spending while looking for areas where you can save money.
Start adjusting your budget by embracing a passive saving mindset. This means evaluating must-haves versus nice-to-haves. 
Read: Save Thousands With Passive Saving — 3 Ways To Do It and How It Differs From Being Frugal
"For those who are trying to maintain a certain lifestyle, it's time to consider needs over wants and how much something will actually cost you in the long run," Krajicek said. "Consider the rate of return on a splurge fashion purchase or expensive gadget and how long that item will last in your life. Now think of that price tag and what this amount could turn into if you choose to contribute to your 401(k), IRA or a high yield savings account."
While forecasters hope inflation will drop to 3% by the end of the year, Krajicek recommends viewing money as a tool for your financial wellness.
"It's important to do the math first and ensure your purchases are aligned with your long-term goals and values," Krajicek said. "A wise consumer plans now for uncertainty tomorrow."
More Tips: How To Get Out of Debt: A Step-by-Step Guide
Pay Off Debt
After creating a budget and adjusting it for inflation, it's time to pay off outstanding debt. Pay off any loans or credit cards that have high interest rates. If you need extra cash outside of your existing income, consider signing up for a side hustle like driving for a ride-share service, tutoring or dog walking.
If you're a borrower who still owes student loan debt, the U.S. Department of Education has extended the student loan pause through May 1. Now is the time to start planning how you will begin making monthly repayments again.
Learn: Student Loan Payments Restart in May — Here's How You Can Prepare
Save 10% of Earnings
Are you familiar with the 10% rule? This is a savings strategy that encourages saving 10% of your earnings. 
"Generally, you want to save 10% of what you take in. That way as your disposable income changes your savings strategy adjusts easily," Eizenga said.
While the 10% rule is more of a strategy than an actual rule, it's still a good idea to set aside 10% of what you earn as you pay off debt. Put these earnings toward building an emergency fund if you do not already have one or find yourself relying on investments during tough times. You can also set aside the extra money to meet other short- or long-term financial goals, like home repairs or increasing the 401(k) contributions on your work retirement plan. 
Do you plan to open a personal retirement account? There's still time to max out your 2021 retirement plan! According to the IRS, you have until April 15 to make 2021 IRA contributions. 
Read: What Not To Do While Trying To Get Out of Debt
Diversify Your Investment Portfolio
"A diversified portfolio includes stocks, bonds, commodities and alternatives," Frederick said. "Generally, a diversified portfolio is a good hedge against most negative economic conditions."
Frederick uses the example that when stocks go up, bonds usually go down. Similarly, when stocks go down bonds will go up. 
Where else should you diversify in your portfolio? Purchasing index funds is a good way to diversify among these asset classes. Index funds have low fees and offer broad exposure to the market.
"Stocks, real estate and investment trusts have traditionally yielded returns in pace with or exceeding inflation and economic growth," Krajicek said. "You can also purchase treasury bonds to protect your cash that does not have much inflation protection."
Explore: 9 Safe Investments With the Highest Returns
Ask For an Income Adjustment
If your wages aren't in line with the average salary pay, you may need to act as your own advocate and ask for an income adjustment based on rising costs. 
Amid the ongoing Great Resignation, Kam said to invest in your earning potential by learning new skills. This will allow you to upgrade yourself into sectors, like healthcare and tech support, that are opening up with higher pay opportunities.
Learn: How To Ask For a Raise — and Get It
Consult a Financial Advisor
In light of all this financial uncertainty, do not try to navigate the economy alone. Seek advice from a financial advisor. 
"Guidance from a professional financial advisor can help mitigate these risks and develop a personalized plan for how to move forward," Frederick said. 
A financial advisor may work with you to start a financial plan, or review an existing plan, and ensure you're on track with savings and spending goals. Advisors may address key financing questions, such as what to do with substantial reserves of cash, whether you should refinance your mortgage and how to maximize tax-advantaged saving and investing opportunities. Answers provided are tailored to your specific financial needs.
"Whether it is historic levels of inflation, a push toward recession, or both, this economy is threatening to diminish our assets, our investments, our life savings, our cash flow and substantially disrupt our plans for the future," Frederick said. "A good financial advisor can help an individual protect and grow wealth in even the rockiest economy."
More From GOBankingRates