How the Military Incentivizes Getting Married With Pay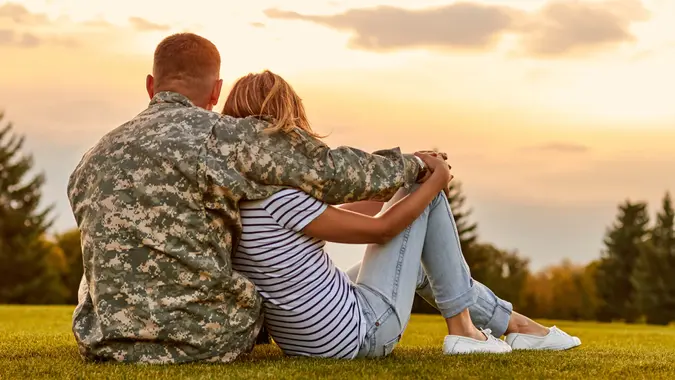 DenisProduction.com / Shutterstock.com
There are a number of financial benefits of getting married — whether you are in the military or not — including being able to split living costs, paying less in taxes and qualifying for insurance discounts. But getting married when you are in the military comes with some financial benefits for both the service member and their spouse that may incentivize those in the military to tie the knot.
Support Small: Don't Miss Out on Nominating Your Favorite Small Business To Be Featured on GOBankingRates — Ends May 31
Permanent Change of Station Cost Coverage
A Permanent Change of Station (PCS) order requires a military member to move from one duty station to another, or between their final duty station and home of record upon retirement or discharge, according to Military.com. In the case of a PCS, the government will pay for most costs associated with the move including transportation from one station to the next, shipping of your belongings and temporary lodging if you are unable to move into a permanent home right away.
Read: 4 Tips for Saving Money While in the Military
The government will also cover the cost for family members and spouses to relocate — but this only applies to spouses, not girlfriends or boyfriends, according to Our Military. Moving costs can get expensive, so having the government cover the costs for you and your partner can be a big financial perk.
Higher Housing Allowance
The military provides Basic Allowance for Housing (BAH) to offset the cost of rent and utilities when you do not receive government-provided housing. Your BAH depends upon your location, pay grade and whether you have dependents — so if you have a spouse that you claim as a dependent, you will qualify for a higher allowance than you would if you were unmarried.
Find Out: The 10 Top Cities for Military Families, According to Experts
Higher Cost of Living Allowance
In addition to an increase in housing allowance, military members may get an increased Cost of Living Allowance (COLA) when they get married. COLA is given to military members who have been stationed in certain "high-cost" locations in the continental United States, or whose spouse/dependents reside in a high-cost location while the military member is assigned to an unaccompanied tour of duty outside the continental United States.
More From GOBankingRates