How To Become Financially Stable in 8 Steps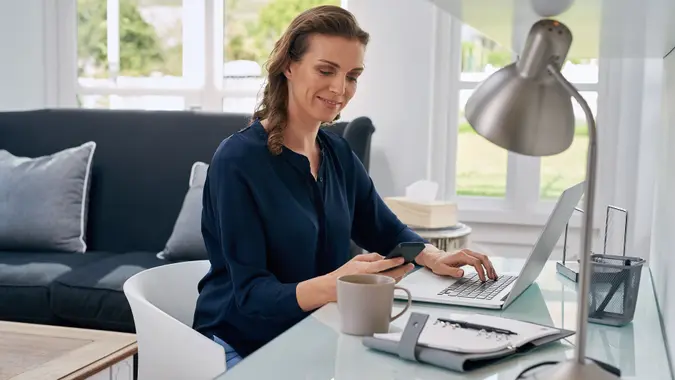 Daxiao Productions / Shutterstock.com
If every month you are left with little to nothing of your paycheck, then you might be wondering how you will ever achieve financial stability. The truth is that the cost of living is expensive and wages often can't keep up. But there are still ways to control your spending and start saving so that you can live comfortably.
Check Out: Pros and Cons of Living in a State With No Income Tax
Advice: With a Recession Looming, Make These 3 Retirement Moves To Stay on Track
While it isn't always easy, it will be worth it in the long run. Keeping track of your money can help you achieve your financial goals, whether you hope to buy a purse or a house. So, before you get a third job, here's how to become financially stable in eight simple steps.
Evaluate Your Financial Situation
You can't chart your course to financial stability if you don't know your baseline. Understanding your financial situation is critical to your success. If you have been living paycheck to paycheck, this may be a painful part of the process because it will make you take a long hard look at your spending habits. 
The easiest way to understand what you are working with is to write down all sources of income followed by any expenditures. It is important to list everything that you spend money on or else you won't get a real sense of where you are. Once you have this information, you can evaluate your necessary expenses (rent, transportation, groceries, utilities, etc.) and your discretionary expenses (dining out, clothes, entertainment, subscriptions, etc.).
Set Financial Goals
Once you have a clear understanding of your financial situation, take a moment to write down your financial goals. It is a good idea to write down both short- and long-term goals.
Depending on what it is, you may need to establish several steps to achieve the ultimate goal.
Take Our Poll: Do You Have a Second Job or Backup Plan in Case You Are Laid Off?
Create an In-Depth Budget
Now that you have your goals in place, you can create an in-depth budget. This new budget will be designed to help you achieve the financial goals you set in Step 2. If you are living well beyond your means, you need to determine if it is because of needs or wants.
Wants are non-necessities and can be eliminated to help you reach your goals. Needs, however, are essential. Cutting costs to your needs can be challenging unless you make a major change such as downsizing or moving to a less expensive area.
Tackle Your Debt
Debt is extraordinarily hard to get rid of. It can take years to pay off a credit card that only has a few thousand dollars on it. In order to become financially stable, though, you'll need to pay off some or all of your debt, particularly if it is unsecured.
Build Your Savings
When your debt gets to a manageable level, you can begin to shift some money to build your savings. You should have an emergency fund that will help you get through any unforeseen circumstances like the loss of a job or a natural disaster.
Make Room To Invest
As you get closer and closer to peak financial condition, you can start to make your money work for you. Consider investing — invest in your retirement and your future. 
Stay on Track
Once your debt is gone and you've started to build your nest egg, you can simply monitor your money. It is important to regularly check your accounts for fraud and monitor your credit for any errors. Staying on top of this information can go a long way in protecting your assets and newly found financial freedom.
One of the hardest things to do for someone who once lived beyond their means is to stay on budget. But with a little discipline, you can achieve your goals. Remind yourself of what you are working toward and why. 
If All Else Fails, Get Help
If it all feels a bit overwhelming, you might want to consider getting professional help. A financial advisor can give you guidance on how you can become financially stable. They will help you understand your spending and set parameters for success. Depending on your situation, they may be able to help you invest and build your retirement, as well.
More From GOBankingRates