How To Book Flights, Cars and More Without a Credit Card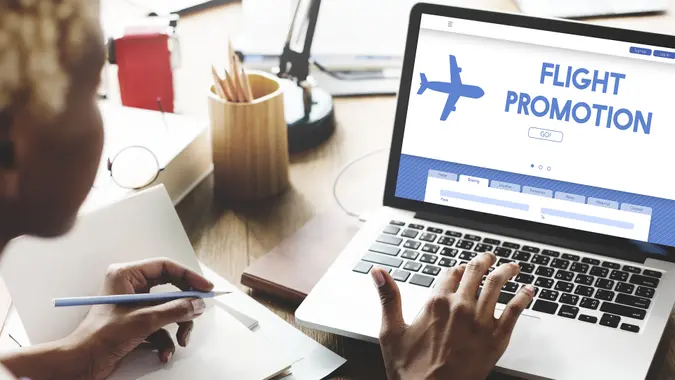 Rawpixel.com / Shutterstock.com
There are several advantages to paying for your travel arrangements with a credit card. Purchase protection and the ability to pay with miles are among those benefits. However, not everyone has a credit card. For instance, you might have poor credit or be averse to them due to horror stories you've heard.
Explore: GOBankingRates' Best Credit Cards for 2023
Find Out: If Your Credit Score Is Under 740, Make These 4 Moves Now
Regardless of your reason for avoiding credit cards, you still have ways to pay for travel. There's no reason to think you are stranded if you don't have a credit card — or don't want to pay with one right now. Keep reading to find out what your options are when booking travel.
Ways To Pay Without a Credit Card
There are several ways to book a flight, a hotel or a rental car without a credit card. Consider these options if you don't want to pay with plastic.
Pay With a Debit Card
In some ways, paying with a debit card is similar to paying with a credit card. Many debit cards are Visa-branded and have a 16-digit card number. Enter your card details when paying, including the card number and expiration date.
But unlike a credit card payment, you'll have to be sure you have enough money in your checking account before you pay. Travel can be expensive, so you might need a lot of cash upfront. And if the money doesn't clear your checking account immediately, an airline might place a hold on your card for the purchase amount until it clears.
Take Our Poll: What's the First Thing You Would Do If You Won a Big Lottery Jackpot?
Use a Payment App
Your debit card is far from the only way to pay online with your checking account. One alternative is using a payment app like PayPal, Venmo or Apple Pay. These payment processors are often (though not always) an option when booking travel. And they can be a better option than using your debit card. Payment apps don't require you to provide your card details when paying, which can help protect your account.
Pay With Cash
Of course, you won't be able to pay with cash if you plan to book your flight or rental car online. However, some airlines will sometimes accept cash as a form of payment. Here are what different airlines say about cash:
American Airlines: You can pay with cash or check at some airport ticket counters or travel centers.
Southwest Airlines: You can use cash for payment of purchase at international airport ticket counters.
United Airlines: You can make a cash payment at an airport ticket office or United ticket office.
When booking hotels, you might have more trouble paying with cash. Some popular hotel chains such as Holiday Inn and Radisson Blu accept cash payments. But even if you can pay for your reservation with cash, hotels might still ask to keep a credit card on file for incidentals.
Buy Gift Cards
Most major hotel and airline brands have gift cards that you can use as payment. For example, all of the following have gift cards available:
United Airlines
Delta Airlines
American Airlines
Southwest Airlines
Hyatt
Marriott
Airbnb
You might have noticed walls of gift cards near the front of grocery stores for various brands. Sometimes, you might find gift cards there for airlines and travel accommodations. You can buy them with cash or a debit card and use them to pay for your flight, hotel room or Airbnb.
Pay Over Time
People sometimes use credit cards to pay for purchases when they don't have enough cash available. But you can pay for your travel arrangements over time even without a credit card.
For example, American Airlines accepts Affirm to let you pay for your reservations over time. The airline notes you can use it to pay for flights and seats but not upgrades like extra bags. United Airlines and Southwest Airlines both accept Uplift to pay over time. Southwest notes that the APR for Uplift ranges from 0% to 36%.
Bottom Line
While booking flights, cars and hotel rooms with credit cards has advantages, it may not be for everyone. You may not have a credit card or choose not to use it. The good news is that you still have many options. Debit and gift cards, payment apps and trusty ol' cash are among your choices.
Remember that you might have hiccups if you don't use a credit card. For example, if you pay with a debit card, extra holds might be placed on it. Or you might need a credit card to put on file when booking a hotel room. Although you might have a slightly bumpy ride if you opt not to use a credit card, it is more than possible if you are determined.
More From GOBankingRates