How To Claw Back From the Edge of a Financial Cliff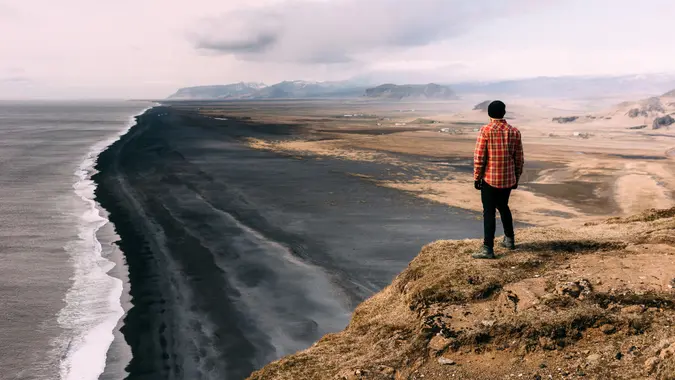 Oleh_Slobodeniuk / iStock.com
The pandemic hit many Americans right where it hurts — in their wallets. "Hitting rock bottom financially is something many people fear — and understandably so," said Kate S. Mielitz, Ph.D., AFC, an assistant professor of family financial planning at Oklahoma State University. "To reach the point that you are struggling each month, maybe to just put food on the table, or you're squeaking by but barely … or even have no savings, no accessible credit, no one that you can turn to for short-term or long-term assistance … those are all very scary situations."
Find Out: 16 Key Signs That You Will Always Be In Debt
Be Aware: Outdated Debt Advice You Shouldn't Follow Anymore
The good news is that once you've hit rock bottom, the only way to go is up. Here are some proactive steps you can take if you find yourself peering over the edge of a financial cliff and are overwhelmed with debt.
Change Your Mindset
"If someone has hit rock bottom financially, the first step is to get into the right mental mindset, said Khari Washington, broker and owner of 1st United Realty & Mortgage. "The stress, shame, and a feeling of defeat can do a lot of damage mentally."
Check Out: How Much Debt Americans Have at Every Age
It's easy to feel depressed and hopeless if you're experiencing dire financial trouble. However, it will be more difficult to turn things around if you don't change your mindset. For example, each time you feel defeated or have a negative thought, get into the habit of telling yourself that what you're experiencing is a temporary setback, and you will overcome it in time.
"Keep your head calm," said Scott Spivack, marketing director at United Medical Credit. "In the event of a financial disaster, feelings of fear, grief and anger are natural. Well, you need to absorb these emotions and accept the new reality. Negative emotions like grief and fear can dent your ability to think rationally. So, it's important to eliminate stress and stay calm in these trying situations. With a relaxed brain, you'll be able to think clearly and make pragmatic decisions."
More Tips: 25 Ways To Save Yourself From Your Debt Disaster
Take Stock of Your Financial Situation
Even though it won't be fun, you need to take the time to really understand where you are financially. "The first thing you need to do is to calmly and meticulously take stock of where your finances are," said Eden Cheng, co-founder of PeopleFinderFree. "This will help you make a solid financial plan moving forward. This means taking into account any remaining income, your monthly expenses, your debt, and the amount of money you have in your savings."
Helpful: 19 Ways To Tackle Your Budget and Manage Your Debt
Make a Plan
Next, you need a solid plan, so you can pay off your debt in a manageable way.
"If you happen to owe money, then the next step is assessing the grand total of how much you owe, which will allow you to figure out what you need to part with monthly," Cheng said. "However, if you are unable to handle paying your monthly bills, you need to start calling those you owe money to and negotiate alternative payment options, be it insurers, credit card companies, banks, etc. Many lenders have programs in place to help those facing financial hardship, so you might even be able to defer payments for your mortgage, credit card bills, and more."
If you are struggling to make a plan on your own, consider seeking professional help, which you may even be able to secure for free.
"Accredited Financial Counselors (AFC®) are available to help people just like you find resources and get yourself back on your feet," Mielitz said. "Many AFC®s will take clients on a pro bono basis in order to help people get a plan together and move forward."
See: What Not To Do While Trying To Get Out of Debt
Adjust Your Spending
"You also need to start making adjustments to your current spending, and the easiest way to go about this is by splitting your expenses into two separate categories; fixed and discretionary," Cheng said. "This will help you take a good look at what you need and what you can live without, allowing you to start cutting out the things you don't need until you can live on your current income level."
Read More: 35 Useless Expenses You Need To Slash From Your Budget Now
Create a Budget
Once you've eliminated your discretionary expenses, it's important to create a budget to avoid overspending.
"Create a budget and stick to it diligently," said Sam Duell at Duell Financial Strategies. "Start using the envelope system for your monthly expenses. Put each budgeted expenditure amount in an envelope. When the envelope is empty, you cannot spend any more on that category. Duell also recommends cutting up your credit cards.
Read: 10 Ways To Bounce Back From a Heavy Spending Month on Your Credit Card
Consider Other Income Streams
"The next best strategy to get yourself out of your current financial hole is to raise the level of income you are earning," Cheng said. "If possible, you can try asking for more hours at your job, looking for new career opportunities, or even try starting a side hustle. In fact, with freelance and remote work on the rise, there are now numerous opportunities to make some extra income online, such as consulting, freelance writing, virtual assistant, graphic design, etc. All you really need is to take stock of your current skills and abilities, then market them to people online."
Don't Be Afraid To Seek Help If You Need It
Changing a dire financial situation will not happen overnight, but it will eventually happen if you have a plan for recovery and commit to it.
"People from all walks of life — those who saved and planned for the future and those who have struggled for many, many years — have hit financial rock bottom, Mielitz said. "If you are headed toward or experiencing rock bottom, I encourage you to reach out for help, not only financial help but mental health services as well."
More From GOBankingRates
Last updated: Aug. 20, 2021