How To Talk to Your Aging Parents About Assisted Living Costs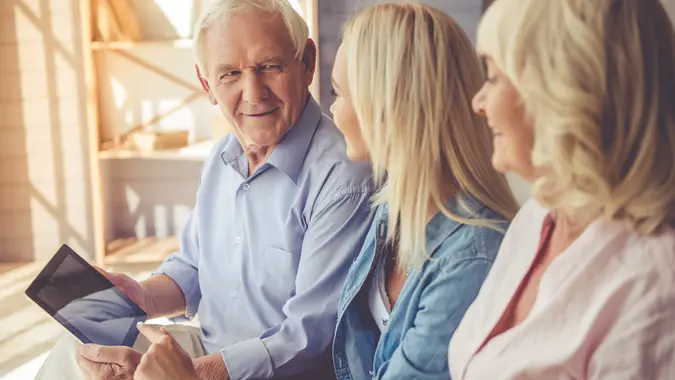 VGstockstudio / Shutterstock.com
As people live longer and the cost of senior care rises, it becomes more important to discuss with your parents the possibility of assisted living. After all, around 70% of people over 65 will require long-term care at some point in their lives, according to the U.S. Department of Health and Human Services.
Check It Out: Our 2022 Small Business Spotlight
Learn: 7 Things You Should Never Do When Planning For Retirement
If you're not sure how to approach the conversation, here are the top things to consider when talking to your aging parents about assisted living costs, according to experts.
When To Talk to Your Parents About Assisted Living
Every person's health condition is different. So instead of waiting for your parents to reach a certain age to discuss assisted living, look for physical signs.
"My advice is to start looking [for signs] before a crisis arises," said Amie Clark, co-founder and senior editor of TheSeniorList. "If you notice that your loved one is starting to have difficulties with daily tasks like cooking, cleaning, or maintaining their normal standard of personal hygiene, these can be signs that changes are occurring. Be aware of safety issues like falls, leaving the water running, or not turning off the stove, which may indicate a more immediate conversation needs to occur."
Understand Senior Care Options and What They Cost
Before discussing assisted living with your parents, be sure to research the costs, which vary from state to state. Costs also depend on how long your parents require care, the state of their health, and the exact type of care they need.
According to the 2021 Genworth Cost of Care survey, the monthly median costs for select types of senior care are:
Homemaker services: $4,957
Home health aide: $5,148
Assisted living facility: $4,500
Adult day health care: $1,690
Nursing home: $7,908 (semi-private room) and $9,034 (private room)
Seniors who need limited help with tasks or medical assistance may only need homemaker services or a home health aide, while an assisted living facility may be a better option for seniors who need more help with daily tasks and regular medical monitoring. Often, these centers provide residents with their own rooms or apartments.
Seniors who have major health complications and need around-the-clock care often require a nursing home.
Take Our Poll: Do You Think You Will Be Able To Retire at Age 65?
Research How Much To Save for Assisted Living
Genworth estimates that the median cost of an assisted living facility is $54,000 per year. For the average woman who needs 3.7 years of care, according to the U.S. Department of Health & Human Services, the total estimated median cost for assisted living is $199,800. For the average man who needs care for only 2.2 years, the estimated median cost is $118,800.
If your parents don't need assisted living yet, keep in mind that facilities typically raise their prices by 4-6% each year, according to Clark. Plan for other costs, too, such as pet fees, move-in fees, first-month deposits, medications, and supplies (such as wipes or incontinence products).
Those who don't have enough savings for assisted living may have other options to help cover costs.
"In most cases, seniors who are moving into an assisted living facility will no longer need a home," said Danielle Miura, a certified financial planner and founder of Spark Financials. "Downsizing by selling a home can help cover the cost of the senior living home."
Medicaid can also provide financial help for qualified seniors. Low-income seniors over 62 may also qualify for subsidized housing by applying for the HUD Section 202 program. Income limits vary based on your state and county.
"This program allows low-income elderly to live independently while providing home-care assistance," Miura said.
Consider Long-Term Care Insurance Early
Assisted living costs can be overwhelming to think about, so consider discussing long-term care insurance with your parents long before they need it.
"The best way to address these costs is still to have a good long-term care insurance plan in place as you get older," said Richard Ricciardi, estate planning attorney and partner at Powell, Jackman, Stevens & Ricciardi. "If assisted living isn't needed, the policy can be beneficial in other ways as well."
Long-term care insurance can help cover nursing care, at-home care, and speech, occupational or physical therapy.
Speak Honestly and Explore Communities Together
When discussing assisted living with your parents, Ricciardi recommends being straightforward and truthful — as well as emphasizing their security.
As an estate planning attorney, Ricciardi has found that many seniors view assisted living negatively. To combat this stigma, try exploring different communities with your parents.
"I certainly have clients who live in assisted living facilities and prefer it to living alone," he said. "So I would recommend at least previewing these communities with parents to show them what they're actually like."
More From GOBankingRates