I'm a Millennial Who Wasn't Prepared for Life After College: My Advice for Gen Z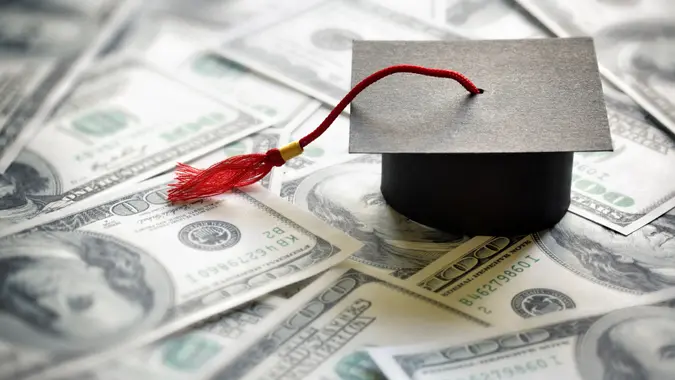 BrianAJackson / Getty Images/iStockphoto
Starting your life after college is tough. There are so many things we don't know or aren't prepared for, even if we think we are. From figuring out which career to pursue to understanding the importance of finances, it can all seem overwhelming in the beginning. And, for many of us, it can take a long time to get to a point where we actually feel like we've achieved some kind of a balance or success.
If you're about to graduate — either this year or in the next couple of years — and are looking for some advice, here's some input from millennials who've been where you are right now and have found success along the way.
1. Building a network and developing relationships is key
Networking and building solid relationships with people can get you far in life — and in your career. But a lot of young people just starting out avoid networking, either because they think they don't have anything to offer or because they're nervous.
Don't be.
"Don't let inexperience or fear of not knowing enough stop you from connecting with folks in-person and sharing your interests on LinkedIn," said Arissan Nicole, career and resume coach/workplace empowerment expert. "It is never too early to start networking and building genuine relationships."
But what if you want to network and create relationships, but don't know where to start? Tramelle D Jones, career/resume coach and workplace wellness consultant, suggests the following:
Use your alma mater's career center. "Colleges like to brag about the rate at which their alumni get employed," said Jones. "They have a vested interest in your employability! They've made it their mission to create sustainable relationships with top companies, so take advantage of those connections." Your college might also offer workshops, job fairs or other networking or job-related opportunities to help you advance in your career.
Speak with a recruiter. Some colleges and universities will introduce you to recruiters in your chosen field. Take advantage of this free connection opportunity to get started in your career.
Use LinkedIn. LinkedIn is a massive social networking platform designed for professionals. You can use it to find companies in your industry and the people who work at those companies. Connect with those people and start engaging with them on the platform. You never know when someone might recommend you to a potential employer. And even if you don't connect, you can still check out people's profiles to get an idea of your options.
Get involved with industry-specific associations. Check out some organizations in your industry, become a member and start building professional relationships that way. "Often, you'll gain access to networking events, trainings, conferences, job postings and newsletters that talk about what's trending in that industry," said Jones. "These are great opportunities to connect with likeminded individuals and cultivate referrals."
2. Learning from others isn't a weakness
The learning doesn't stop just because you've graduated. In fact, you can get far in your career by listening to people more experienced than you, observing what they've done, and learning from their mistakes.
"I'd also suggest you remain open to learning from those around you," said Jones. "It's much easier to maneuver your career when you've observed and learned from the mistakes of others."
A lot of people are afraid they'll look bad if they ask too many questions or don't understand something. But it's okay to get guidance from others. One way to do this is to reconnect with old mentors in your life — possibly professors or managers you've had in the past.
"Reach out and connect with older mentors or respected figures in your life," said Mary Guirovich, career advancement strategist. "They've navigated their professional paths and carry a wealth of experience. Their guidance can offer different perspectives, help you sidestep potential pitfalls and open your eyes to new possibilities. We tend to underestimate the wisdom of our elders when we're young, but their insights are often invaluable."
As you pursue your career, be a sponge. "Absorb as much knowledge and workflow habits as you can from managers and apply your learnings to your everyday life," said Christy Pyrz, chief marketing officer of Paradigm Peptides. "From organizing email inboxes to leading meetings, this information can pay off later down the road."
3. Trying out different jobs leads to personal and financial growth
A lot of people end up switching jobs or even industries multiple times before settling on one. In many cases, your ultimate career path might not even be related to your major. But this can be a good thing as it can lead to more personal and professional growth.
"Don't hold out for the perfect job after graduation," said Nicole. "Instead look for a job that's going to give you a lot of hands-on experience. The more experience you have doing a bunch of different things, the more you are going to learn what you love to do and what you don't."
It's also important to understand that you're not stuck once you choose a career path. "Remember, choosing a career path is not an irreversible decision," said Guirovich. "It's a step in your journey. As you gain experience and your interests evolve, it's perfectly normal to change direction. The key is to remain open, adaptable, and committed to lifelong learning."
4. Not asking questions can hurt you financially
Many people go after job opportunities with such perks as 401(k) plans or employer-matching contributions. But a lot of us don't fully understand how to take advantage of these benefits.
"I left a lot of money on the table simply because I didn't know what I didn't know and was embarrassed to ask questions because I didn't want to look stupid," said Nicole. "For example, I thought I was doing everything right because I was matching my employers' contributions to my retirement account but had no idea that after the account is set up and contributions are made you still need to invest the money or else it just sits there not growing."
If you don't know something, ask someone who does. A lot of companies have someone on their payroll who can advise you on things like your benefits or retirement plan options.
5. It's important to negotiate
"Negotiate, network and track everything," said Nicole. So many young people don't negotiate on things like pay, especially early on in their career. But this could cause you to lose out on a lot of money. It can also hurt you financially if you're promoted within the company, but your pay increases are based on your original salary.
6. Making decisions and trusting your instincts is vital
You might be nervous about making decisions or taking risks, but one of the best times to do this is when you're just starting out. "Embrace decision-making as a crucial part of your career growth," said Guirovich. "Each choice is a learning opportunity, whether it leads to success or challenge. Don't fear the 'wrong' decisions — they often teach us the most."
It's also important to trust your instincts on things. If, for example, you find yourself with an opportunity that doesn't feel right, reconsider before pursuing it.
7. Embracing the unknown can lead to opportunity
Life is all about experiences, and exploring the unknown is a big part of that. Don't be afraid to take a few risks, especially early on. This could involve taking a job in another state or country. Or it could mean starting your own business.
Kamila Mamezhanova, part of the team at Franchise Fame, suggests starting your own business — or franchising, in particular. There are many reasons for this, including:
Thousands of opportunities exist with varying degrees of risk, time and money investment
Franchise business models can be profitable and lasting
It's a solid opportunity to connect with others in the industry and grow together
It's a great opportunity to gain hands-on experience and learn
Ultimately, think about your interests, experiences, education and skills. Then, explore career paths that most closely match these things. Along with this, evaluate each potential career based on its potential growth or promotion opportunities, as well as current industry trends.
8. It's OK to never be fully prepared
And finally, remember that very few people ever truly feel prepared when they're launching into their adult lives. But that's OK, too. Be open to new experiences, learn and absorb what you can and try out different things. You'll find your path along the way.
More From GOBankingRates