What's the Polite Way To Check If Someone Has Received the Gift You Sent?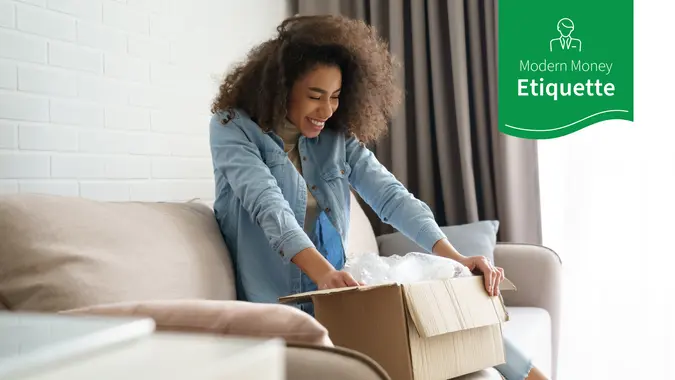 insta_photos / iStock.com
You spent time and money to send a gift to someone, but they haven't acknowledged it. Therefore, you don't know whether they simply forgot to reach out or if they didn't actually receive the item. Obviously, you want to know if the gift was received, but you're not sure how to ask. You don't want to appear pushy or like you're demanding a thank you — even if you are — so you're standing by, trying to figure out your next move.
Cash App Borrow: How To Borrow Money on Cash App
See Our List: 100 Most Influential Money Experts
"In general, we might assume that we are rude by asking if people received our gift, but in actuality, it is pretty rude not to let the sender know that we received the gift," said Maryanne Parker, founder of Manor of Manners etiquette consulting. "There is always a fine line, and we should use our etiquette and soft skill knowledge in order to not cross it and keep some balance."
Generally speaking, she said it's best to wait a few weeks before asking the recipient if they received your gift.
"If they forgot to let us know, we should not make a big deal about it," she said. "Consider the situation, the circumstances and the reason behind it."
For example, she said if you sent the gift for a very formal occasion, the recipient might simply be busy preparing for the event. This could mean they just didn't have time to reach out immediately.
Parker said it's also important to consider your relationship with the recipient. If the person is a relative you're close with, she said you can call them or send a text message at any time — there's no need to wait a few weeks to follow up.
Take Our Poll: Do You Tip for Service?
Additionally, she said the type of gift you sent can also guide you when you reach out because you want to ensure the recipient gets maximum enjoyment from it.
"Even if we are not very close to the recipient, we can definitely make a call or send an email and ask if the gift was received, in case it is a perishable product," she said.
Since mail theft is, unfortunately, a very real problem, Parker said you can also use that as your excuse for reaching out.
"Another way to ask politely if the gift was received is to apologize in advance for asking — due to the fact the recipient is extremely busy with wedding, graduations, college preparation, etc., — and [explain] the only reason you are asking if the gift was received is because USPS or FedEx confirmed that the gift was left outside of the house," she said. "Due to the increased amount of porch theft, we just want to make sure the gift was physically received."
No matter which route you choose, Parker said it's important to avoid excessively asking about your gift because that can be annoying and even uncomfortable for the other person.
"Sending a gift is never about us, but strictly for the recipient," she said. "Asking consistently about our gift reverses the attention to us, as the sender."
You might feel awkward asking if a gift has arrived, but Jodi RR Smith, president of Mannersmith Etiquette Consulting, said doing so recently saved her from what would've been a sticky situation.
"I had not heard from a friend and when I called to touch base, the gift had not been received," she said. "I then contacted the store, who had failed to send it out. Had we not spoken, she might have been hurt I forgot her special occasion and I might have been annoyed she did not thank me."
She said closing the communication loop is important and very necessary — especially for reasons like this.
To avoid a possible guessing game altogether, Smith said you can reach out to the recipient before the gift arrives — if it's not a surprise — to let them know something is on the way.
"If they might be away, they can have a roommate or neighbor collect the package when it arrives," she said.
Sending someone a gift is a kind gesture on your part, so don't hesitate to — politely — get in touch if you're hearing crickets. Hopefully you'll be greeted with a genuine thank you, but this will also let you know if the package didn't arrive, so you can get to work tracking it down.
More From GOBankingRates