5 Money Decisions To Make As Fed Raises Rates for the Ninth Time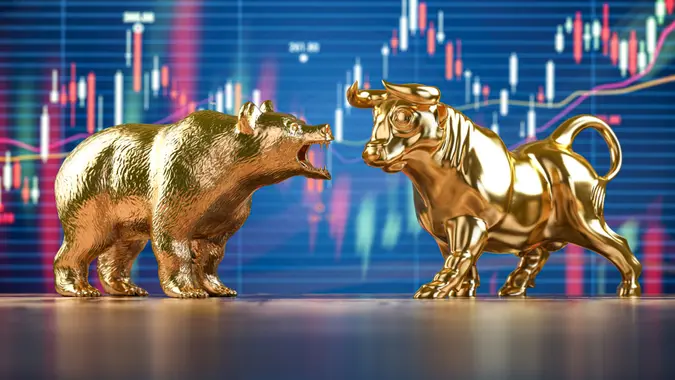 Bet_Noire / Getty Images/iStockphoto
The latest interest rate hike came on March 22 as Fed chair Jerome Powell announced another 25 basis point bump, the ninth consecutive increase, now bringing the target rate for federal funds to 4.75% to 5%. It's all part of the Fed's serious attempt to bring inflation under control.
According to the latest CPI data, inflation still sits around 6% for all categories whereas the Fed would like that figure closer to 2-3%. And until inflation abates, interest rates will like continue to rise. Some projections have showed that Americans could see a baseline 5.1% interest rate by the end of the year if nothing changes.
The development also comes as wariness over banks continues given the recent collapse of Silicon Valley Bank — among others. While your money is still safe in accredited banks insured by the FDIC, there are some good money moves to make now to improve your fiscal health.
How To Save More Money
When interest rates go up, so do rates banks offer for savings deposits. Because of the record increases this past year, it means returns have been the best depositors have seen in over a decade. However, there are three ways to capitalize on the investment:
Open Up a Certificate of Deposit: Certificates of deposit (CDs) are a fixed-term investment where you give an initial deposit to the bank — one that "locks" up the currency until it is vested (whether you choose a 3-month, 6-month, 1-year, 3-year or 5-year option). You will not be able to withdraw the funds without a penalty. The tradeoff is that you'll be rewarded with a higher interest rate than a traditional savings account, with some banks offering up to 4.5% interest according to GOBankingRates' list of the best options for March 2023.
Turn to a High-Yield Savings Account: Another investment option are high-yield savings accounts which allow you to earn up to 12 times what you normally would with a regular savings account, per CNBC. They are more flexible than CDs. According to GOBankingRates' guide to the best high yield savings accounts for March, many banks are now offering over 4% APY. CNN recommended checking out online banks,too — as long as they are FDIC-insured — since "online high-yield savings accounts now offer rates as high as 5%, well above the 0.23% national savings account average." That being said, it can be hard to keep too much money locked up in a savings account with inflation dwarfing even these high yields. This also applies to CDs. This could be considered a conservative hedge versus a profit-making move.
Keep Thinking Long Term With Investments: Try not to look at your retirement savings portfolio in volatile times like these. Stock markets typically fluctuate during rate sweeps so you may be shocked if you look at your returns while things are in flux. Your best course of action, according to many experts, is to stay the course and keep thinking long term when it comes to your portfolio. "You want to make sure you're not panicking," said Kelly Lavigne, vice president of consumer insights at Allianz Life, according to CNBC. "It can be a difficult thing to buy when the market is going down. You're better off continuing to make periodic investments and not trying to time the market."
Take Our Poll: Are You Concerned About the Safety of Your Money in Your Bank Accounts?
How To Deal With Debt
Unfortunately, as interest rates go up, so will borrowing costs — whether it's a personal loan, mortgage, home equity line of credit or credit card debt. Here are two ways to minimize the financial impact.
Transfer Credit Card Balances to 0% Cards: If you carry any amount of high-interest credit card debt, you should consider a balance transfer. Per CNN, the average credit card APR is now 20% as of mid-March, compared to just 16.3% at the onset of 2022. Many credit card companies will offer promo deals like 0% APR on new accounts for a limited time, so it is wise to transfer debt and pay it off before the promotional period ends.
Lock in the Lowest Rates Now… or Wait: With interest rate spikes and recent bank collapses, banks are going to become even more stringent with lending to customers, experts project. If you are looking to buy a home or car and need financing, you may want to do lock in deals with the bank now before they start imparting changes… or plan to wait until interest rates cool again. If you can afford to wait, it may be worthwhile to do so.
More From GOBankingRates