I'm a Money Influencer: Here's How I Make More Than $100,000 a Year Posting Finance Tips on TikTok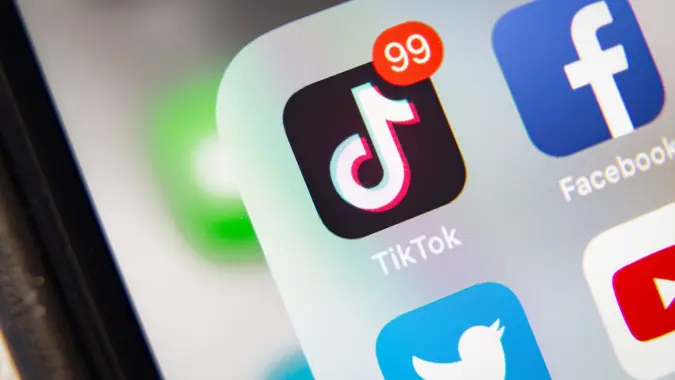 5./15 WEST / Getty Images
Do you follow any money influencers or, better yet, fin-fluencers on social media? A fin-fluencer, for those unfamiliar with the term, is a content creator who takes complicated financial concepts and jargon and breaks it down to make it easy for audiences to understand.
Melissa Jean-Baptiste, financial educator and founder of Millennial in Debt, views herself as a fin-fluencer. With more than 46,000 TikTok followers and 138,000 Instagram followers, Jean-Baptiste aims to teach millennials and Gen Zers how to build generational wealth, become future millionaires and gain financial freedom. 
GOBankingRates caught up with her to learn what it's like to be a fin-fluencer and the challenges that come with earning money via social media platforms.
What kind of fin-fluencer are you?
I like to view myself as a fin-fluencer who aims to be the voice of millennials and Gen Z in the overly pale, male and stale financial industry. As a Black woman and first-generation US citizen, I offer financial education to my audience that's enjoyable and accessible no matter where they are in their personal finance journey. 
With a wide range of financial topics covered like investing, budgeting, and saving, my personal style is to always ask myself: how will this benefit those pursuing financial independence and how can I make this information as approachable as possible?
As a fin-fluencer, how do you earn money on social media platforms like TikTok and Instagram?
I've been creating finance content on TikTok since spring 2021. The majority of my annual income is through brand partnerships.
In partnering with brands in the finance space, I am able to share my experiences and suggestions with my audience so they can add new resources to their arsenal or avoid products which may do more harm than good.
What are some of the challenges of earning money as a TikTok fin-fluencer nobody talks about?
One of the major challenges in earning money on TikTok is battling the algorithm. 
It's difficult to have the same reach and engagement when you do sponsored posts or share affiliate links. Platforms like TikTok will typically stifle any content that features #ad or #paidpartnership FTC labeling, making it hard for sponsored posts to perform as well as your organic content. This is why it's important to read your contracts to ensure you're still making money even if the engagement and interaction with the content isn't what you're accustomed to.
As a fin-fluencer, do you follow your own advice?
I 100% follow my own financial advice! In fact, I tend to follow my own advice before sharing it with my audience so I can provide information that I stand behind wholeheartedly. It's hard to share thoughts and opinions about products, resources or financial routines if you haven't given them a fair test drive.
What have some of your most viral wins been when discussing personal finance? Why do you think these topics blew up and resonated with viewers?
My most viral wins when discussing personal finance are my experience paying off $102,000 in student loans on a teacher's salary as well as my experience buying a home as a first-generation, single Black woman. 
I believe these topics really resonated with viewers because both are rare accomplishments which can oftentimes seem impossible when looking at them from a distance. Instead of sharing a glamorized version of my debt payoff or homeownership journey, I showed the realities and difficulties that come along with accomplishing such feats. I shared them despite the gender and racial wealth gaps [that I faced along the way], as well as several other systemic barriers which prevent the BIPOC community from being able to build generational wealth as easily as their white counterparts.
Follow Melissa Jean-Baptiste on Instagram and TikTok @MillennialInDebt.
More From GOBankingRates